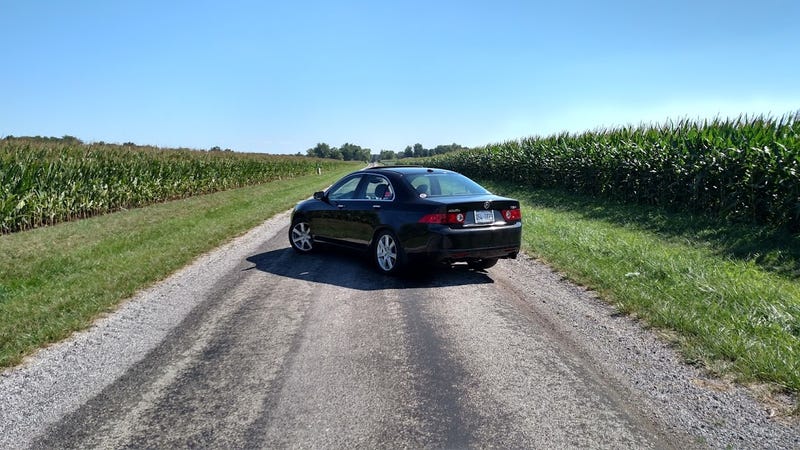 2005 is the 2nd year of the first generation of the now discontinued but popular TSX. It helped established Acura as a brand that was actually a step above Honda, not just an expensive badge. After owning mine for just under 3 months and 1100 miles, how do I like it?
(Full disclosure: Acura wanted me to drive the TSX so badly they had sold this one to someone who owned it for one year and 8000 miles, when it was then sold to someone who owned it until February of this year and put 180,000 miles on it. It then went to an auto auction where it was bought by a local dealer, who was selling it for $5400 until 2 hours after I sold my Lexus, when he dropped the price to $4400, low enough for me to look at it that day. One week later, it was mine for $4,000.13 with tax, title, and fees.) 

For those who don't know, the TSX was Acura's new small sedan, designed to compete in the same category as the Lexus IS, BMW 3-Series, and Mercedes C-Class. It was never a true competitor to them and was more niche, as it was a FWD 4-banger while the other were 6 cylinder RWD/AWD machines. The closest competitors it really had were perhaps the Volvo S40 or Audi A4.
Exterior: 7/10
Personally, I think the 1st gen TSX is still a very good looking car. It is before the beak-era Acura's but right after they started their new theme of sharp, angular designs. One minor quibble is that from certain angles, it looks too tall for how short it is. Also, the trunk lid is a little high up, but nothing worse than most modern sedans. Additionally, a few of the sharp angles are too sharp, which dates it a little. Plus, there's fake vents where the foglights go. Still, a surprisingly modern look for a 14 year old design.
Interior: 8/10
Overall, I feel the interior design has aged very well and wouldn't look out of place in a new car. Only complaints here. The climate controls aren't great, as you have to push a button to get the temp up or down, not a knob or other quick method. Also a few blank buttons, possibly for options in the Euro Accord but they're blank on all TSX's. There's no rattles other than the ones from the speakers because they're broken.
Acceleration: 5/10
This is the part where the little Acura struggles. There's absolutely no torque from the 2.4L VTEC (yo!). That means you have to rev the engine, which is a problem because it makes you look like a tool and kills your fuel economy. The engine is a gem, quick to respond to inputs in throttle and eager to rev. It's petty and full of energy. However, at the end of the day, 166 lb/ft of torque isn't enough for a car that weighs 3300 lbs (200 hp is certainly adequate, but you won't be winning any drag races).
Braking: 7/10
Overall, pretty good braking. It has some of the best brakes for any car I've driven, but from what I've seen are pretty average for the segment. Still, they stop the car quickly and safely, and that's all I need. It's not meant to be tracked so they don't need to be amazing.
Ride: 6/10
It's on the harsh side, but not punishing. The sporty suspension and wheel size to sidewall ratio don't help. The seats are comfortable and it irons out the larger and shallower bumps, but small sharp bumps are easily felt.
Handling: 8/10
Far and away my favorite part of the car. It is quick and responsive to inputs and offers good feedback. It is very grippy, thanks to both the suspension and the new tires. It corners so well, I've driven this car just for the sake of driving more than I have with any other car. It's chuckable and truly a joy in the twisties. It is also very stable, even at higher (read: illegal) speeds.
Gearbox: 7/10
Overall, the 5-speed automatic is a great transmission. It's not reluctant to downshift or hold a gear longer. It wasn't programmed for fuel economy, it was programmed for how the car wants to be driven. Only gripes are that it can sometimes get a little confused as to what to do when you stop accelerating right after it downshifts and another gear would be nice for better highway fuel economy. The slapshift manual mode is rather fun and especially useful for passing.
Toys: 6/10
The TSX is a pretty well equipped car, even in the base form (as mine is). Dual zone automatic climate control, a 360-watt 8 speaker audio system, XM radio, dual power heated seats, and moonroof. The TSX was also available with navigation, but my car is not equipped with that feature. There really wasn't a whole lot of options available for the TSX, in an effort to keep price down as well as simplify buying process. That means there's a lack of extras available. Nothing super fancy or groundbreaking, just what the competitors had.
Audio: 7/10
The exhaust note is certainly lacking but you shouldn't be looking at a Honda VTEC 4-cylinder for a great sounding engine. However, the 360-watt 8-Speaker audio system is great, especially when you consider most of the competitors' base systems were 6-speaker 160 watt setups. In mine, the front driver's side speaker is rattling, but that's just my car.
Value: 8/10
At first glance, that score might seem a little high. However, you must remember the car most similar to it: the Honda Civic SI sedan. The TSX is more powerful and better equipped (and arguably, better looking). However, you can buy a TSX for nominally more than a similar year and mileage SI. Plus, I feel that $4000 is a very good price for one, even if it does have higher mileage (189k). Additionally, my car has full dealer service records and is very clean both mechanically and on the inside (the exterior is a tad rough, possibly to be covered by another post at another time).
Total: 69/100
At the end of the day, that's a pretty good score. It's not the best car in the world, but it certainly does make for a very nice commuter car. A few weak spots include the lack of toys (even if it does have a nice list of standard features), a harsh ride, and merely adequate acceleration. However, it still shines in most other places, such as looks, value, and most of all, handling. If you're looking for an affordable, reliable, nicely equipped small car that's just as much fun on the weekdays as it is on the weekends, perhaps the TSX is worth a look.
Engine: 2.4L VTEC 4-Cylinder
Power: 200 HP
Transmission: 5-Speed Automatic
0-60 MPH: 7.5 seconds
Drivetrain: FWD
Seating: 5 people
MPG (EPA): 20 city/28 highway
MPG (observed): 20.7 city/27.1 highway
Notes:
Turning circle is rather large for such a small car (same radius as our 07 Odyssey, a van that's a full 20 inches longer and 8 inches wider).
Front seats are comfortable even over long distances and offer great bolstering. However, they could be tight for someone who's a tad larger around the waste.
Back seats are large enough that I can fit in them with the front seats all the way back, although it is a bit tight (I'm 6ft with slightly longer legs).
Trunk is adequate for it's size and folding back seats make this a practical car, although the trunk opening is small when trying to fit larger items.