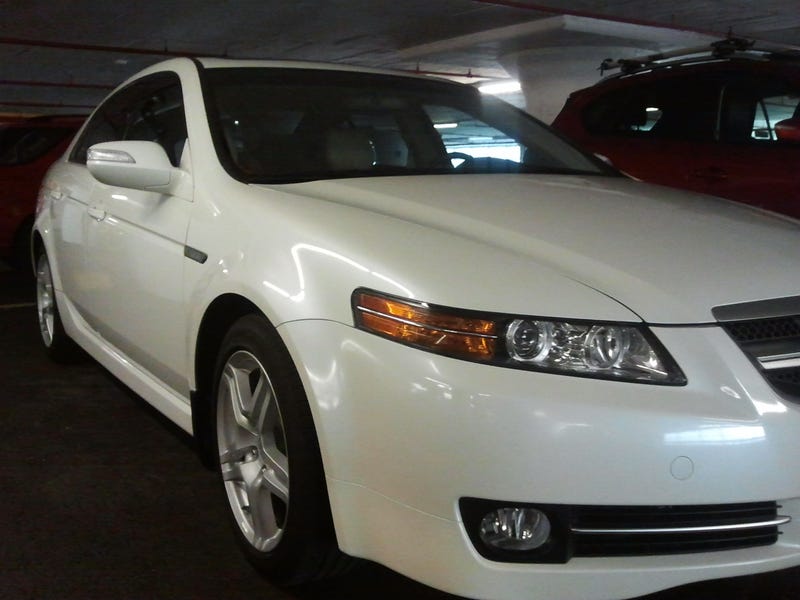 [Full Disclosure: Acura wanted me to drive the TL so bad they sent me on an all-expenses paid trip to Japan for 3 months where I partied with Japanese actresses, had tea with the Emperor, made a speech to the Diet, was carried up Mount Fuji in a palanquin and got me all the sushi and sake I wanted. Correction: none of this is true.]
I really lucked out with the purchase of this car. One owner - an older lady - dealer serviced with records, purchased at the same Acura dealership where the car was originally sold. The mileage? 47,500 km (just under 30,000 mi.). I seriously doubt this car ever saw the redline. It's an automagic, but one can't quibble about such details with mileage this low. Besides, this being a DD and Toronto traffic being what it is (almost as bad as Los Angeles and getting worse by the day), I find I can live with it.
Exterior - 9/10
This is a very sharp looking sedan, with classic proportions. Overall, it looks more German than Japanese. The bodywork was designed by Japanese-American Jon Ikeda, and the 3rd Generation TL (UA6-UA7) is perhaps his finest moment. It's certainly been all downhill since then, what with Acura's silly "beak".
The strong accent line running down the side really emphasizes this car's proportions well. The two side-markers give it a Euro-spec feel. It's a car that looks good in any color, but I feel it looks particularly attractive in white. Not a big fan of white as a car colour - but it's growing on me, especially as I've tinted the car (30%/25%). The contrast between the black windows and white frame enhances the car's lines further. The stock starfish 10-spoke 17" wheels on the '07-'08's have a more modern look compared to the dated-looking 5-stars on the '04-'06.
Interior - 8/10
TL stands for "Touring Luxury", which is a bit redundant: a touring car is a luxury car, and vice-versa. Anyway, the TL certainly has many of the hallmarks of a luxury vehicle. The door closes with a soft, yet solid-sounding thunk, sound insulation is excellent (but not so good that you can't hear what's going on outside the car), the heated seats are buttery-smooth leather and very comfortable, yet they're firm as well and provide decent side-bolstering. Fit and finish is, as you might expect, rock-solid. Soft-touch plastics, fabric and leather cover all surfaces. The tan interior makes a nice contrast with the mostly graphite grey/black dash.
Rear legroom is tight, especially behind a taller driver, but not as bad as the equivalent Audi A4. Otherwise the cabin feels spacious for a mid-sized car. Driver and passenger head and legroom is very adequate. Visibility is good all-around. With the standard moonroof and a naturally lowered seating position as befits a sports-sedan, the greenhouse effect is pleasant.
Acceleration - 7/10
The base TL (the Type S has the 3.5L unit from the RL) is powered by the 3.2 liter Honda J-series J32A3, a SOHC VTEC unit producing 258 hp and 233 lb-ft of torque. Acceleration is brisk, but certainly not forced back into the seat brisk. It's a very quick car, but not necessarily a fast one, which is about what you'd expect from a bog-standard sports sedan. Fuel economy is excellent for this type of car: I averaged 6.0L/100 km (or about 39 MPG) on a recent road trip.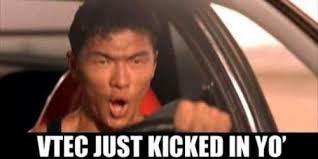 I haven't driven a VTEC six in quite some time. I forget how revvy they are. A real joy to drive with. Very smooth acceleration, but burst power to spare if you need it. Passing and merging is a breeze. Torque-steer is certainly present, but I've read it was toned down a bit in the 07's and 08's. It's certainly perfectly manageable and nowhere near as bad as it gets (looking at you, old Chrysler 200 with the Pentastar). Nevertheless, I do feel as if I am approaching the limits of a FWD drivetrain. Personally, I feel that anything more than 300 to the front wheels is a bit nuts.
Rather than giving it it's own section, a word about the transmission. Yes, it is an automagic, but its an intelligent one, with well timed up and downshifts and crisp yet smooth gear changes. I'll give it a 6 for the purposes of the final tally.
Braking - 7/10
Photo Credit: Acura
Braking is quite good, though it obviously won't be as good as the Bembro's that come with the Type-S (pictured). Still, with meaty 11.8 inch ventilated rotors up front with 11.1's in the rear, Electronic Brake Distribution and Brake Assist, the brakes give me confidence. Otherwise pedal feel is good, engagement is grabby but not too grabby.
Ride 8/10
The TL finds that balance between the floaty, more comfortable ride of a bigger luxury car and the sharpness of a sports sedan. It rides very smoothly at speed, but communication to the wheel is quite good. Almost BMW levels of good, dare I say.
There is no active suspension tuning - no "Sports" or "Comfort" or anything like that but I find I don't care, as the setup seems tuned to perfection. On a freshly paved highway it glides along like a luxury car should, but on a badly-repaired street with lumps bumps and potholes (lots of those in downtown Toronto) you certainly feel the wider, lower profile tires and the sports-tuned suspension. It's a very worthwhile trade-off, though.
Handling - 7/10
With its independent double-wishbone suspension up front and independent multi-link in the rear, the 2008 TL is, without a doubt, one of the best-handling FWD cars I've ever driven. Like, approaching Golf GTI levels of good (if the Golf GTI somehow came in a midsize 4-door version). Other than the mild torque-steer and understeer you'd almost convince yourself you were driving a AWD German car like the C300 4MATIC or the Audi A6. I'm not the first person to say that Acura hides the FWD origins of its sports sedans very well.
As a DD, I haven't autocrossed it - nor would I, really, I'd get a track rat for that - but in the two weeks I've had it I've done a 300 km road trip, banged along some country roads, and done quite a bit of highway commuting including some sharp ramps to test on. It points well, and dives in nicely, with very good feedback from the chassis. You have to be a bit careful powering out of a turn, as with all FWD cars, but otherwise I've said it before and I'll say it again: this TL is one of the best Front Wheel Drive cars I've driven.
Audio 9/10
Photo Credit: The Car Connection
The audio in the 2008 TL is stupendous, one of the best factory systems I've ever heard. It's made by Panasonic and tuned by some Grammy-award winning musician I've never heard of. Eight speakers powered by a factory 260 Watt amplifier combined with the good sound insulation make for a powerful system that should please all the but the die-hard car audio enthusiasts.
Yes, that is a tape deck you see. It is truly redundant, as there is also an AUX port in the center cubby, so no need for a tape-adapter. I suppose you could play a tape with it for shits and giggles, and if you did you'd find this is one of the finest cassette players ever installed in a car. For a vehicle from 2008 - a sort of in-between period in car audio - it's modern enough, with the aforementioned AUX input and the ability to play MP3/WMV burned CD's.
Speaking of CD's, this seems to be the way to go for car audio. The car has Bluetooth phone capability, but no BT audio. I know I could mod that in one day, but for now I figure I'll just burn MP3 CD's like its the 1990's again, and load them one by one into the 6-disc changer located in the headunit. The sound quality with CD's is extremely good, and much better, I'd wager, than a BT set-up.
It also has a Sirius/XM radio satellite receiver, which I may or may not re-activate in the future.
Toys 7/10
While a brand-new luxury car would certainly have more toys, the 2008 TL doesn't disappoint. The Hands Free Link Bluetooth mobile phone feature is easy to use, program, and interface with (I like how you can hit the Talk button again to skip prompts). The Home Link garage-door opener is something I've never had in a car I own, and I'm pleased as punch to have it now.
The automatic dual-zone climate control is easy to use and works well on Auto mode (you can tell it to not use the A/C). I'm looking forward to the heated seats and heated side-mirrors this winter. The 8-way power driver's seat and tilt-telescoping wheel have so many fine positions of adjustment it actually took me a while to get settled. It has two memory positions for the driver's seat as well.
The center LCD screen has a raft of features, incoming/outgoing calls, tire pressure monitoring, outdoor temperature, trip computer with average MPG returns and car setup options like remote and automatic locks/unlocks.
More of a safety feature than a toy, the HID's, the first in a car I've owned, are excellent. Very bright and nicely focused. Fog lamps, turn-signal indicators on the side-mirrors, LED taillights and orange and red side-markers increase both safety and bling factors.
Value 8/10
Considering the very low mileage, condition and vehicle history I find the car has great value, especially as I plan on keeping the car for a long time. It has a very reliable history (the service records have nothing but Schedule A maintenance on them). Transmissions were a potential issue in the 2004-2006 years, but by 07-08 they had fixed it for good. I've spoken at length to two TL owners I know IRL, and both have had no problems over several years of ownership, other than the usual timing belt/water pump change it's been plain sailing. Erm, driving.
The TL has a proven record of reliability according to the usual sources like Consumer Reports, Edmonds and JD Power. As mentioned its gas economy is quite good on the highway (which is most of my commute) and it's relatively inexpensive to insure. It takes premium fuel, but I'm reliably told that it doesn't really need Synthetic oil.
Final Score:
76/100
Engine: 3.2L SOHC VTEC V6, 4 valves per cylinder
Power: 258 hp @ 6200rpm, 233 lb-ft @ 3500-5500 rpm
Transmission: 5-speed Automatic with Sequential SportShift and Grade Logic Control
0-60 mph time: 6.9 seconds
Drivetrain: Front Wheel Drive
Curb Weight: 3623 lb (1643 kg)
MPG: 18 city, 26 highway, 21 combined (achieved 39 MPG highway)
MRSP: $38,940 (paid $17,888)