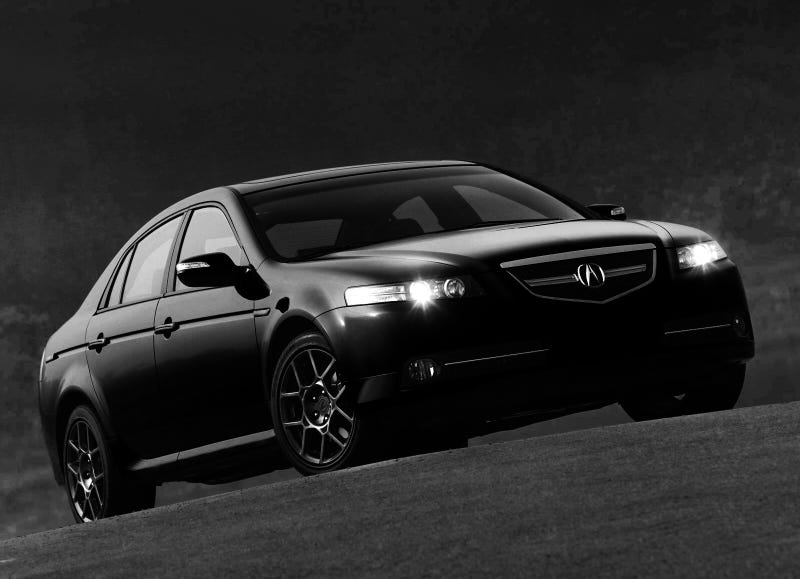 Some say it's just beefed up Honda Accord. Others think of it as a sexy sport-sedan; Acura's e39, if you will. I decided to trade in my Civic for one to inject more sport, comfort, and luxury into my daily commute. Is the TL Type S the last great car Acura offered?
(Full Disclosure: Acura wanted me to buy a 2008 TL Type S so badly, they put an ugly ass beak grille on their entire line up in 2009 so I wouldn't buy anything newer.)
This is a review of my Acura, which I've been driving for about a week now. My basis for comparison mostly pits this car against an '08 Civic LX, which was my daily driver for the past 6 years. There's no doubt the TL-S is an upgrade, but I wanted to share my take on the car. Please excuse my personal pics, its dirty as hell right now and its wicked cold out, because winter.
Exterior: 8/10
I like it! There are many different impressions you can get while viewing the TL. It's got a muscular face and a boxy rear end, but it can look like a regular sedan if it wants to. Special tail lights, quad tipped exhaust, and an aggressive body kit set it apart from the base TL. The special alloy wheels compliment my car's Nighthawk Black Pearl paint, which has flakes of blue in the right light. I challenge you to find a color on the Type S that doesn't work with the black chrome, ten-spoke wheels. I wanted a set of those wheels to put on my Civic when I first got it!
Interior: 7/10
Inside, you'll find a blend of leather, metal, and plastic materials. Most of the surfaces are soft, like the dash, center armrest, and door panels. The only hard plastics are the pieces that take the most abuse, like the cup holder, stereo and climate control buttons, and the center console. Pieces of metal trim line the center stack and the pedals are aluminum.
The controls are ergonomically laid out for the driver. The steering wheel contains buttons for the car's information readout, stereo volume and channel controls, cruise control, Bluetooth, and voice command. The wheel itself is leather wrapped, has a Type-S badge, and both tilts and telescopes. The navigation screen is rather large and doubles as the back-up cam monitor. It also responds to touch inputs accurately and without multiple tries.
The power, heated, leather seats are very comfortable and feature a "Type-S" stitched into the headrest. They can be adjusted back and forth, up and down, and the lumbar support is also controlled by power. The back seats offer a decent amount of leg room and rear facing vents in the console help maintain the climate.
There are a couple of things that bug me about the interior design. The cap on the shift knob is the same shape and color as the radio tune knob. This tricks me into thinking I'm sometimes in third or fifth gear rather than fourth, because I'm seeing that shape out of the corner of my eye. My metal trim pieces are kind of banged up, but cost $200 a side to replace! Also, the parking brake lever is on the passenger's side of the console. I have to grope my passenger's legs to disengage it. Cool when my wife rides shot gun, not cool when it's a male co-worker. Maybe I'm nit-picking, but that's all I've got!
Acceleration: 7/10
First gear is meh. Second and third gear are awesome! Just keep the car straight and you'll hit 60 in the high fives. This car can get out of its own way. Merging and passing on the highway are effortless. I used to have people tailgate and pass me aggressively when I was just trying to pull away from a stoplight in my Civic. Now those people are fading away in my rearview. Just keep the car straight…
Braking: 8/10
The TL Type S has beefed up Brembo's up front and I've had no issues coming to a stop. I find myself stomping on the pedal a lot harder than I need to, only because of the brakes in my Civic were pretty terrible. I read that the pads generate a lot of brake dust, but I promise to keep my wheels clean.
Ride: 7/10
The Type S sport tuned suspension carries the car well. The car is tight through the corners with negligible body roll, but it also floats over the bumps and potholes. I'm sure I'd be comfortable on long trips, but I'll be able to test that out on my upcoming trip this summer.
I'm going to detail the hell out of this in the Spring, I promise.
Handling: 5/10
Front wheel drive lets the car down. Punch the throttle and torque steer kicks in, tugging the car to the left. Yes, I wanted a FWD car for my New England winters so I wasn't surprised when I pushed the car. If you're anticipating it, it's nothing you can't handle. Hard launches aren't super smooth, but that's part of the fun! However, this car is tight and the body roll is close to zero compared to my old Civic. The steering feel is heavy, I was much more confident tossing the Civic around. I have driven it twice in the snow, and its handled like a champ.
EDIT: much of my torque steer issue was due to a tire mix up. The dealership I bought it from replaced the front two tires with low rolling resistance all-season Michelins. The old tires on the rear axle were summer tires of the same brand. Prior to delivery, I made the dealership fix curb rash on two of the wheels, one on the back and one on the front. The shop that performed the repairs was unaware of the two different types of tire and installed them incorrectly. One tire of each type was put on the same axle, which takes the blame for the crazy torque steering. I've since installed two new tires matching the newer LRR wheels. I'm keeping the score the same because the tires are horrible on this car. I regret taking the cheaper route and not replacing all four tires with high-performance rubber for the get-go. I cheaper out, the dealer cheaper out, and the wheel shop was careless. I hope to pick up some summer tires for next year and then have some fun!
Gearbox: 9/10
The 6-speed manual in the Type-S is fantastic. Shifts are short and smooth, and the knob has a decent weight to it. The shifter itself is simple, just a leather wrapped knob with black leather boot. The clutch pedal engages at about 25% and has a heavy feel. Acura stopped putting a manual transmission in the base model after 2006, but was still available in the Type-S in 2007 and 2008.
Audio: 10/10
How do you listen to your music? AM/FM/XM? CD/MP3/DVD? Aux input your phone? No problem, it will even play your cassettes. It's got 8 speakers and 1 sub; there's two speakers up front in the dash and one on each door. The rear deck has two speakers flanking a center mounted subwoofer. Volume and channel/track controls are on the steering wheel and SVC adjusts the volume based on your speed, if you choose to use it. The Aux input is in the center console, but there's cutouts that allow you to run your cords and close the armrest. The 5.1 surround sound system was developed by a Grammy Award winning music composer, and the DVD based system is supposed to be 500 times clearer than CD's.
The exhaust note is not bad. It's very quiet at idle, but 2500+rpm's fixes that. It's got a mean growl once you find it.
Toys: 9/10
The TL Type-S is loaded with goodies. A touch-screen navigation came standard on every Type-S, which also includes a backup camera. Heated mirrors and seats appease the Northerners, but the passenger's seat only toasts your buns due to airbag sensors in the seat back. Bluetooth and voice control are handy, and there also three built in garage door buttons. Dual zone A/C is awesome if you're married. I'm usually warm and my wife is usually cold, so guess who used to win the battle of the temp. dial? There are lots of other toys that I've never had in a car before; HID headlamps, 2 memory slots for seating/mirror position linked to the keys, a TPMS that reports on each tire, auto dimming rear-view mirror, and remote window control. It doesn't have backup sensors or crash detection or any self parking bologna, which I don't think most of us would care for anyway, but I deducted one point.
Value: 8/10
Back in 2008, the Type S cost $38,900. I picked mine up for $18,500, so that's a $20k hit in 6 years. Sucks if you bought new, awesome if you're me! While hunting, I found the price range to be anywhere from $16,500 for an auto with 97k miles to $21,000 for one with the 6-speed and only 45k miles. I should be able to recoup most of my money when I get something else in a few years. It's a lot of car for the money, great value for a buyer. You just read the toys section too, it's got a lot!
78/100
Dat Kinetic Blue...
Engine:3.5L V6
Power:286 HP at 6,200 RPM/ 256 LB-FT at 5,000 RPM
Transmission:Six-Speed Manual
0-60 Time:5.8ish seconds
Drivetrain:Front-Wheel Drive
Curb Weight:3,559
Seating:5 people
MPG:18 City/27 Highway (21 combined observed)
MSRP:$38,900 (As tested, $18,500, 6 years later)