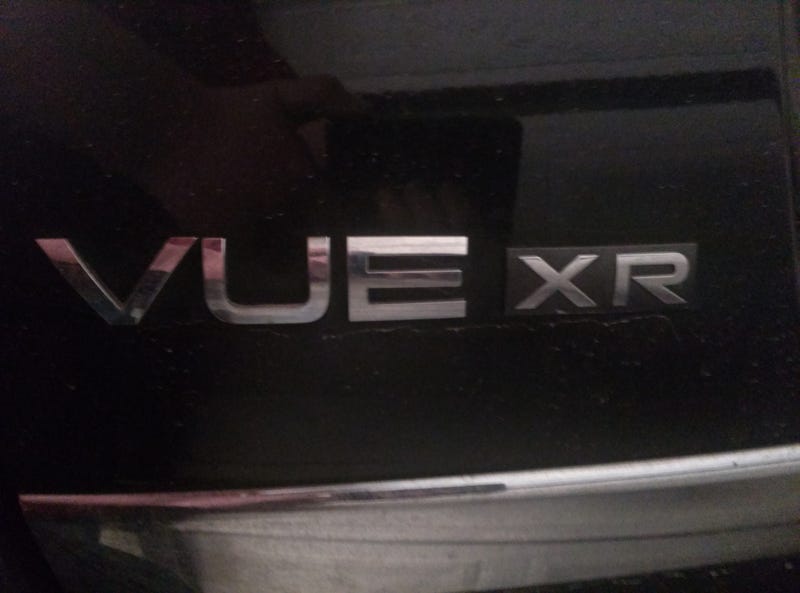 Ah yes, the Saturn Vue. The nicest car my parents have ever owned in terms of quality and luxury somehow. It rolled off the assembly line in Mexico in November of 2007, and then we bought it off the lot that following May. We've owned it 6 years and 64,000 miles, with many more to come. And I shall now review it.
Exterior
(This isn't our car, it was dark and I couldn't get a good shot of the car. Ours looks exactly the same though.)
The exterior is very European, (I wonder why) I like it. The XR model uses a higher ride height compared to the lowered Redline model, but loses the plastic body cladding of the XE model. I'm usually not a fan of side vents on cars, but the Vue makes them look good, with body lines coming from both the top and bottom of the vent. The look is finished off with 18 inch 6 spoke wheels, silver roof racks, and chrome door handles. It comes together to make the most attractive CUV the general was screwing together at the time.
Interior
Soft touch materials! In a pre-bankruptcy GM vehicle that isn't a Cadillac! The interior materials are rather nice for a car that came from a company that was considered the economy brand. The whole thing is screwed together very well. The dash and door tops are soft plastic. The door panels also have a fabric very similar to the material on the seats. It's overall a very nice place to be. It's safe too: there's a total of 6 airbags to keep you safe in an accident, more than any other car we looked at. Options on ours include heated front seats, electric drivers seat, OnStar, and a HomeLink system. One option my mom wished was selected was the built-in navigation system.
Functionality
With the seats up, you can put 29.2 cubic inches of stuff in the back. With the seats folded down, there's 56.4 cubic feet of room. Both numbers lack compared to the Vue's competition at the time, the Honda CR-V and Toyota RAV-4. But I can say that a weeks worth of stuff for a family of 4 will fit in the back fine. Also, the glovebox is said to hold a small laptop. There's also a drawer under the passenger seat that can hold maps and the owners manual.
Audio
The standard 6 speaker audio system is very good for a factory unit. There's a deep bass and its surprisingly crisp and clean. You can have up to 6 pages of presets which are all accessible from the controls on the wheel. An Aux jack is included, but there wasn't any sort of Bluetooth offered until the 2009 model year.
Driving
The XR and Redline models feature GM's "High Feature" 3.6 liter V6 engine. In the Vue it makes 257 horsepower and 248 ft pounds of torque. This shuffles the Vue to sixty in just over 7 seconds, which isn't exactly slow for a 4,000 lb CUV. The engine lets out a nice snarl near redline. There's a deep note that almost sounds like a V8. The six speed auto is smooth and willing to rev.
XR and Redline models also got hydraulic steering compared to the electric steering XE models received. The steering on the XR is responsive and gives just enough feedback to let you know whats going on, but not enough to drive you nuts with road imperfections. The Vue rides on a fully independent suspension setup with MacPherson struts out front and Multi-links out back. The car handles surprisingly well for a tall CUV.
Wear and Tear
The car has held up very well in the time we've owned it. It's never been to the dealership unless it was for a recall. No service has been done except for oil changes and tire rotations. It's been a very reliable car in general. At 64,000 miles, there's a moaning coming from the front suspension that we suspect are bushings that need to be changed. That's the first thing we'll have to ever do that might cost more than $300. I call that good for 6 years of ownership.
Wrap up
This is the car that replaced the Safari as my mom's daily driver and she's loved every minute of it. I love driving it, too. Its the car I first drove after I received my permit, and the car I've learned to drive in. Its became as much of a part of our family as Big Blue or the Safari. My parents were sad to see Saturn go, mostly because they knew they could never get the successor to this car, which would probably be even better than now. So I have a feeling this ones gonna be around for a while. It might even end up being mine eventually, and you know what? I'm 100% okay with that.