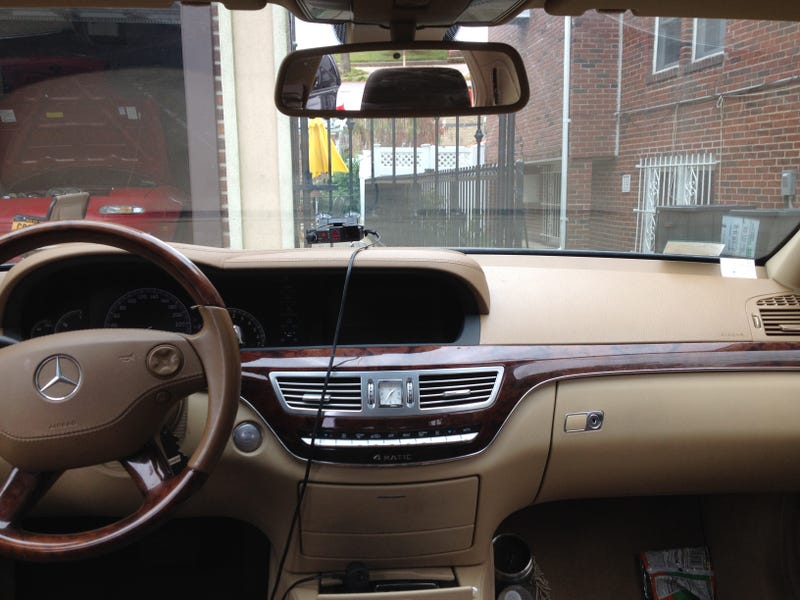 Rolling up to the toll booth at a consistent 15mph in 1st gear, pretending the EZ-Pass light is a drag strip christmas tree, I wait with my right hand ready to grab second gear, and my right foot ready to test the grip of my Continental Extremecontact DW tyres. When the orange barrier lifts, so do the revs and KPH readout. 30..40..50..60....70.....85 miles per hour happens in about 6 seconds and 2 gearshifts later.
Holy crap this thing is fast.
I bought my S550 because I had a lot of money (thanks tesla stock!) and very little sense. I was looking at CTS-V's, but then realized I do not want speeding tickets or points on my license. Instead, I bought what I thought was the most depreciated, safe, comfortable, and opulent vehicle that was within my budget, so when I saw a pre facelift W221 S550 4Matic in a decadent shade of blue/grey and a cashmere/maple interior, "No church in the wild" by Kanye immediately started playing in my head and I knew I had to have it.
The mileage was high (70k miles), but the service records were in order, and the price was right. I knew I could get a warranty in case one of the extremely expensive items broke AND service all the major mechanical systems while still staying under budget. When I got in the car, everything looked new, as opposed to that of the CTS-V , Audi RS4 and E46 M3 I had looked at in the preceding months. So for about 40 large, I bought a Q-ship that originally sold for 120k!
I named him Jake Gottlieb Gatsby, and for the past 14 months I have been constantly finding new features and subtleties about him that make the ownership experience all the more endearing. The interior design is 'Art-Deco' style according to my uncle, who is an actual artist. It is well crafted and the quality of the wood and leather is astonishingly good. As I creep through NYC traffic, I get to watch the streetlights and chaos filter over the glistening tripartite symbol at the helm of the ship and traffic becomes peaceful. The sunlight reflecting off of the interior chrome and wood is consistently stunning, and I realized I bought something truly timeless. It has been described as "smooth as a poetry major on Xanax", and I would agree. The only thing better is being a poetry major on Xanax being chauffeured to a house party in the back seats!
It is an unconventional car for a college kid, far too fast, far too expensive, and far too ostentatious, but I don't care. He's Jake, he's my baby, and anytime I want to actually drive, I have a miata for that. The maintenance is roughly 20% more than my 2013 hyundai genesis coupe's was, and I use an independent repair shop that only works on Mercedes and is incredibly good at what they do. (Kraft Auto in Brooklyn if you were wondering).
Say all you want about 0-60 times, or horror stories about Mercedes repair costs, but none of that matters after you see how effortlessly it climbs from 70 to 130 or how controllable it is to drift through snow filled parking lots. I imported Nikonan WR G-3 tyres for the winter, and the thing is an absolute tank. I love you Oppo, thanks for reading!