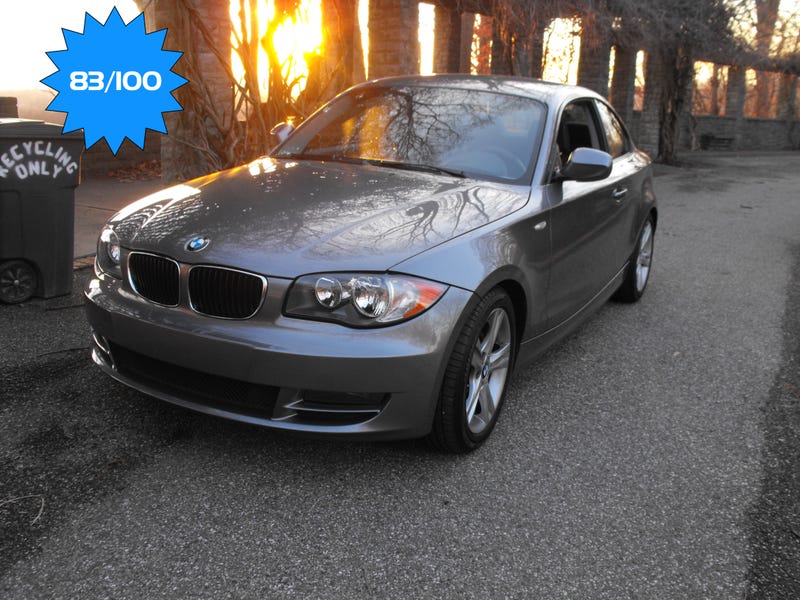 On October 10th, 2009, Bayerische Motoren Werke AG built something that should have never seen the first lights of day. This Frankensteinian monstrosity was conceived a few years prior to be the second coming of the original small terror of Bavaria. The engineers had gone mad with power and decided to play God himself. Starting with a platform deemed too large, they hacked and sawed it off to make it smaller. They stiffened the suspension, stuffed the 2996 cm³ inline six with dual overhead camshafts, backed by a six-speed manual transmission inside the shrunken body, deleted the sunroof, lightened the seats, but didn't bother to slap any ///M badges on it just to fuck with people. This creation was therefore perfect for myself. However, I couldn't resist molding it to perform my bidding with just a CID, muffler and a new pair of speakers. Why? Because I need my cars to sound like they drive.
(THIS IS A TRUE STORY. The events depicted in this entry took place in Ohio in 2015. At the request of the survivors, the names have been changed. Out of respect for the dead, the rest has been told exactly as it occurred.)
Exterior: 8/10
Many people have decried the exterior of the 1-Series as goofy and disproportioned. However, these people are wrong, dead wrong. Its long hood, short trunk, and upright greenhouse are the classic traits of a proper 2+2. The prominent body lines, curves, subtle but noticeable duck tail, lack of outrageous flame surfacing and no eye searing Bangle Butt all combine to make one sexy little car if you look carefully. The Space Gray metallic paint accentuates these curves and creases while looking better than just shiny primer. This one also features the staggered 17" five spokes with its M-sport suspension.
Picture it as a younger, just off to art school, sister of the BMW lineup. The same sized eyes, but on a smaller face. The same breasts and ass of the business school sister 3-Series, but on a shorter body. The family lineage is undeniable, but less refined and less awkward. She's the daughter with the pink hair and nose stud, but could still teach you some math lessons.
Interior: 9/10
With all of the black and grey inside, you might expect to see a placard on the dash saying, "Interior by NIN," yeah this art school chick listens to her dark soul for inspiration. However, just like Nine Inch Nails, it's decidedly sophisticated in design, but with some hard edges. A majority of the surfaces are nice, with excellent soft touch plastics and even the shadow line gloss black looks good, but the matte finish plastic panels are from the cost cutting measures of the cheap BMW model.
(image credit: Something I found on Google)
The displays are the black faced analog gauges, consisting of a speedometer and a tachometer with the fuel gauge on the bottom portion. The small multifunction display uses the familiar orange pixels, the same as the stereo and climate control screen. It's a little dated, but it's not iDrive.
The great looking three spoke steering wheel is small and meaty with well positioned thumb rests. The few buttons on the wheel fall easily to hand. I think that the designer is quite familiar with a DualShock controller. One note though, I once again ended up with the BMW without a tilt wheel, not that that's a bad thing, just one less thing to break.
Now, the seats are the real star of the show in hear. Mine has the fully manually operated and adjustable sports seats. I'm still amazed by how BMW managed to make these so damn comfortable and supportive. They hug and hold you in position, but don't squeeze you to death. Their also not rock hard, you can drive for hours and not be sore. The back seats are also surprisingly comfortable despite the lack of legroom witch is perfect for a 2+2.
Acceleration: 8/10
Now, a lot of you will question this score as it's only the 128i with the naturally aspirated 3.0L six making just 230 hp to haul around its 3,200 lb self. But here's the thing, you honestly can't use any more power on the street. It puts the power to the ground so efficiently that it will happily deliver you to your local speed limit and beyond in a manner that is fun, refined, and just scary enough to get the James May fizzy penis root sensation. It also doesn't feel like it's overwhelming the chassis, it's just right at the sweet spot.
Braking: 8/10
It stops quite well with great pedal feel. Makes you confident. Brakes! Fun!
Ride: 6/10
She's got almost no cushion for the pushin', but that's just fine and expected with a Bimmer, if you don't like it please go buy a Lexus. However, the ride will benefit when the run-flats are gone.
Handling: 10/10
Did I mention that she's going to art school for music and dance? Because this car comes to fucking life in the twisties. The steering is heavy, but not too heavy. It's direct and tells you exactly what the front tires are doing. There's no understeer at all, just neutral as it could possibly be with the tendency to oversteer when pushed too much. But, the oversteer is so easily controllable that it only happens when you want her to hang that nice ass out. I've driven a racing Miata, and let me tell you the 1 is a more willing dance partner with more to give. Suggested speed limits? It wants to double them. A writer for Jalopnik, who shall remain nameless, once said, "you don't drive with your dong." Well with this car, you most certainly do, you drive it with a passion coming from whichever sexual organs you have, be it dong or pussy, if you don't get excited while driving it, you are dead down there.
Gearbox: 10/10
It has 6 manually selected gears and a clutch pedal. Never once have I remarked, "This is nice, but it would be better with something that shifted for me, because who has time for that nonsense while live tweeting your drive?"
Toys: 4/10
It has wonderful automatic headlamps, automatic windshield wipers, 2 multifunction displays that show things live service intervals, average fuel economy, average speed, and instant fuel economy, Bluetooth for your phone calls that I don't make, and cruise control for which I have no use.
Audio: 11/10
The numbers all go to eleven. Look, right across the board, eleven, eleven, eleven and... Well, it's one louder, isn't it? It's not ten. You see, most cars, you know, will be playing at ten. You're on ten here, all the way up, all the way up, all the way up, you're on ten on your car. Where can you go from there? Where? This car goes to eleven.
The video is it just above idle from when I first installed the muffler. Now it's broken in a little bit and along with the cold air intake the noises, the wonderful, glorious noises that are produced range from pops and burbles to a sonorous howl to the banshee like tenor scream as you approach the redline. It's orgasmic as you get it again and again and again longer and harder as you get to each new gear. I need some better sound equipment to record it.
The base six-speaker sound system with AM/FM/HD radio, CD player, and auxiliary input was sad compared to the mechanical marvel that is underneath the hood, so I installed a pair of better speakers in the doors, so now it has 2 tweeters, 4 midrange drivers, and 2 under seat woofers. It's much better now.
Value: 9/10
It was $18,000 with 36,000 miles on it when I bought it. I did well. Just don't get your hears set on finding another exactly like it, because I'm pretty sure that it's a one-off. But if it's not please feel free to find me a way of seeing how many were produced with those exact options, because I'm quite curious to find out.
Total: 83/100
Engine: 3.0-liter DOCH I6 gasoline.
Power: 230 hp @ 6,500 rpm
Torque: 199 lbft @ 2750 rpm
Transmission: Six-speed manual
0-60 Time: 5.7 seconds
Top Speed: 149
Drivetrain: Rear-Wheel Drive
Curb Weight: 3,197 pounds
Seating: 2+2 people
MPG: 18 city/28 highway/22 combined real world 24.5 mpg with very mixed non-hypermiling driving
MSRP: $30,725