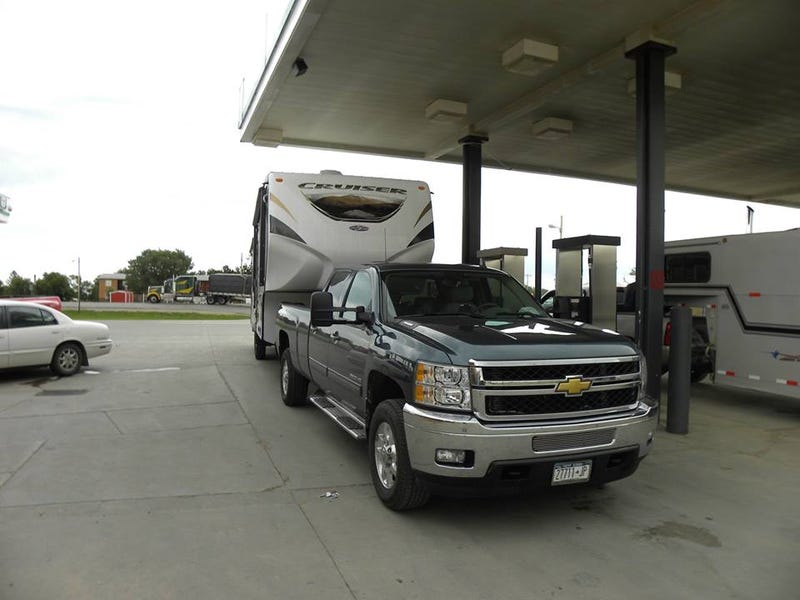 This spring marks the 4th year that my grandfather will have had his GMT900 Silverado. It's been used for many miles of towing and is still holding up quite well.
(Disclaimer: Chevrolet wanted my grandfather to drive this truck so badly that they created a a whole new generation of diesel engine creating even more power than the previous engine.)
Exterior: 8.5/10
In 2007 GM came out with a larger and more squarish looking generation of the Silverado and Sierra. It's definitely truck like when you look at it. Not much to say about it really. It's got chrome, it sits on 18" wheels, and I picked out the magnificent blue. It also has an 8 foot bed so it has plenty of room for fire wood, bicycles, and other various stuff.
-.5 points because of the not so great looking 4 spoke wheels
Interior: 6/10
This truck was designed around the time of GM's bankruptcy so the interior is pretty plastic fantastic. It is the top level LTZ trim which offers leather seating and some faux wood trim. The seats are comfortable for the long hours I've spent in it while he was towing the 5th wheel trailer. The A/C still blows cold, heat is hot, and the heated seats are nice and toasty.
Space is nice. It can fit a bunch of stuff under the seats and fits 6 ski poles across the floor. Under seat storage is quite nice.
Similar to the pic just great leather and it's a Chevrolet, not a GMC.
Acceleration: 8/10
It's a diesel truck, it's got tons of torque low in the RPM range. This thing will throw you into the seats if you floor it and can get wheel spin when the pedal is on the floor. Now it's definitely not fast being a huge ass truck, but the 765 lb-ft of torque @ 1600 RPM definitely gets you going quickly.
MPG: 4/10
It's a diesel truck that weighs nearly 4 tons, so heavy it's not even rated by the EPA. When towing we're averaging 9.5-11. Not towing we get around 18 if we're lucky. It's a truck, not a Prius, enough said about that.
(Picture was the best we've ever gotten, not the usual.)
Brakes: 6/10
The brakes work well in the truck, it's heavy so it's not exactly gonna stop on a dime but they seem to do well for the weight. Work well when towing, especially when paired with the LML's engine brake/hill descent control systems.
Ride: 5/10
It's not too bad when towing but it's a HD truck so it's not exactly smooth either. When towing it gets a bit bouncy. Like really bouncy, mainly because the 5th wheel hitch is right in the bed so when that moves you definitely feel it. It does have Bilstein HD shocks added after it was bought, and air bags were added on the rear. The airbags help level it when towing and make the rear end stiffer.
Handling: 5/10
It's a truck that's over 21' long, it doesn't exactly handle all that well if we're being honest. You will need to take turns wide in the city because of the length and it doesn't really do sporty driving.
Gearbox: 8/10
The new Duramax was accompanied by a new Allison 1000 series 6 speed automatic transmission with a manual shift mode. It is shifted by an awesome ass column shift, which all trucks should have. It handles the torque well and always seems to be in the correct gear when in tow haul mode, which it almost always is. Shifts are typically smooth and don't make the truck lurch all that much.
Audio: 7/10
The main point of audio here is that huge 6.6L V8 Turbodiesel at the front, which is quieter than the older models, but still isn't quiet. Gets loud when downshifting down steep grades at around 3K RPM. The speaker system is good for when we're hauling and "blasting" country out of the speakers. It's definitely not the best speaker system but they're good.
Toys: 7/10
This is the LTZ trim so it has a few toys. Power seats both driver and passenger, heated leather seats both driver and passenger, and it has SiriusXM capabilities. It still has the basic radio as my grandfather didn't want the touch screen they offered in 2011. It has dual zone climate controls which is nice. It lacks a moon-roof as my grandfather doesn't want one on the trucks. It also has those fancy tow mirrors standard on 3500's
Value: 7/10
This truck definitely was not cheap, I believe it was almost $60K when new. It's still worth around $40K right now. So losing only about $5K a year is pretty damn good if you ask me. I bet most of you reading this wish your vehicle depreciated that slowly. I think it's worth the money that my grandfather paid for it.
Total: 71.5/100
Specs:
Engine: 6.6L Duramax TurboDiesel V8
Power: 397 HP @ 3000RPM
Torque: 765 lb-ft @ 1600RPM
Fuel Economy: Not EPA rated, varies whether towing or not
Weight: ~8,000 lbs, she's heavy
0-62: Not fast
Top Speed: Probably around 120 from the factory, fastest been driven is around 85
Seating: 5 and a dog
MSRP: ~$60K as configured