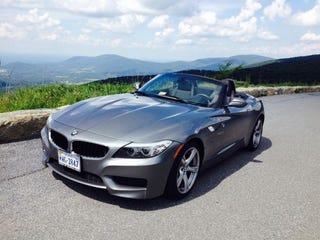 The N52-powered E89 with the M Sport package and manual transmission is an interesting combination of new and old in a rather often overlooked roadster: the second generation of BMW's sports car. It has electric steering, an electric parking brake, a ridiculous name, and drive-by-wire. It's also RWD, has defeatable traction control, stiffer damping and heavier steering settings, a great 6 speed manual, and (perhaps most importantly) a silky-smooth naturally aspirated 3 liter inline 6 that begs to be revved to its 7,100 RPM redline every time you drive it. The N52 is the last of its kind (and, as a result, so is this E89 Z4), and while it makes nearly 50 HP less than the N54 variant Z4, I would rather wring out this lightweight and raspy engine any day. It's an odd mix that leads to both versatility and contradictions; fittingly, the car's defining trait is its ability to play both the roles of coupe and convertible. So, does this confusing combination of characteristics make for an enjoyable driver's
car or just a mini-GT car? Read this rambling review of my own mother's car and find out.
(Full disclosure: BMW wanted me to drive the last NA Z4 so badly they sold it to a guy in Europe who then shipped it to the good ole USA and sold it to a BMW dealership who sold it to my mom 3 years after it was new for a surprisingly good price. I am also writing this massive review on my phone and might jump out of my window
if its kinja'd.)
Let's start this review by discussing its ancestors, its target buyers, its competition, and its purpose. The E89 Z4 followed the controversial E85 Z4, and the decidedly uninspiring Z3. Neither of these cars were bad, mind you- they only lacked a distinct purpose. Along with that satisfying normally aspirated straight six, that same tradition carries over to the E89 Z4, a well-appointed but fun 2 seater that sports striking proportions and a very pretty exterior. As a rival to the Boxster/Cayman things don't seem very evenly matched. It can also be thought of as a miniature SL of sorts that is a more attractive proposition than the actual title-holder, the SLK. Well, I don't see those as the correct approaches. Each car should be judged as a sum of its parts and its character, and despite many of your opinions I can say with confidence that numbers don't tell much of the story. The Z4 is a different approach, perhaps, but from my experience with it I feel that it is a worthy option. The engine is incredible, and no less enjoyable than one of the lesser flat 6 motors in the smaller Porsches. Its design is near-perfection but retains a level of originality and flow that I don't see in its competitors. It's rather uncommon, with many people who just don't get the point of the car and this particular variant only having been made for 3 years. Additionally, the car is bought mainly by wealthy, young "bros" looking for a car that will help their image and middle-aged people (like my mom) who want fun and ease of use; excitement and responsibility. These demographics, for the most part, want the engine with the most impressive numbers/midrange punch and an automatic transmission; as a result, the 'driver's
version' I found myself behind the wheel of is not a common car. It is relatively efficient, incredibly reliable, and much easier to work on than its midship counterparts while having improving modifiability (more on that later). It also makes for a great GT car with the top up on a high-speed road in 6th gear. Anyways, let's jump straight into the review part.
(Apologies in advance for the lack of pictures of the specific car. Like I said, this is not my car and I see it rather infrequently which means I never thought to take bunch of cell phone
pictures.)
Exterior- 8/10
I find the E89 Z4 to be a really good looking car. A really long, sweeping hood ends at a pronounced front facia with aggressive yet obviously BMW-like features. It is very sports car-like with a sweeping rear section ending at a beautifully integrated rear spoiler of sorts with wide haunches and sharp contrasting body lines completing a beautiful design. The rear is round and organic and is nicely completed by a pseudo-rear diffuser in dark gray contrasting with the rest of the paint. Everything is tied together with subtle styling cues from the 507 and Z8 and, while no detail is spared, it remains uncluttered for a modern car. I really think the exterior is a mainstay of the Z4 and its main selling point over its competitors. Paint color choices are excellent, with the space gray on the review car being a great fit due to its subtlety making the car's lines more visible. I think it's one of BMW's best colors because it's understated without being boring.
Interior- 8/10
The interior of the latest-generation Z4 is also thoughtfully executed and beautifully designed. Its layout is driver-oriented with easy-to-reach and well placed controls. The M Sport package adds a fantastic seats , a meaty steering wheel, and a very nicely shaped and weighted shifter. Materials are high quality throughout, with few hard plastics and nice soft touch materials in the trim, much of which would be leather on the really unnecessary "extended leather" package. The design is clean, simple, and organic. I'm sure BMW calls it dynamic, too. The heated M Sport seats are unbelievably good—they're well bolstered, ergonomic, comfortable, and hug you like nothing else in a corner. The Kansas Black leather leaves something to be desired on a car of this caliber, though, with a papery feel that is not present in the Napa leather package available only on the 35i models. All the same, it is a fantastic place to be whether you are looking for comfort or excitement. The only image I could find with my phone that matched the interior is the one on top, although it doesn't do the interior justice at all.
Here's a better picture of an E89 Z4 interior for your viewing pleasure.
Acceleration- 6/10
The naturally aspirated Z4 is certainly not about low-end torque and midrange punch. As a result, people dismiss the N52 as being too inferior to the much-revered N54. However, any good driver's car should be engaging, and for me that involves encouraging the driver to row through the gears and hear the howl of the engine at redline. That's why I would take a higher-output variant of the N52 over an N54 any day in a smaller car. It's the last in a long line of normally aspirated BMW DOHC I6s and due to its aluminum/magnesium construction weighs very little. What it lacks in power it makes up for in involvement, something that is almost always overlooked in modern engines. One nice thing about the N52 is that heat soak is not an issue on the track. The engine also returns better mileage, is far more reliable (being capable of 200,000 miles without major issue) and, in my opinion, sounds better and has power delivery and response that is unmatched by any BMW engine since. Sorry if I still don't give a care more about the numbers, but a rev happy engine that I can push harder will put more of a smile on my face and therefore is better in my eyes. It's also the last of its kind, which makes it very cool in my eyes. Despite not making tons of torque, the 255 HP N52 will propel the car to 60 in 5.6 seconds and all the way to a limited top speed of 150. With a smooth and serious attitude, it really makes this car a BMW's BMW behind the wheel. Now let's touch on the issue of modifiability. No, it won't make 400 HP with a few mods and E85. But, a supercharger good for over 100HP on low boost is on preorder from ESS and 335 HP has been made with NA N52s. It is more than adequate and the experience is more intimate because of its power delivery, and is a refreshing traditional feature in a car with as many new technologies as this Z4.
Braking- 7/10
I don't know the specifics of the Z4's brakes, but I do know that they'll stop the heavier 35i variant in 105 feet. Pedal feel is progressive and not over-assisted, but still not great. They are more than sufficient and performance is what you'd expect from a sporty BMW weighing 3,200 pounds.
Ride- 7/10
Compared to the competition, the Z4 excels in this area... without the runflats. It's still pretty good with them, though, so I'm giving it a 7. In normal mode, it takes road imperfections and undeveloped road with ease—but, the run flat tires are rather unforgiving. While handling does suffer due to the softer damping, that's easily made up for by the M Sport's adjustable shocks along with springs and good tires.
Handling- 7/10
Handling is good, but falls short of its competition from Porsche mostly for two reasons: weight and soft springing. Nevertheless, it is predictable with a 50:50 weight distribution and the car can still pull .92g on the skid pad. This Z4 can oversteer if prompted to, but never unexpectedly with the oh-so-nicely balanced straight six. Lateral grip is very good and most of the body roll can be eliminated, as previously stated, with stiffer springing.
Gearbox- 8/10
The 6 speed manual in this car is a Getrag 217, the same transmission used in the straight six 1ers and 3ers. It's smooth with the slightest hint of notchiness and throws are short and easy. The shifter is weighted and shaped perfectly for rowing through the gears, which you'll want to do a lot with the rev-happy engine up front and nicely spaced gear ratios.
Toys- 5/10
There's no backup camera, navigation, or i-Drive. Honestly, that's nothing I care about and especially on a fun car. Not to sound to cliche, but the whole car is a toy of sorts. It's just a very German take on a car you'd typically call a "toy." Heated power seats with memory, disabling traction control, and the information screen in the gauge cluster are not the coolest toys, though. That would have to be the fantastic aluminum folding hard top that adds just 40 pounds and takes under 20 seconds to open and close. The only neat toy is the great power retractable hard top, really.
Audio- 8/10
It has the normal BMW Professional sound system. It's good if you're not a huge audiophile. The real music comes from under the expansive hood in front of you and the surprisingly unrestrictive exhaust in the rear. The naturally aspirated straight six sounds glorious from 2,000 RPM screaming all the way to its 7,100 RPM redline. The howl of the induction, the low-rev growl, the mid-range wail and the eargasm that is the top end mechanical rasp all make foregoing the forced induction worthwhile. The sounds this car makes is a huge part of the experience.
Value- 5/10
My mother paid $37,000 for this car in perfect condition, CPO, with all of the right options, and with just 10,000 miles. That's a pretty good deal, but it's no $2,500 Miata. I'd say it's a good used value, but I wouldn't pay the $55,000 new price even if I had the means.
Score: 68/100
Conclusion:
You can consider it as a less fun Boxster or a not-as-cool F-type, but it's neither. It's a Z4 with its own faults, advantages, and character and (especially in this combination) deserves to be viewed in its own light. This car is one to really appreciate when you drive it hard, and bridges two different ideals to bring you a unique and fresh experience that may never again be possible due to the death of the sweet naturally aspirated I6 BMW is famous for. I drive a raw sports car with heaps of low end torque and stiff suspension that performs on the Z4's level for a seventh of the price, but I still have great respect for what is nothing short of a great upmarket sports car.