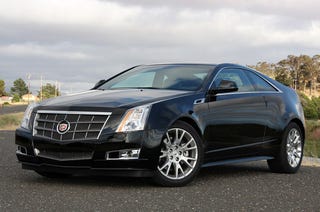 So this is one of those "Cadillac" things everybody is always on about. I like it.
(Disclaimer- My mom doesn't want to drive RWD in the snow so badly that she swapped cars with me for a little bit. I do not own the car, nor are the photos mine [way too chilly to do a proper photoshoot])
If the first gen CTS re-launched Cadillac into the 21st century, the second gen proved that the former "standard of the world" was ready to take its title back. Starting production in 2008, and boasting features like a pop up nav screen and a 308hp direct injection 3.6L V6, along with its modern, but still instantly recognizable Cadillac styling, the 2nd gen CTS got the world's attention back to GM's premium brand. In 2010, they launched the radically styled coupe. Only sharing the A-pillars forward with the sedan, GM's design team made sure to let people know that the coupe was more than just a hack and shorten job. for 2012, they boosted the power to 315HP, and that's the one I've been driving.
EXTERIOR (9/10)
Originally I was going to give it a lower score, seeing as it seems to be polarizing, but at Quick Chek the other night, a little kid coming out of karate class pointed at it excitedly and announced "LOOK MOMMY! THE BATMOBILE!!!" That gets it at least a 9 in my book.
INTERIOR (6/10)
Pretty standard mid-size luxury stuff, everything feels good, and it doesn't smell like crayons like couple of year old Mercedes-Benzes do. It's not offensive, but doesn't exactly "wow" me either.
ACCELERATION (8/10)
I'm used to a 2 year old Hyundai Sonata with a 6 speed manual. I consider that quick compared to pretty much everything else I've owned. With the Cadillac's big V6, Posi-Trac Rear, and 315hp delivered through 2 fat rear tires, all I can say is "holy shit". Pop Stabilitrack into "competitive mode" and the transmission into sport for extra hijinks.
BRAKING (10/10)
Yeah. This baby stops on a dime. Panic stops and a full stomach results on you puking out the side of a $50,000 luxury coupe like a drunken Long Island lawyer on New Year's Eve.
RIDE (10/10)
Ah, yes. The ride. This is what Cadillac is famous for. Although not floaty, like Caddies of days past, it isn't overly aggressive, like some of its German competitors. Which is interesting considering its............
HANDLING (10/10)
Feels very firm, planted. No problem in the snow, even without snow tires, quite a feat for a powerful RWD sports coupe. Probably due to its hefty weight. (not sure an exact number, don't really care)
GEARBOX (7/10)
Best slushbox I've ever driven, but still a slushbox.
NEXT
AUDIO (6/10)
With a Bose sound system, music is clear as hell. A little bass-y for my day-to-day tastes, but Pantera sounds fucking awesome through these speakers. The big 6 produces a nice, robust, healthy growl under acceleration, but sounds a little rickety at idle.
TOYS (8/10)
Not much to say, fun stuff. Plenty of buttons to push. Bonus points for being able to record and save songs to the car through the radio. Also electronic door buttons are always cool.
VALUE (5/10)
Although nicer than anything I've ever-or will ever-own, I was shocked to find out the sticker price as equipped was pushing fifty-grand. If it were like $5,000 cheaper, I would give it like a 9 or so, but something about a $50,000 car just makes me reconsider
TOTAL (79/100)
Fantastic car, great driving experience, good styling, looks impressive stepping out of. If I had the cash, it would be at the top of my list, and I'm not super fond of Cadillac. Good work, GM.