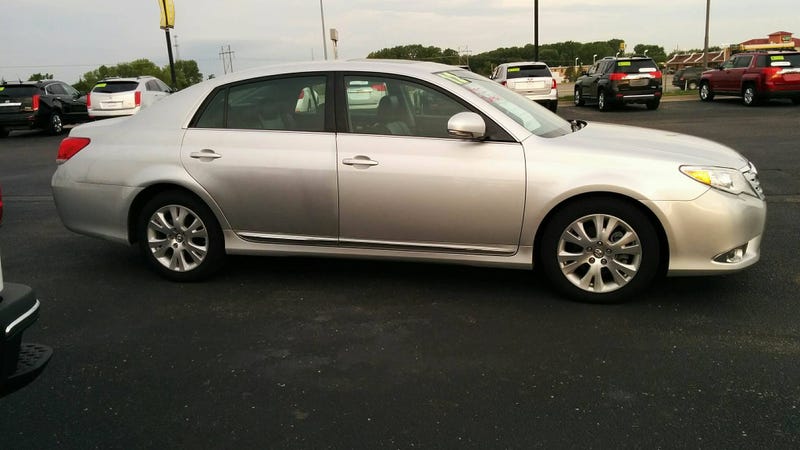 I've never thought much of modern Toyota. They make the Camry, some vans, they made some cool stuff like the FJ and, earlier, the MR2, Supra, etc. but I mostly thought of them as a soulless appliance maker. Cheap, chintzy feeling plastic tombs where souls are condemned to be shuttled back and forth between work and home while sitting in passable seats listening to a middling sound system and the road noise comes through the kinda-not-really sound insulated cabin.
The Avalon is none of that.
I got in the Avalon expecting a Camry, and ended up with one of the most pleasantly confusing cars ever. It's an enigma. The cheap hard plastics are omnipresent in the interior, yet feel very well put together and somehow manage to ooze quality. The whole car envelops you in a feeling that conveys "solid" very well. The seats are comfortable. The ride is quiet and very smooth, handling bumps and sharp turns alike with grace (though not necessarily performance). The engine is surprisingly torque to the point where, after a day of driving Chevy Cruzes around I completely roasted one of the front tires when leaving a stop light in the suburbs. The sound system was fairly excellent, with clear piercing treble and a conveyance of bass without shaking your seat (I personally prefer my seat getting shook but recognize that's not everybody's preference). What most stunned me was how big the car felt. For some reason I am incapable of thinking of Japanese cars as being Big. And I mean Big like a Cadillac DTS, Lincoln Continental, or Buick Park Avenue. Big Cars. The Avalon is Big. It feels Big. On its own it looks like any other sedan but park it next to another car and you realize how Big it is.
Very strange, I like it.
Would definitely daily.