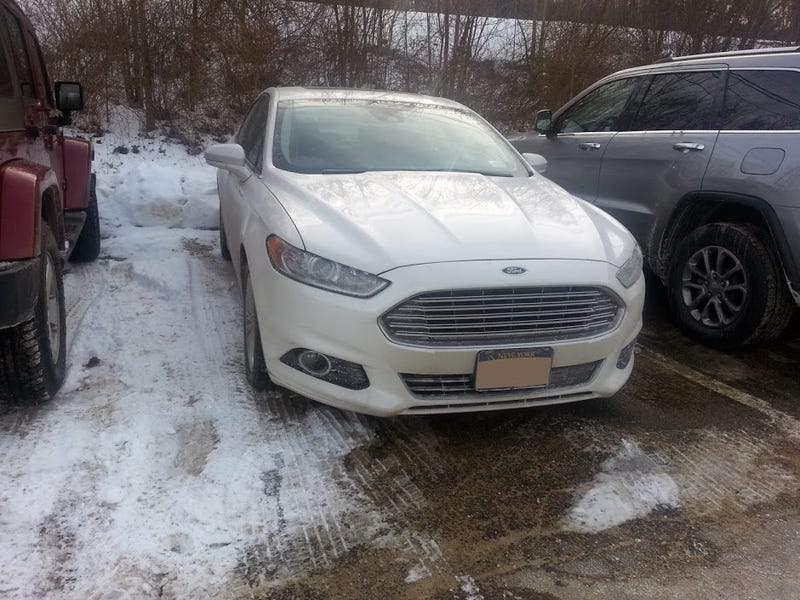 What is it?
2013 Ford Fusion Energi Titanium. A midsize sedan that is a plugin-hybrid. That means it has a gas engine and a battery. According to Ford, it can be driven up to 21 miles on electric power alone. Charging the battery from empty is 7hrs/2.5hrs (120V/240V outlet). This is a plugin car that still retains the looks of a regular Fusion and the interior space as well... the sacrifice, however, is a small trunk. Available in SE or Titanium, which has a lot of goodies and tech. More on that later.
Length: 191.8"
Wheelbase: 112.2"
Width: 72.9"
Height: 58"
Weight: 3913 lbs
Interior volume: 102.8 cu. ft. passenger, 8.2 for trunk
Engine: 2.0L Atkinson-Cycle I-4 Energi Plug-In Hybrid Engine, 141hp/129 lb. ft. torque. Electric: 88 kW Permanent Magnet AC Synchronous Motor, 7.6 kWh Lithium-Ion battery.
Transmission: Electronic Continuously Variable (eCVT)
Drivetrain: FWD
Exterior
I believe the Fusion is one of the best looking sedans you can get on the market. They didn't change the exterior appearance, other than throw in a rear spoiler (ours has one, cause it is GROUNDED TO THE GROUND), and a charge port. You probably wouldn't notice the difference between an Energi or Hybrid or regular Fusion unless you saw the badges and the charge port. I believe the Hybrid and Energi Titanium editions share the same wheels. Everything here feels nice, not cheap... but one minor complaint is that Ford didn't do a great job with the badges. Within a month of getting it in Spring 2013, one of the "F"s (for Fusion) fell off from the passenger door. Ford fixed it for free and it hasn't been an issue since. Visibility is pretty good overall. Ours is in a white platinum color, nice metallic white.
Interior and Utility
Not much to complain about here; fit and finish for the most part is great. High quality textures and materials around, though the storage bins on the doors are a bit flimsy and cheap. The leather is high quality, soft to touch and the seats are supportive and comfortable. They are slightly more firm than what I'm used to, but not BMW-isque firm. The front seats are powered and heated. While driving it is very quiet... especially on EV mode. You pretty much only her road noise, and there's not much of it (especially compared to the Prius plugin, which generates a lot of road noise). The steering wheel is leather wrapped and has good feel. There are a ton of buttons on it, but they're well-laid out and don't get in your way. Did I mention the wheel has a face on it too?
I don't like the Sync system which controls a bunch of things. More on that in a bit. Another slight oddity is the fuel tank and parking brake are button-operated, both located near the shifter as shown. The speedometer is sandwiched by two screens that you can control with the steering wheel buttons. One is for controlling things like audio, phone, etc. and the other shows you energy stats and efficiency data. It also says "Thank you for driving a hybrid!" when you turn off the car. The ignition is a start/stop button. Rear seat legroom is generous and you might even have some space to stretch.
The trunk is very small, at 8 cubic feet... however, you can still use it for groceries or hold a golf bag. The rear seats fold down and there is a pass through, so that kinda makes up for the small trunk. I did fit a piece of 2x4 in the trunk and into the pass through. It rested nicely on the center armrest without interfering with the shifter.
Drivetrain and Handling
It's not the fastest thing in the world, but not terribly slow either. 0-60 is about 8.5 seconds in hybrid mode, still faster than some other hybrids and electric vehicles. It never feels dreadfully slow and passing is adequate on highways. For a 2 ton car, it handles decently too. This might be the only hybrid/plugin vehicle under $40,000 that you can actually enjoy driving. It handles pretty well and it can take some corners too if you want. The limiting factor though are the all season Michelin Energy Savers tires. There is considerably less body roll than the Prius and Prius plugin, so that's another plus. Parking and navigating through smaller spaces is pretty much standard fare for a midsize sedan. The car does have rear backup sensors and a rearview camera. Interesting to note is that the car has hill descent control.
Ride
Very comfortable car; great on long drives. One of my friends' parents has a 2012 E350 and he says he'd rather ride in our Fusion than that. So, there you have it.
Brakes
They stop the car well. The brakes are regenerative and charge the battery as you brake. Ford threw in a little gauge that tells you your braking efficiency when you come to a full stop. I usually get between 80-100% but 100% takes effort to pull off.

Audio
The gas engine is nothing to write home about in terms of engine sound, so let's just talk about the audio system instead. The sound quality is very nice and the car has AUX, USB, and IIRC composite ports. There's a CD player too but I've never used it... and I honestly don't know if it has a CD changer.
Toys
You can control the climate control (2 zone climate control), heated front seats, Bluetooth and phone settings, audio, and navigation through the Ford Sync system. There is app support too, but I never messed with it. The car will read aloud your text messages if you get one while driving. You can control the air conditioning and audio with buttons but to change the vent settings you have to use the Sync system. It's a bit cumbersome at times, mostly just weird layouts and touch response could be improved. It's not very intuitive. I like the Toyota Entune and Mercedes COMAND systems more.
The car has a rearview camera, backup sensors, blind spot monitor (a light comes on the side mirror if a car is in the lane next to you), lane departure warning (it vibrates the wheel. I don't know why MB and Ford think that's a good idea), adaptive cruise control (that means on the highway, you set the speed and distance and the car takes care of maintaining the distance for you). It also has a 115V regular outlet in the back seat below the rear seat climate vents. Oh, and a moonroof too. The lights and wipers are automatic and it does have the annoying automatic high beams... I CAN TURN THEM ON AND OFF AS I PLEASE, THANKS. It has most of the interior features a Benz or 5 series would have for $20-30,000 more but the Prius plugin and Accord plugin both offer similar features as well. it has an HUD display, which sole purpose seems to be that if you are *dreadfully* close to the car in front of you, the car will audible a warning and flash red lights on the HUD to urge you to slam the brakes. It goes off sometimes if someone cuts you off or you make a tight lane change.
Efficiency
In my usage, the battery gets between 14-25 miles. Cold temperatures affect the battery, so in the winter I was getting anywhere between 14-18 miles out of a full charge. Now it's spring again so it is back to around 20-22. The best I've done is 25 miles out of a single charge. When in hybrid mode, I get anywhere between 41-60mpg. The picture under "Toys" shows some info on that.
This was the best I've gotten, around September or so. I got nearly 900 miles out of that gas tank combined with charging. If you have a short commute this car makes sense. If not, it could still help you out going to work and back if you live in a place that has an HOV lane (the Fusion Energi and now the Hybrid (just announced) qualify for CleanPass in NY state so you can drive on HOV lanes without passengers. This is partially why hybrids and electric cars are popular in the NYC area). Don't buy one thinking this will save you money... no hybrid will save you money. However, if you want to lower the AMOUNT of money you spend on gas, this will surely help. And if you like the idea of having the ability to go to work and back (if your commute round trip is under 20 miles) without using gas but have the ability to do a 400 mile road trip without worrying about recharging, this is certainly not a bad car. Happy Earth Day!
Pros - High quality inside and out, lots of tech and features, good mileage, decent handling, roomy passenger compartment
Cons - Small trunk, Sync system is unintuitive at times
Bonus! Unfortunately, no, this does not work. I was hoping for infinite charging.