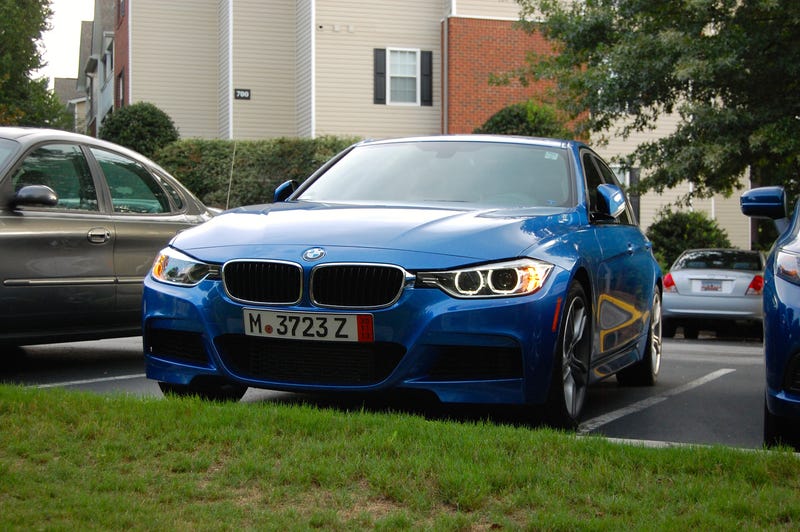 The much derided F30 generation of the BMW 3-series. If you are any sort of BMW-phile, or even just a good petrosexual who reads the automotive press, you might already know that there has been much talk of BMW losing its way. With each month, comes the introduction of a new niche vehicle. Gone are the days where the model line was simple, 3/5/6/7, and where numbers meant the engine displacement. BMW has recently done a rethink and has decided that they want to be a mobility company with sports cars, and not a sports-car company. No where is this more evident than the new 2-series Tourer, sold in europe. Its their first FWD model, and is about as far away from the traditional BMW as one could get. Anyway, thats for a different review. Back to my car.
2014 BMW 328i M-Sport : The Oppositelock 6-Month Ownership Review
Exterior - 9/10
I genuinely love the way this car looks. My only complaint is with the hood cut line, but beyond that, I think it looks stunning. The 4GC is nice, however the stubby trunk and 4 series tail lights, look odd. Were I to go back and order my car again, I don't think I would go 4GC.
While the F30 looks fairly nice on its own, it really shines with the M-Sport body kit. There is much disappointment in the owner community, as to why the US model does not come with the fog lights, like their european counterparts. I personally never need fog lights, and prefer the open mesh look of the US model, as you can see the increased cooling. Clothed in Estoril Blue II, the car is a stunner in bright light.
As a final touch, the Xenon lights really set the car off at night. Starting with the LCI E90/E92/E93, BMW switched their halo lights to Xenon, to produce while angel eyes. Every night I go out to my car, i find myself smiling at the way she looks.
Interior - 8/10
I genuinely think they hit this out of the park. The interior is modern, high quality, and sporty. The Estoril Blue finisher is a nice touch to brighten up the interior. Additionally, the MSport steering wheel is the finest wheel I've ever seen in a regular production car (not M/AMG), and I find it more enjoyable to touch and grip than any of the current offerings on the Porsche catalog.
The seats are Sensatec, a much maligned leather-alternative. These feel damn near the same as the low-grade Dakota leather used in the standard 2/3/4/5 series vehicles. They wear better and ultimately are extremely versatile. Can you tell that I had 3 glass bottles of root beer shatter in the back seat? Clean up took me under a minute with a simple cloth.
Unline the M235i, BMW has not covered the car with M badges. Short of the little ones on the wheels, there is no external M badging and nor should there be. That being said, there are nice little touches such as the doorsills and the dead pedal.
Unlike previous years of the 3, the F30 brings a fairly spacious cabin. The rear seats are usable, and I can fit behind myself in the car (I'm 6ft). Additionally, interior lighting in the car is by Xenon bulb or LED depending on application.
The trunk is fairly spacious, with a 3 way folding rear seat. This car is equipped with a emergency triangle, fitted to the trunk, as mandated by German law. US market vehicles are not fitted this way. Only European delivery vehicles are, in order to meet German regulations.
There is a little net and power plug in the left rear section of the trunk. I keep the books of the car there, because I don't like strapping them in where they are supposed to go.
The right trunk has a strap for where the manuals of the car are to be kept. There is also a small tool kit under that protective cover, and a spot for the first aid kit, which comes fitted to European Delivery cars only. Underneath this assembly, the battery for the car can be found. It is kept in the trunk for weight distribution.
Toys - 9/10
For my needs, this car's got it all. iDrive has made huge gains in the past couple of years. While not perfect, I find myself perfectly attuned to navigating it. With the 2014 models, BMW has replaced the touch wheel, with a touch pad/wheel. Now you can draw letters and "type" the destination or location in. Additionaly, it brings a gorgeous screen to the dash. Text is crisp, and the screen and menus are lightening fast. Cadillac CUE could learn from BMW as to how to make a system intuitive and efficient.
My car has HD Radio, a music hard drive, hard drive based navigation, BMW Online which provides google searches, Facebook feeds, weather, Yelp, internet radio, etc. Ive also got heated adjustable 10 way front seats, DVD playback capability, and a bunch of little touches, too many to mention. The quality of the interior product is inline with the offerings by its competitors. It isn't trying to be a leather lined 5 series.
Audio - 8/10

I had the option to spec the $875 Harmon Kardon sound system. I tried both the standard system and the HK system and found the standard BMW Professional system to be more than adequate. Previous generations of this car had very tinny sounding base systems, forcing most to upgrade. In this generation, BMW has rightly beefed up the base system, and I found it very nice.
Acceleration - 8/10
5.6 seconds. From a 2.0L Turbo I-4! This was E55 AMG territory just a few years ago. The 4 cylinder is deeply impressive, and for my driving habits, more than adequate. I drove the 335i Extensively, and while the 6cyl is a masterpiece, I could not justify the 4500 up charge. Despite 240hp at the wheels, I still get 34mpg on the highway.
Braking - 6/10
The 328i gets BMW's typical but still effective single-piston floating calipers all around. The front brakes are 12.3" / rear - 11.8". As evidenced by the photos, these things generate some serious brake dust. They are not bad for stock brakes, however I can understand why people would want to upgrade them for track use. I have never thought they were inadequate for day to day use, but they clearly have some room for improvement in pedal feel, and fade.
Ride - 8/10
I can honestly, say that this car is the smoothest sports car Ive ever owned. around town, it handles potholes without the drama of my old Infiniti G35 Sport coupe. While I try to avoid terrible asphalt out of fear of bent rims, when one does pop up unexpectedly, I don't fracture vertebrae. Considering what this car is, and the MSport Suspension fitted to it, I say its a testament to the BMW engineers.
Handling - 7/10

Electric steering remains the biggest fault of this car. The steering system has been updated via software patches, but it remains far from the pinnacle of steering setups made legendary by the E46 and E90. Porsche has cracked the code for perfect electric steering as evidenced with the Cayman and Boxster. Im waiting for BMW to address this major achilles heel, however outside of the relatively numb steering, the car is light on its feet and eager to please. Its all business, but it knows what its doing. The handling is confidence inspiring and you can quickly feel the back end give out in a controllable manner. I never understood what made these cars so special. I have an inkling now.
Gearbox - 9/10

The ZF 8AT is by far the best automatic transmission Ive ever come across. Its intuitive and has yet to hunt gears with me. Depending on the dynamic mode selected (Sport+,Sport,Comfort, Ecopro), the shift points are altered and aggressiveness of shifts are modified. The gearbox is one of the strong suits of the car. I thought about speccing the Manual, however I had two reservations 1.) Im not all that great at manual shifting, and didn't want to learn on my baby, and 2.) Sometimes I just want to waft home in quiet comfort without the added hassle of shifting. I know its a stupid reason, but trust that it wasn't because I hated manuals.
Value - 7/10
BMW has never stood for value. Nor should it. This was a purely emotional purchase, and I honestly think there are things that can't be listed on a Moroney sticker. This car has soul. The Audi A4 somehow doesn't. The Q50, definitely not. The IS350, same. This car talks to me, and it makes me smile every day. Thats good for a couple value points in my book. Plus with Euro-delivery, I saved about 15% off USMSRP. Factor that in, and its a 10/10.
Total 79/100
Engine: 2.0L Turbocharged I-4
Power: 241hp @6500 RPM / 258 lb/ft @1250-4800 RPM
0-60 Time: 5.6 Sec with the 8AT
Top Speed: 155 electronically limited for MSport models, 130 for models fitted with All season tires
Drivetrain: Rear-Wheel Drive
Curb Weight: 3480 LBS, 50/50 weight distribution with automatic transmission.
Seating: 5 – yes, I said it. FIVE.
MPG: 25/35
US MSRP: $46,875 as tested