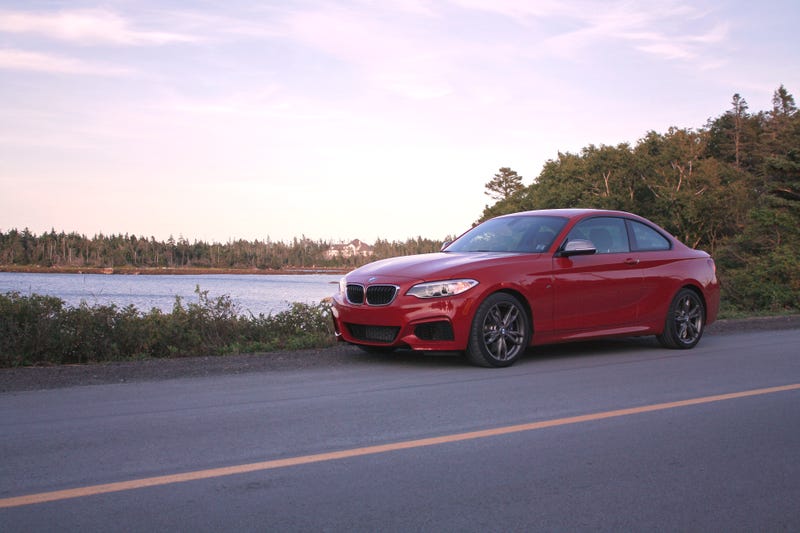 There's something special about finding the perfect recipe. A turbocharged straight-six engine, with rear-wheel-drive and a near-perfect weight distribution is definitely a good place to start. With that cliché done, I can tell you that the BMW M235i is a five-star meal. This is certainly an evolution of what you love.
I've got a pretty basic version of the car. There's no navigation, voice command, or even bluetooth-audio streaming (standard for 2015+ models).
(Full Disclosure: BMW wanted me to drive the M235i so bad that they let me test drive one, then they let me buy one. Talk about generous. Unfortunately, I haven't driven the 228i, so I can't comment much on that. Note, this is a Canadian car, so standard features will vary from the US version.)
Exterior: 9/10
Ignore the Melbourne Red metallic paint, and the BMW M235i has a subtle look. It's not anonymous like the F30 328i, but yet it isn't cladded with vents, gills, or ducts. The long hood reflects the engine's capability, while the wheelbase is kept nice and short. There's an E30-echoing shoulder line which begins over the front fenders and continues back to create the trunk-lid. It's a nice touch.
Where did the design taper off? I'm not crazy about the rear fenders. They're not flared, but not ordinary. As a result, they somehow belittle the 18" rims. Also the Audi S-line-esque mirrors are terrible. Really, they're just cheap plastic, and the tint doesn't match the rims (with or without brake dust). Hopefully BMW sorts those issues out with the M2.
It's also worth pointing out how small this car is. It's tiny on the outside.
Interior: 8/10
BMW drivers: there is no excuse not to use your indicators. These are the nicest stalks I've ever used.
As for the rest of the interior? This is a very driver focused place. It's easy to find the perfect driving position, and the seats have to be some of the nicest I've ever experienced. The steering wheel ate a few too many Snack Packs, so it's nice and chunky. It's heated as standard, too. Thankfully, BMW avoided the flat-bottom business (why is that even a thing?). Canadian cars also get heated leather seats as standard.
There's lots of room to move about in the cabin, and storage is decent. Don't expect to bus around your friends, whatever those are. Another nice addition is the hexagonal aluminum trim, which is real aluminum.
Acceleration: 9/10
If there's one reason to look at the M235i over the 228i, it's the straight-line speed. The twin-scroll turbo kicks in instantly, read; zero lag.
BMW stuffed their N55 engine into the F22 chassis, and it seems like the perfect match. You might recognize this engine from, well, anything in the BMW line-up that ends in a 35i or 40i. It's the same engine, but in the M235i, horsepower and torque have been bumped up to 322 and 332, respectively. It's pretty wild to think that BMW's smallest car makes more power than the 740i.
Braking: 6/10
Despite the plethora of M badges on the rims and brakes, these aren't M brakes. They've got big rotors and pretty blue callipers, but there isn't nearly enough initial bite. That said, this thing can stop on half a dime.
Ride: 8/10
The M235i comes standard with BMW's Adaptive M Suspension, which changes the ride between Sport (Sport+) and Comfort (Eco Plus). Truth be told, I could barely tell the difference between the two modes. You feel a change, but it's too subtle. The good news is that it's still a sporty ride in either mode. It's also a great long distance driver.
Handling: 9/10
Yes, the steering is an electronically-assisted unit, but BMW has really honed it since its debut in the F30 3-Series. The M235i feels direct, and the 2.2 turns lock-to-lock steering ratio only aids that. If you're looking at a 228i, make sure you tick the box for the Variable Sport Steering. Definitely worth it.
Gearbox: 9/10
It's an automatic! (Ahh hell nawh)
But it's ZF's 8-speed automatic. It is the best auto in the industry, and it fits the M235i like a glove. You can't go wrong with either the ZF8 or 6-speed manual.
Toys: 6/10
There's a twin-scroll-powered six-cylinder engine, with staggered, sticky tires. If you're looking for navigation, satellite radio or Twitter, get a Toyota Sienna. The M235i is best spec'd in base trim, in my opinion. As soon as the price gets over $50,000, you're getting dangerously close to a new M3, or at least a CPO E92 M3.
Audio: 7/10
The M235i comes standard with BMW's Business Professional Radio. That Professional must be a Manager at a Target, because it really doesn't live up to much.
By contrast, the exhaust note is sweeeeeeet. There's a nice burble when you lift off the throttle. Sure, some of that is pumped through the stereo, but it still sounds great.
Value: 9/10
The BMW M235i is a special case. If I were to say it's a fast car for the money, you'd say "Mustang, bro." You'd also say that a Golf GTI is more practical, a Prius is more economical, and that an E46 M3 is cheaper. Those answers are all right, but they're kind of missing the point.
The M235i is what you expect from a BMW. There's great handling, loads of power from a straight-six engine, a small and nimble chassis, subtle styling, and a comfortable interior. It checks all of the boxes, and that's when you realize it's a great deal. It's also surprisingly economical.
Total: 80/100
Engine: 3.0-liter twin-scroll turbocharged inline six
Power: 322 HP at 6,000 RPM/ 332 LB-FT at 1,400 RPM
Transmission: Eight-speed automatic
0-60 Time: 4.8 seconds
Top Speed: 250 km/h
Drivetrain: Rear-Wheel Drive
Curb Weight: 3,535 LBS
Seating: Two up front, two in back
L/100km: 10.0 city/ 6.4 highway/ 8.4 combined
MSRP ($CDN): $45,000 base, $46,544 as equipped