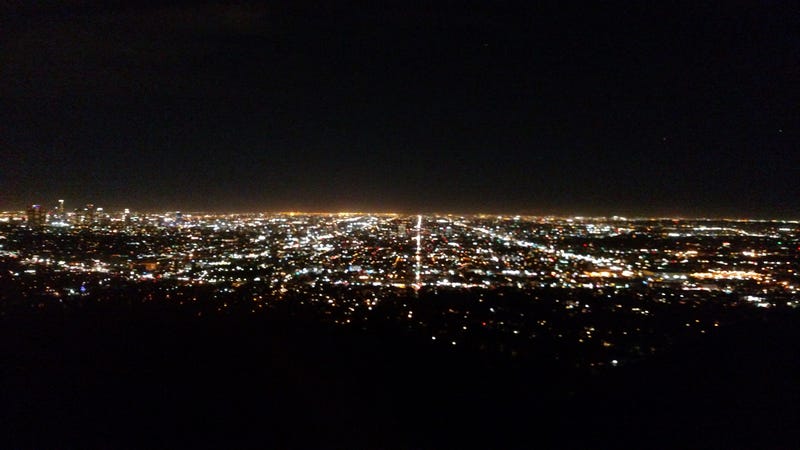 I stayed in Hermosa Beach last week, we spent our time in the beach cities, Santa Monica, Malibu, Beverly Hills, Downtown, and Hollywood. There were so many Teslas. I saw quite a few Bentlys, a few Rolls, a Ferrari California, F12, 458, GT-R, a couple Fiskers, an Aventador, many Maseratis, and uncountable Porsches, AMGs, M-cars and Audi S & RS cars. Also this:
So, I rented a Challenger from Fox. The picture they used in their waiting area was of the R/T and I was disappointed to find out they only had the V6 after heading out to the garage (sadly they didn't have any manual vehicles). It had keyless entry/start, automatic climate control, and a power drivers seat. Now, my daily is a '13 Jetta and I've never owned anything with more than 250hp so this was new and exciting for me.
In town the ride is nice, not too firm and you get a sense of what the road feels like. Over big bumps you get a few bounces though, reminded me of my old buick. Coming off a light there's plenty of power to keep up with the hordes of BMWs. (seriously, I've never seen so many at once, not even at a dealership.) I'm an aggressive driver but a lot of the people driving cars more expensive than this liked to put me in my place . It makes some nice noises above 2500rpm but there's a lot of room for improvement and revving though a tunnel isn't magical either. When I first got onto the streets I realized I was driving an aircraft carrier, especially on small streets and parking lots. I had a mid-size SUV and it wasn't nearly as much of a whale. Because of this girth passing bicyclists with traffic going the other way got a bit nerve-racking (I don't have to deal with bicyclists at home). Surprisingly, the rear leg room wasn't bad but we are all under 5'10". Also.. the front splitter doesn't look low but I managed to scrape it multiple times over speed humps and curbs.
In the canyons, going uphill is nice on the open roads, you can relax, steer with one finger and make some noise climbing up. It turns in well without any sense of impending doom. When you get on roads with more than a few switchbacks and sharp turns it starts to fall into the muscle-car-that-can't-corner cliché. I could hear the tires squeal before the rear starts to rotate. Going uphill, 1st gear is too short for those curves and 2nd gear never feels exciting. Going downhill you can feel the weight of the car and I ended up using the brakes a lot more than I wanted to. It was a lot of fun though, even though I got passed by many motorcycles and track-day cars. On dirt it was very easy to hoon, but on tarmac I had some trouble keeping the rear wheels spinning.
I loved it. Would I have liked to have the V8? Yes. Was I mad I didn't? Not one bit. It was only $80 more than the 'Toyota Corolla or similar' that was on my reservation. Beware, surfboards do not fit in the trunk but you can fit two people (tested using actual science). While it's no canyon carving machine it was comfortable, quick, and perfect for cruising up and down the Pacific Crest Highway. Do any of you own one? What's it like to live with?