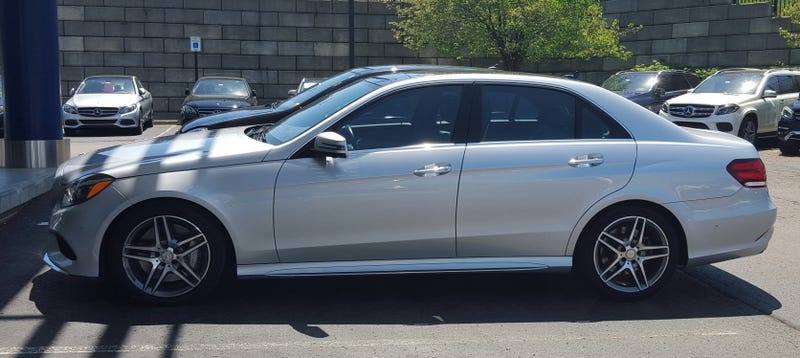 So, after spending about six months driving about a million (est.) different cars, I decided that I wanted a CPO E550. That was actually the easy part, because a) there were none in the Chicago area; and b) my wife actually preferred that I get a new car, and lease it (for cash flow reasons). After running through the numbers with her in detail, she grudgingly agreed to go along with this plan — which also meant that I was going to have to either wait for one to appear locally, or buy a car out of state and drive it back.
Long story short, after having multiple phone conversations with several dealers in Michigan, Wisconsin, and a few other far-flung locations, I settled on this car, outside of Detroit. Flew up there on the Friday before Memorial Day, and drove it home that same day. The whole process was smooth, if slow - largely due to holiday traffic, really. The drive back really gave me a great chance to play around with the car a bit - and I still loved it after a 5+ hour drive home!
Exterior 8.5/10
I really like the look of this car - - perhaps a bit boxy or overchromed for some, but I love it. I think the whole design is coherent and elegant. The Sport Package (standard on the 550, optional on the 350) makes the car look just right to me, and I love the wheels, too. One thing I've noticed is that the car sits a bit lower than I expected (and lower than my old GS350). I'm a little paranoid right now about scraping the front lip spoiler as a result - my GS would go over parking curbs, and this car won't.
Another thing that I like (and many would disagree) is that the ONLY exterior difference (to my knowledge) between this car and an E350 Sport is the "5" on the rear decklid. It's a bit of a sleeper in that regard.
Interior 8.5/10
Very comfortable seats - critical for for that initial long drive home. Across the board (switchgear, leather etc), materials are higher quality than my GS350 had - which they should be, this car was originally some $15-20k more than the Lexus when new. Leather is high quality, and supple. As a bonus, this car has the optional massaging/contour seat - something I was specifically looking for. The massage feature came in handy on that drive back from Detroit.
Also important for me is the rear seat room - if you turn your head, you can see that there's plenty of room for that big rear-facing infant seat, and the front passenger seat is in about the same place as the driver's seat. This is a notable improvement from the GS, which was pretty tight in back.
I've never been a fan of black interiors (bad memories of burning my legs on black vinyl in my first car), but this one is growing on me - and my wife is the opposite, she loves black interiors.
Engine 9.5/10
This is literally what sold me on the car. I only deducted a half point because it's not hand built, and doesn't have the signature of the person who built it on it, I guess?
There are a bunch of numbers I could throw out, but 1,600 is the one that matters most to me. As in, peak torque (443 lb ft) occurs at that RPM. Turbo lag is non-existent, and the engine just pulls from anywhere, with little downshifting, despite VERY tall gearing. This morning, I was in traffic on the Tri-State, at about 35 mph in 6th gear when traffic started to open up a bit. I gave the throttle a gentle nudge, and the car accelerated, uphill, from 1,000 RPM, without downshifting, or any lugging. I've been making a game out of it, trying to keep the trans from downshifting, for no reason other than the fact that it's fun.
On the other hand, if I put it in Sport mode and floor it, 0-60 is just 4.5 seconds away.
It even sounds good - cold starts are surprisingly growly, considering this car isn't an AMG. The noise is a very low, baritone rumble, which you can hear any time you're accelerating. It's a pleasant noise, which disappears once you're at steady speed.
I'm old enough to have started out driving big displacement 'Murican V8's when I was a teenager, with their endless low end torque, and this engine reminds me of those in many ways (albeit much better and more powerful, of course).
Oh, and if I do get bored with 402 HP and 443 lb-ft tq? 500+ HP and 550++ tq are but a tune away from Renntech, Weistec Engineering and others....
Transmission 7/10
It's a 7 speed torque converter automatic - not particularly quick shifting. It actually shifts slower than the GS350 did. However, it has one more gear, at least if you use Sport mode, and is smarter than the GS was about what gear it should be in. Besides, the engine is so damn flexible, gear choices don't matter much anyways.
It has two modes, and in true Mercedes-Benz fashion, the car pulls away in 2nd gear in Eco mode, which is the default. I'm curious, does anyone else make transmissions (for cars) that default to ignoring first gear? But I digress. Sport mode starts in 1st gear, which isn't really necessary most of the time.
Not transmission related, but I like the approach MB took here to fuel economy for such a powerful engine- - this car has (at least) 100 hp more than the Lexus did, and I believe a couple hundred pounds more weight. Yet, fuel economy is within 2 mpg of the Lexus from what I can tell thus far. How did they do it? Super tall gearing. This car lopes along at 80 mph at just 1,900 RPM. I think the Lexus was around 3k, give or take, and my E46 BMW is at a whopping 4,000 RPM. So yeah, the top gear final drive ratio of the Mercedes is 1/2 numerically what the BMW is. It works because the engine has so much torque down low.
Braking 8/10
The brakes are great, and feel is good - front rotors are ventilated, and the car will stop quickly. Pedal effort is a bit higher than the Lexus, and feel isn't quite as good, but close- and the Lexus set a high bar for braking to begin with.
Ride 9/10
The ride is on the soft side - this is a luxury car, not a sports car. The only ding on it is that over certain sharp bumps, it's a bit jarring. Might just be a Michigan thing, some of the roads there really are awful, and I haven't experienced it since I got past Battle Creek. I chalked it up to the fact that the W212 chassis dates back to 2010. Other than that, it's better all around than the Lexus was.
Handling 6/10
Again, it's a luxury car, not a sports car, and it doesn't really pretend otherwise (sport package be damned). This was the one thing that made me hesitate in getting a Mercedes (and what kept me from getting an E350 when I got the GS350 back in 2015, too).
Body roll is more than I would like, as is understeer, and this car isn't meant to be driven all that hard. That said, the car is a little easier to steer with the throttle, thanks to a more cooperative transmission. It also seems to have a bit less understeer than the GS, but that may be due to the fact that I have avoided turning while braking hard to this point.
Steering is overly boosted at low speeds, but as I have spent more time in the car, I have come to realize that at higher speeds, it's weighted quite nicely. And, at speed, there actually is a *tiny* bit of feedback, even! Shocking, I know!
Audio 8.5/10
The stereo is great - this car has the Harmon Kardon system that most E classes have. It's not *quite* as good as the Lexus, but it's fairly close. Still crystal clear listening to broadcast radio at full volume, it's just that 'full volume' is a little lower than the Lexus was. Probably a good thing for my ears, really...
Toys 8.5/10
Did I mention the massaging seat? It also will hug you around curves, which I haven't used since I bought it, though I plan to play it more soon. It also has the panoramic sunroof, which I really like (shocking since I also own a convertible, I know...), GPS, Parktronic, heated/ventilated seats, headlights that see around curves (don't ask, IDK), and a rear sunshade which is pretty useful in the summer.
I do wish it had the blind spot monitor- the side mirrors are smallish, and I got used to having it in the GS. I haven't even bothered with the GPS yet - from what I've read, entering destinations into it is a PITA, but there may be an app that I can use, who knows?
Value 8/10
Totally subjective of course, but I just bought a very fast luxury sedan with a 3 year (+ 1 month) unlimited mileage factory warranty and low mileage for a big discount off of what it cost new.
Total 81.5/100
So far, I love it! The engine is pretty addictive, sure - - but the comfort, space, and luxury will keep me happy over the long term.
Also, as an added note, my wife originally wasn't thrilled with the idea of buying used, or buying a Mercedes, or traveling out of state to get the car. But she went along after reviewing the numbers, albeit grudgingly. The day after I came home, she borrowed the car to go shopping. When she came back, she raved about the car, and how I did a great job picking it - and even playfully threatened to swap her RX350 with me for it. She said it's the nicest car she has ever driven. Pretty high praise, and it's always important to keep the wife happy! !
Now, I just need to bring it to Germany to drive it on this section of the Autobahn:
I may (or may not) have gotten it up over 100mph on the way back from Michigan, and the car really wanted to keep going faster. It seems as though the faster this car is going, the better it is.
Wish me luck that the next 60,000 miles are as enjoyable as the first 600!