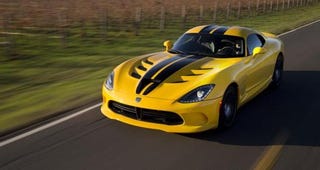 No Joke... What doth ye say, Opponauts ? Good Idea ? Bad Idea ? Meh ?
Full Text:
A development goal for the new SRT® Viper was making the car more forgiving and accessible to a broader constituency of enthusiasts, without sacrificing a bit of its track capability. A critical step to achieve this was developing a specially calibrated, high-performance Stability Control, incorporating this technology into the SRT Viper for the first time.
For 2014, the Viper's stability and traction controls work in calibrated harmony with the brake system ABS to provide drivers with Rain Mode functionality. Introduced for 2014, Rain Mode is positioned as an additional driver-programmable performance setting.
Wheel speed, yaw, and G-sensors continuously monitor the SRT Viper's on-road behavior. These inputs to the ESC controller manage ABS, Stability- and Traction-Control.
When Rain Mode is manually engaged by the driver, multi-directional wheel slip thresholds are lowered accordingly.
This restricted vehicle behavior can serve as a confidence-builder for less-experienced drivers, potentially gun-shy when driving a high-performance vehicle under less than ideal precipitation conditions.
SRT Vehicle Dynamics Manager Erich Heuschele participated in Rain Mode development testing. He's justifiably proud of the results.
"When Rain Mode is engaged, the SRT Viper drives like a normal car's ESC and Traction Control – more restrictive," says Heuschele. "We validated the system in every possible weather, surface, and tire combination, from warm and wet to dry and cold – and everything in-between, even extremes such as summer tires on cold, dry pavement. The system operates seamlessly and can even be used on a road course."
SRT believes that Rain Mode will help mitigate potential anxiety among wary drivers, helping them to build confidence in their car-control skill-sets under varying weather conditions.
Rain Mode is the kind of technology that enables SRT Viper to be a dominant player in experienced hands at track-day, to an accessible, confidence-building, user-friendly grand touring machine when a novice pilot is at the helm.
Driver-selectable Rain Mode is standard on all 2014 SRT Viper models.