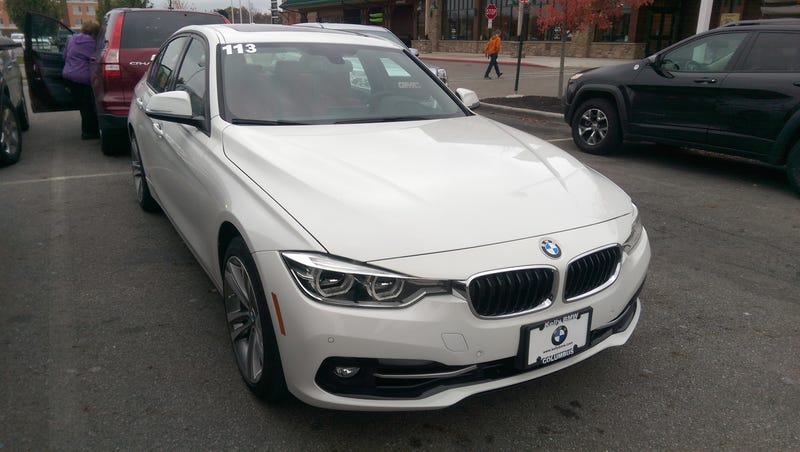 Today I drove a car. It was white with a red and black interior. It was expensive, but nothing special. It was a car.
(Full disclosure: I drove all the way up to Columbus to get iPod integration installed in my 128i. I handed the dealer my car and they gave me the key to this 328i xDrive Sedan. After 3 hours I returned to the dealer only for them to tell me that as it turns out, they couldn't actually install the iPod integration, but they washed my car and gave me a tank of gas for my troubles.)
I was looking forward to driving a new BMW and seeing if it still had that BMWness that we've all grown accustomed to over the years. Key word, "was." Then I got in, started the car, pulled forward, turned the wheel and felt nothing. Seriously, there is numb steering and then there is no feeling. The wheel turned with no resistance as the front wheels turned in a corresponding direction. Off to a great start.
So I set the satellite radio to Liquid Metal and began driving around Columbus. The car had navigation and voice controls. I experimented with it and said as clearly as I could, "Cabela's." To which the computer responded, "There are no Bluetooth devices paired up, please enter a new command." That worked just as well as I thought it would, so I tried again. This time the computer lady said, "That destination could not be found." So I pulled over into a Tim Horton's lot to find it via iDrive. Good news! iDrive no longer sucks donkey dick! I was able to figure it out and find Cabela's quickly and proceeded onward.
On my way I tried out the various driving modes. Switching from the default comfort mode to sport mode added some weight to the steering wheel but no actual feeling, which was disappointing. Then I tried Eco Pro mode, which also did...nothing. Start stop is on in all of those modes, so I will now describe how it works. Come to a stop and the motor shuts off. Release the brake pedal and the car comes on. In the situations where you stop then roll forward and stop again the engine shuts off on the initial stop then fires back up and stays running as you stop again, regardless on how long you stop. Every time the motor restarts it is horribly noticeable and gave me a feeling like the clutch was slipping.
The only true way to defeat the start stop is to move the shifter into manual mode. So of course I had to try it.
Light turns green, I floor it and off it goes with no drama at all, just a surprisingly quick acceleration with a growly engine noise. Upshifts were fast and prompt, down shifts not so much. The steering wheel that these paddles are connected to was heated, leather wrapped, nice and thick with thumb rests, until you got above the thumb rests and it got awkwardly thin, and the paddle shifters wouldn't let my man hands wrap around the wheel. I had to keep my ring and pinky fingers on the paddles at all times, even when I had no intentions of using them.
The red leather seats were very comfortable as BMW has always managed to make. The ride was as soft in all settings as the steering was numb. There was also a trunk.
This car was nothing special, it was just...a car. That's all it was designed to be, something that a lot of people can get along with and think is pretty great. It is the U2 "Sunday Bloody Sunday" of cars.
Where as my 128i is Black Sabbath "Sabbath Bloody Sabbath" of cars.
It's not something that was built for everyone, but I know which I'd rather drive any day.