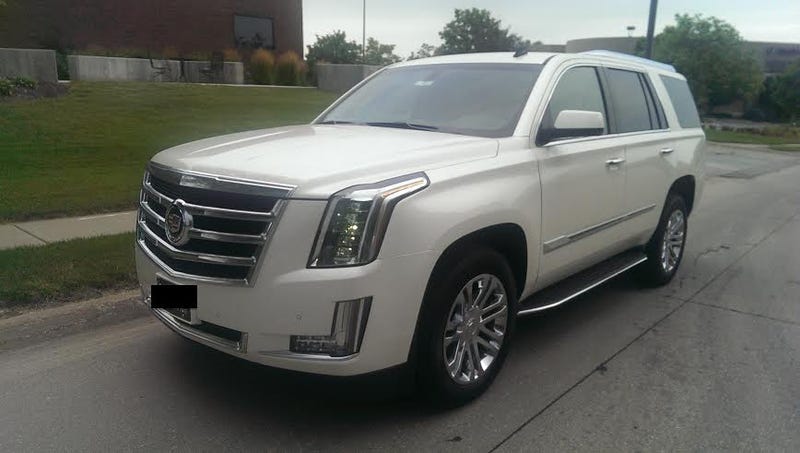 I drove the new Escalade 2 days ago. I liked it. Some things I noticed are:
The interior, even without the Kona brown seats I like, is great. Every button (of which there aren't many, because touchscreen), piece of trim, and surface is pleasant to see and touch.
Cadillac says it will do 0-60 in under 6 seconds. I believe them. That thing was seriously quick.
The interior space is probably smaller than our Flex.
It was very quiet and comfortable, but my car, even at 1/10th of the cost and with 12 years and 117k miles under its belt, is even quieter and more comfortable, so that was slightly disappointing.
The steering wheel is particularly good.
The 2015 Escalade drives like a sports sedan, but still feels like a massive house.
I cannot stress enough how much of an improvement this new Escalade is over its predecessor. It's like night and day. And did I mention it's fast?
It looks good.
Not only don't I like the column shifter as a concept, but this one shifts directly from neutral to low, and you have to hunt around for drive.
The one we drove was a base model. Only option was four wheel drive. Not even a sunroof. $77,000. That's a lot. Loaded up, it's over $90,000. And the Platinum hasn't even come out yet. Expect that to top $100k easily.
The only major problem I can see with the Escalade is the Yukon Denali. I will report back on whether it's worth the premium after I drive the GMC.
If someone 2 years ago had told me that they picked an Escalade over a Lexus, Mercedes, or Range Rover, I would've laughed at them. With this new one, I'd be tempted to pick it as well.