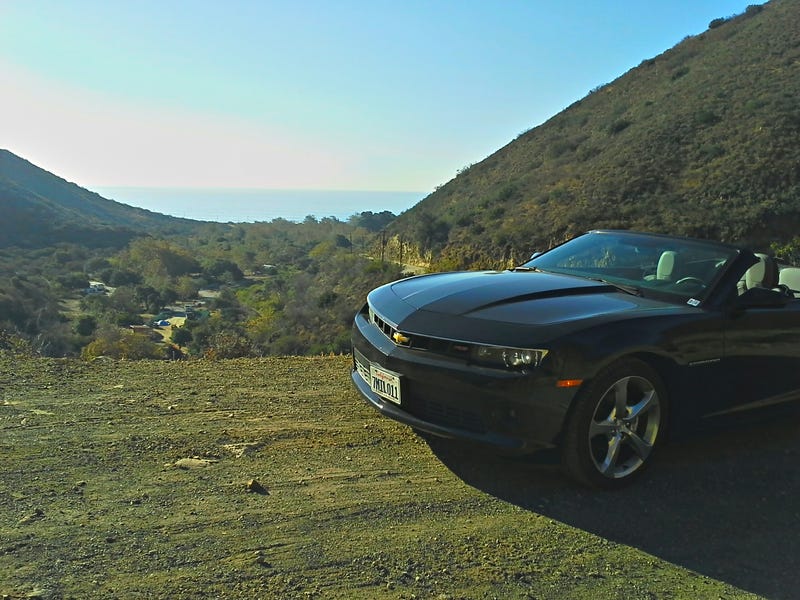 After my "experience" with renting a Chevy Spark for a work trip, my vacation out to LA for the weekend worried me since I would be renting from Hertz again. Walking into the rental office, I made sure that they would give me ANYTHING but a Spark. The original offer was a Toyota Yaris for about $100 for the 4 days. Since we were going to Santa Barbara, I figured I would ask for something more interesting. After some negotiation, I left with a 2015 Chevrolet Camaro Convertible for $200!
This car was actually a lot of fun. In the RS (also known as "Rental Spec") trim level, you get a 3.6L V6 putting out 323 HP and 278 lb-ft of torque to move the 4015 lbs car. The car is rated for 17/28 MPG and I averaged about 19 with mostly spirited driving. The car definitely has a significant amount of power but thanks to the weight, it really didn't feel that much faster than my Miata. Sure in a straight line it still had way more go power, but accelerating out of turns always felt a bit sluggish. I could see the V8 in SS trim being a ton of fun in this car though.
My girlfriend and I took a trip up to Santa Barbara with the car for the weekend. Top was down nearly the entire time and we found some really great roads. We took the 101 North to hit some beaches and then came back via the 154. The 154 offered some great scenic views out to the channel islands. The 150 out to the 33 in Ojai was another really great route to challenge this car on. Where I really got to test it though was on Mulholland Hwy all the way out to Malibu as well as Topanga Canyon Road. Those roads I think deserve an entire review of it's own for sure!
For being a rental car, it was actually pretty decent. The seats were great, nice HID headlights, nice radio (GM kinda has done it right surprisingly), and most importantly it is a lot of fun with the top down. The most important feature though was definitely the traction/stability control switch. It definitely allowed it to be turned completely off! One more nice feature is that the paddle shifters don't ignore your inputs. It was surprising that it actually held the gear, even at the revlimiter. 1st gear was the most fun because it could top out all the way at around 42 mph. This was perfect for most of the really tight stuff. The only complaint I had was that upshifting into 2nd really cut the power for the tighter stuff so it was difficult on the roads that were a little faster. 6th gear is a true overdrive which meant the car would not accelerate at all without downshifting. I am used to my 1:1 6th gear in the Miata so I still get adequate torque for passing on level surfaces.
Overall, this car was pretty darn good! It was a lot to handle the 4000+ lbs of weight through those twisties but it really held it's own and did not handle like a boat. It was a bit of wrestling with a bull but it was communicative and responsive. I would definitely rent it again but next time I want to try to get a mustang, just to see how it differs. The extra space in this car was convenient but I will take lighter weight any day!