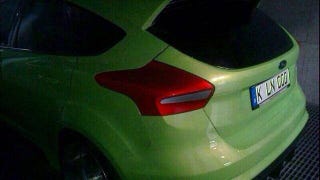 Some pics of a 2015 Focus ST or RS. I'm thinking it's an ST because of the grill. It is green, and the spoiler does look like an RS but it could easily be a redesign for the 2015 ST. Any thoughts?
Edit: I think I see a rear diffuser. Can't see a rear diffuser on a ST.
Anyone with photoshop skills wanna enhance those wheels?
I apologize if this has already been posted.
Source: Robs13st on FocusST.org