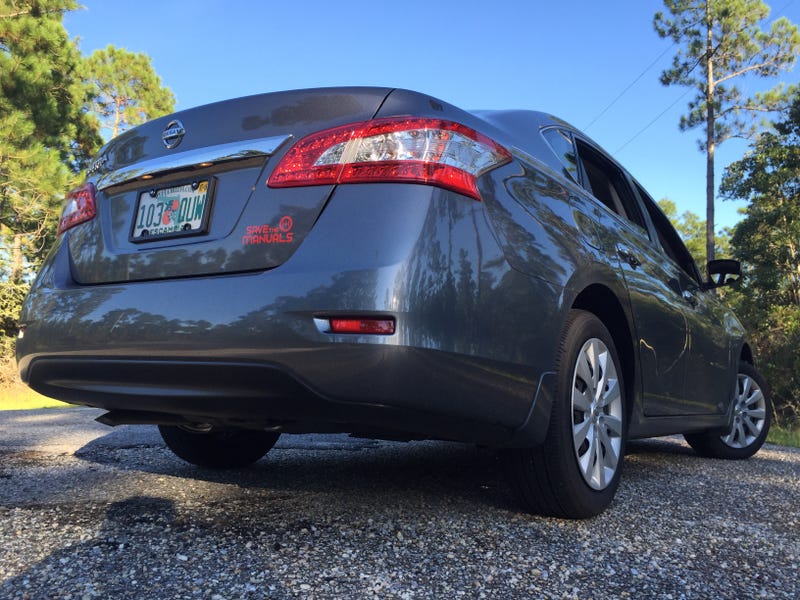 Welcome to the official Oppo review of my B17 (2013+) Nissan Sentra, specifically a 2015 model in S spec, Gun Metallic exterior with charcoal interior, 6-speed manual transmission. The B17 Sentra shed roughly 150 lbs compared to its predecessor, despite increasing in overall size, and dropped the B16's 2.0L MR20DE 140 hp 4-cylinder for the new MRA8DE 1.8L 130 hp motor, exclusively used on the Sentra in the U.S.
I purchased my Sentra on 8/20/2015 with 8 miles on the clock, it now has just over 3,100 miles. It has been back to the dealer once, for a ticking noise in the A/C, which turned out to be a leaf in the blower motor.
Exterior: 6.5/10
The Sentra is probably Nissan's least polarizing design as of late. From grille to tailpipe it is almost entirely inoffensive, mainly because it was styled to suit a global palette of consumers. That said, I think that the car is visually pleasing for its price point (this one was $16k), with tasteful application of chrome on the grille, door handles, and trunklid, LED lighting front and rear, nicely contoured side mirrors, and creases that have some degree of continuity (the side line flows from headlight to tailight, the hood crease flows into the A-pillar). The biggest let down are the steel wheels and their ugly hubcaps, which more expensive SL and SR models solve with alloys.
Interior: 7/10
I think that Nissan did an excellent job designing an interior that at least makes an effort to look upmarket, and makes excellent use of space, while remaining fairly minimalist in design and content. The plastics are hard, sure, but it's padded in the right areas (arm rests on the doors, center console) and the controls feel solid. The backseat is enormous - it puts the Civic & Focus to shame in that area - and the trunk is also very large, with deep, usable space. 60/40 folding rear seat is standard. The seats were supportive and comfortable on my 6 hour drive to St. Augustine. I should also note that the car is VERY quiet below highway speeds, almost inaudible. There is fair amount of wind/road noise above 65.
Performance: 5/10
This is a 2750 lb car with 130 hp, it is not going to be a rocket ship. However, the 6-speed allows you to squeeze every last ounce of thrust out of it, when you want to that is. The vehicle has Eco and Sport modes, however without using Eco mode I have been averaging over 40 MPG from the second fill-up. Driving to New Orleans I got 42 MPG round-trip, St. Augustine 41.5 MPG heading east and nearly 45 MPG on the way back. The beauty of this car is that you can always drive it at 9/10s and never break the law, only to lay off it and get excellent economy.
Braking: 5/10
Front discs, rear drums. It stops without drama or complaint, engine braking is beneficial. I will say that the handbrake seems rather weak. I didn't quite fully engage it one day and the car started to roll down a not-terribly-steep incline as I got out.
Ride & Handling: 6/10
The B17 has a simplified torsion beam rear suspension that isn't the best at absorbing bumps, but the car is sprung softly enough to account for its lack of technical sophistication. Excellent for highway cruising, especially since the car has good on-center feel through the steering wheel despite having electric p/s. Quite a bit of body roll when you take a turn with some speed, but that is to be expected given the car's intended use (Mazda3, it is not). The 205/55R16 Bridgestone tires leave a lot to be desired traction-wise, especially in the wet. When the time comes to replace the tires I'll be going for some Michelin Defenders.
Toys: 7/10
I think that Nissan hit the nail on the head as far as toys for the price and segment go. For the S 6MT's pricepoint, you get keyless entry, power windows, locks, and mirrors, Bluetooth and cruise on the steering wheel, USB/Aux stereo with 4 speakers, LED lighting all around, automatic headlights, intermittent wipers, and more. IMO this is all the creature comforts you need - enough that it isn't irritatingly spartan, but not overladen with camera this and automatic braking that. It isn't intrusive, it just works.
Audio: 4/10
The 4-speaker sound system is just fine, I am not an audiophile but it probably compares well with other base compacts' radios. My issue comes with the engine, when you get high in the RPM range you hope for some sort of semi-confidence inspiring growl or atleast mechanical noise (it is a 4 cyl), but what you get is almost whistle-like. It is very odd, possibly a result of the direct injection wizardry going on under the hood, but it isn't pleasing to the ears.
Value: 8/10
The Sentra is not the 'sportiest' compact on the market, but it does an excellent job of cramming lots of valuable niceties, bountiful passenger and cargo room, and predictable (if uninspiring) driving dynamics into an extremely economical package. I can't speak for the CVT-only higher trims, but the S 6MT really seems to cram in a lot for its meager price tag.
Total: 48.5/100
Hope you enjoyed - also hope my pictures sort themselves out, they're all upside down on the preview. Sorry if they remain Kinja'd post-publishing.