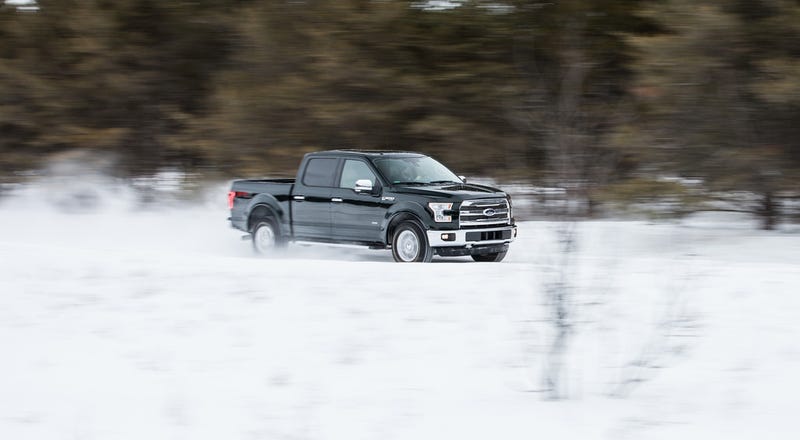 (Instagram embeds now fixed)
I've always wanted to check out the Northern Michigan rally that is Sno*Drift, but it's one of those events that always kinda sneaks up on you; every year I seem to forget about it until it's too late. This year wasn't much different, except that being on a medical leave after another arm surgery meant I didn't have anything else going on. I saw a few friends post about it and decided to head north. On top of that, Ford was kind enough to get me a 3.5 Ecoboost powered '15 F150 Supercrew Lariat 4x4 for the trip. I've been itching to get a shot at one, and what better way than to have some fun in the snow? My homie Matt Trombley made the trip with me, and brought along his camera.
The event itself is kind of unorganized chaos. Your best bet is to latch on to someone that's been there before to get around. There's a spectator guide that has a map and schedule, but unless you're local or a regular attendee it really doesn't make a lot of sense. Friday night we drove around semi-aimlessly down two tracks and one lane roads until we found a volunteer who pointed us in the right direction.
Saturday we met up with some of Matt's friends who knew their way around. The cars were all lined up in Atlanta before heading out to race.
First stage of Saturday
A spectator's cool Subie:
After a bus ride from the school to the quarry, the next stage...
The last stage is "Bonfire Alley"
---
The rally was fun, but the racing wasn't very good. Conditions were really slick, the first night at least half the field slid through the corner we were set up at. But still. Fun.
For the ride back we decided to take the backroads to have some fun. I can count the number of vehicles we encountered from Atlanta to Houghton Lake on one hand.
The most asked questions I've received about the truck, and my answers:
Q: How does the power feel?
A: The twin turbo 3.5/6spd combo seemed smoother than in previous versions I've experienced. No lag, consistent pull, seamless shifts.
Q: What kind of gas mileage did you get?
A: Cruising around 70, we got about 16mpg. That doesn't seem like much, but for a truck this size...and on winter fuel...I was impressed. Overall we ended up right around 15, which included a lot of 4 wheeling on the backroads and blasting through a 16" snowfall once we got back towards Detroit.
Q: Is Sync better yet?
A: No. It's the worst thing about any Ford currently in production. A friend told me the 3rd gen launches later this year, and that is supposed to be the fix. It can't come soon enough.
Q: Can you tell it's aluminum?
A: Not aside from the weight. It does feels lighter than it should, but I'm not sure that's something that would jump out if you didn't know already.
Q: Holy shit that moonroof is awesome!
A: Yes, yes it is.
---
We had a good time on our way south back to Detroit. The AdvanceTrak can't be completely defeated, which hampers the hooning a bit, but it's still a lot of fun in the white stuff...
We even ran into our buddy Patrick Hoey from Automobile Magazine, cruising a C7 through the 3rd worst snowstorm Michigan has ever seen...
Frosty the Snowtruck. Locking rear diff comes in handy going through uphill 4' drifts:
The truck handled everything we threw at it, and in style. Dig it.