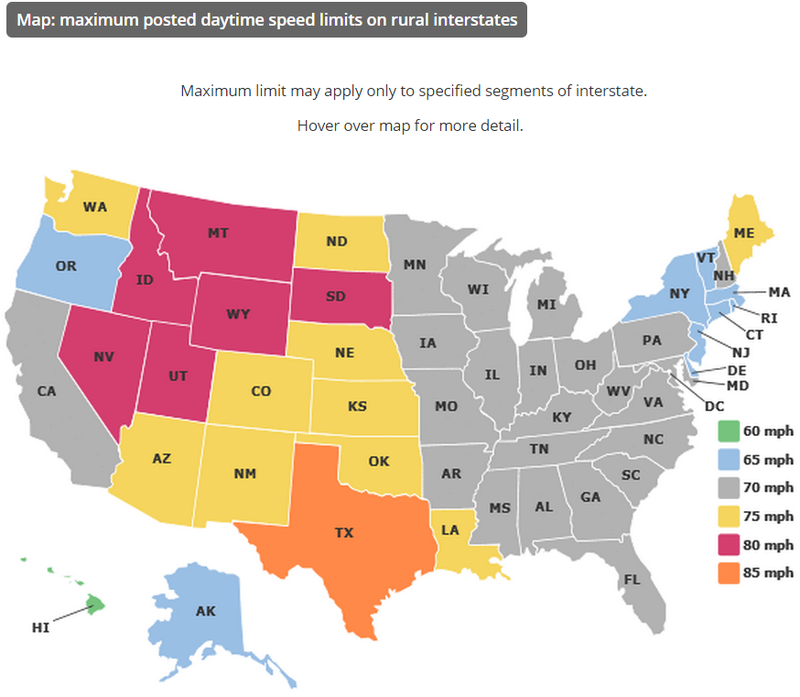 I've been keeping track of maximum speed limits by state since 2013 and this year, 2015, has been a GREAT one for reasonable speed limits. As traffic fatalities consistently go down year by year while Interstate speed limits are going up, the 'speed kills' lobby (*cough AAA *cough*) just doesn't sound convincing to most anymore. As such, lawmakers are warming up to the idea of 'reasonable' speed limits.

Changes from 2014 are as follows (note that some speed limits still have to be officially posted): Montana 75 -> 80 mph, Nevada 75 -> 80 mph, South Dakota 75 -> 80 mph, Washington 70 -> 75 mph, Maryland 65 -> 70 mph, and Wisconsin 65 -> 70 mph (finally -_-).

As of 2015, seven out of 50 states have rural speed limits of 80 mph or higher and 40 states have rural speed limits of 70 mph or higher. Pretty impressive considering that the national double nickel was repealed a decade ago (1995). The national double nickel which was repealed in 1995 should be a distant memory...

figure source: IIHS
Shameless plug: If you want to keep up to date on this sort of stuff, follow our page: