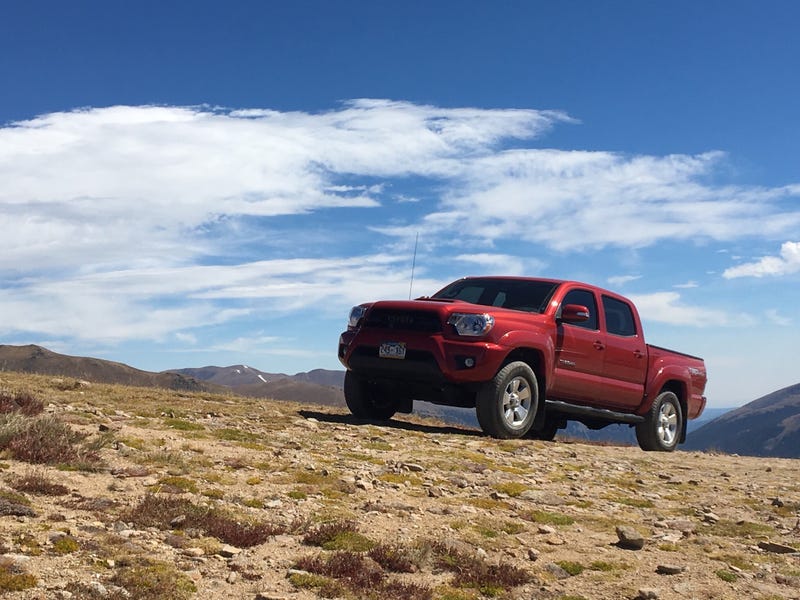 A reflection on my past 3 years and 21k miles with the Tacoma.
Disclosure: Toyota wanted me to buy this Tacoma, so they offered $1,400 more for my FoST than I actually paid for it. Purchase price on my 2015 Tacoma TRD Sport DCSB was $31,350. Sticker price is a tick over $34k.
Interior: The interior on the Tacoma is workman like. It has 3 large knobs for climate control functions, and another for 4wd. Hard plastic can be seen for miles, and there are basically no soft touch surfaces to be found, except for the steering wheel and center armrest. That said, the hard plastic has an attractive grain to it and LOOKS like it should be a soft touch.
The seats in the TRD Sport are comfortable enough, but nothing to write home about either. Over my long road trip this summer, though, I was never uncomfortable, so I suppose something can be said for that. The gauges are large and easy to read, and only have your basic functionality, speedo, tach, fuel, temp, and that's about it. There's also very little difference (if any) between your base Tacoma and a top of the line Tacoma. No additional chrome bits, or carbon fiber, fake wood accents. Appearance wise, they are all pretty identical. You won't find a King Ranch or Denali equivalent Tacoma out there.

Outward visibility is great. The truck has good size windows. I did have to flip my rear view mirror upside down, as it sits rather low on the windshield. Flipping the mirror moves it up about 3" or so. I've though of remounting the mirror, but I have heard of people having issues with a few of the relocation kits. The exterior mirrors are large and provide good visibility as well. It also has a rear view camera, which is a welcome addition. I've become so used to using it when backing into spots, that when I drive the Cougar, I find myself looking for a screen in the middle of the dash to back the car into the garage.

One complaint I have is that a number of the control buttons are not illuminated, so finding the small door lock button at night can be a challenge. The windows (other than driver) are not auto down, and none of them are auto up. I'd like if the Tacoma could have had a similar fully down rear window like the Tundra and 4runners have, but alas, they do not. I really liked that on my '12 Tundra CrewMax.
I have plenty of headroom (6'4") and my son has plenty of space in the rear seat. I've had adults in the rear seat as well. It's fine for 2 passengers, three is tight. If you're also my height and sitting behind me, well, you're outta luck. In the CrewMax Tundra, I can sit in the rear seat, with the front seat in its rear most position, and cross my legs. Gobs of room in that truck.
The rear passenger side windows fully retract, which is nice. I don't like vehicles where they stop ¾ of the way down due to rear wheel well limitations, or have a funky quarter window.
Exterior: I like how the Tacoma looks overall. I bought the TRD Sport edition, as I've always liked the (fake) scoop, and body color matched bumper/grill, door handles, and the turn signals in the mirror housings. Yes I gave up some actual mechanical goodness with the E-locker in the Off Road, but truth be told, I know I would never use the truck beyond its current capabilities. I think the 2nd gen Tacoma design overall will age well. It's not overly stylized.

Performance: It accelerates, handles, and stops like a truck. It can be bouncy over uneven pavement. It's got decent enough spunk that I don't ever feel it's underpowered, despite living at altitude. While I think a V8 Tacoma would be awesome, it's just not necessary. I still would've bought one though, had it been available. Mileage is acceptable, in town driving averages to about 17PMG, highway ekes close to 21MPG, depending on how high of a speed I set the cruise.

After having many other full size pickups, I do appreciate the smaller size of the Tacoma for urban (and suburban) parking, narrow side streets, and the like.
Toys: Entune. My truck is equipped with Enture with Navigation. It's relatively easy to use, fairly intuitive, and I've had no issues with it at all. In a time where other cars are dinged for "initial quality" or "reliability" issues due to infotainment systems, I have no complaint about mine. My phone has never had an issue syncing, the Nav has worked when needed, and that's about it. I do like the AC 110 power outlet in the bed, and I've used it a few times. If you're looking for other toys, though, look elsewhere. There aren't any to be found here.
Add-ons: Locking tonneau cover, OEM side steps, TRD Pro grill, Weathertech digital fit floor liners, bed mat, vehicle OCD center console divider, Fumoto Oil drain valve, and front window tint.

Maintenance Costs: $65 - Air filter, cabin air filter, Mobil 1 oil change, 5 pack of oil filters.
Reliability: I've had zero issues with the truck. It always starts, stops, and drives as it should. No recalls. I do have the infamous Taco lean towards the driver's side. 4wd has engaged with no issues, no electrical gremlins, etc. Of course, I would expect that with a fairly new truck that's still under warranty. By comparison, the wife's newish Jeep has had 3 recalls and 1 warranty repair.
Subjective: It's a nice truck. I purposely purchased a 2015, knowing I didn't want a first model year 3rd Gen Tacoma. My truck was basically a 10 year old new truck when I bought it, there is nothing earth shattering technologically about it. Quite honestly, with the Fold A Cover tonneau, it's a lifted sedan with a huge trunk. It's simply constructed, has a simple interior layout that won't confuse anyone. I live in Colorado, and despite CDOT deciding to use salt brine on the roads during winter, I'm not concerned about a rusting frame. I keep it clean, and don't drive a ton, as evidenced by the 21000 miles in nearly three years. Take away my road trip, and it's 16000 miles of average driving. Yes, there are more comfortable ways to get around town. Hauling car parts around, wood, home improvement projects, furniture, etc, I do use the bed enough that it makes it worthwhile to have a truck rather than rent one every time I need one (I've done that before too, when I had my FoST). I've never longed for a larger bed. I can carry 8' lumber, my bike, etc with no worries. For the majority of what I need it for, it works out just fine.

I do believe that this truck will be durable, reliable, and serviceable for a long time. They are put together well, and that's the allure of the Tacoma. It's also why they have such strong resale value. Take me back three years, and I'd still make the same purchase. After having the Tundra, then selling it to buy the Focus ST, I nearly immediately regretted not having a pickup. However, the CrewMax was much more than we needed, and the Taco fits the bill really well.