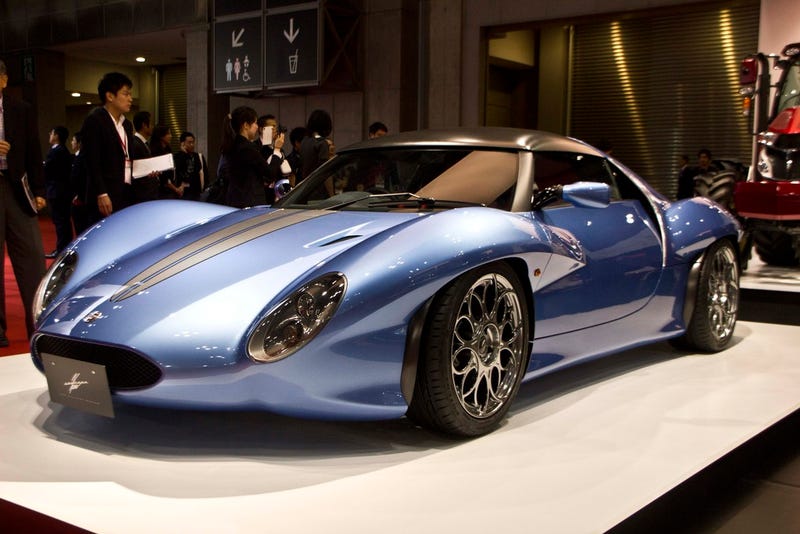 And we're back with the photo report of my little trip to the 2015 Tokyo Motorshow! Part 1 can be seen here.
So let's first continue with Daihatsu who was coming up with an nth version of their FF sports kei-car that you'll never get to drive, the Coppen Cero.
Very nice interior. Not too sure the double exhaust is required on the 660cc car but well, it looks alright so I won't complain. The autotragic is actually kind of normal on Coppens, as most customers of this car tend to not be very sport cars oriented in the first place. Sport cars afficionados usually prefer the Honda S660 (ex-Beat) or older Cappuccinos/AZ-1.
Then came the Noriori which you can read about here. If you like having the interior of your car to look like a very clean metro, go ahead! Nothing better for a personnal car to look like these public transports you hated so much when you DID NOT have a car.
Also the D-Base concept... they better change that name before the car reaches anglophones shores.
The Himata, kind of a caricature of an "eco-car". Juste look at the tires...
Then I did check out Subaru very quickly, mostly to take a look at the WRX Sti S207 but I arrived at the Subaru booth right in the middle of the press conference... way too crowded, so I only took a couple of pics of the new 5-door Impreza concept which I actually really liked!
The Goodyear booth was also near-by and these tires really impressed me! Not sure how well they work and really, not sure how they work at all, but I'd love to test them out!
Lexus: Grill. GRILL!!! This LF-FC was impressive to say the least. You can read more about it here.
The drivetrain of the car... It's nice. Whished it was a little bit less "concepty" but if the goal was to attract people, it worked for sure!
Has a new hydrogen concept car... gives away Lexus branded bottle of water... Well played Lexus, well played!
But let's stop with all this eco bullshit and let's go back to serious fossil fuel guzzlers!! The BMW M4 GTS!! Holy crap, is it awesome looking!
That was the only BMW that made me feel like a 4 years old who just met Santa. The rest was rather classic and not really worth drooling over (i8, i3 and all the other typical Series). Oh yes, I also got to see a car MOVE! Yes, on its own, without being pushed by people in suits wearing satin gloves! That's a really rare sight in a Motorshow. It was an hybrid 7 series.
And what do you see in a Motorshow, parked right next to the BMW booth?? Alpina!! I've always had a thing for Alpina. Sure they are a bit flashy, some would say tacky even, but I just really love them. Actually secretly saving for a C1 or C2 (E30) right now... I just hope my wife will like Alpina too the day she'll discover that new purchase I wanted her to see :)
Only desappointment with Alpina was that they had a LOT of diesel engines... Not new from them, but I just thought it was a lot.
Despite the Diesel engine, that D4 BiTurbo was simply jaw dropping nice!
They also unveiled their new B3 Biturbo, which well, looks a lot like all the other ones :)
Thank you for the cookie too Alpina!
In the same area, there was Mini. I think this picture sums up very well what I think of the brand.
But the big surprise of the Motorshow was, for me, Ken Okuyama. The guy is a (rich) designer who just doesn't keep his designs on a drawing board but actually get them built (getting them sold is a whole other story though...). It can be a tractor, gardening tools...etc anything. Oh yes, he also likes drawing sports cars...
And the specs do keep up with the look. According to the press kit, the Kode 9 developpes 370hp out of a supercharged 4 cyclinder engine.... wtf?? Ken Okuyama also seemed like a genuinely nice guy and spent the entire day talking to everyone who wanted to talk to him. Impressive.
Just next to him the Brits were coming with Radical. Small booth but very impressive car nonetheless.
Road legal... yeah sure, why not...
A quick stop by the other Brits present at the 2015 TMS, Jaguar... Nothing jaw dropping there, appart from the AWD version of the F-Type R
A bit further, Honda had lots of people moving around those little rolling seats. That looked nice, but I forgot to ask if I could try one.
There was this thing which can power your house... It's a nice generator, but a nice car? Meh...
This little fella that sells A LOT even today, which is insane considering that it was first produced in 1958 and hasn't really changed since.
And this little fe... Oh wait, yes, thanks a to a really nice "bouncer" at Honda (not sure he is a bouncer but he seemed to take care of security and journalists appointments), I got to spend a few minutes inside the new 2017 NSX!!!! Still exited just writing about it over 24 hours later! So there you go, 2017 NSX and its newly announced 573hp hybrid engine (500hp gasoline engine) that will be able to commute on electric power alone. As for its price, that's where it hurts a bit considering that the original NSX was a much affordable car... It is rumored to cost around 170k$ which is A LOT. A special photodump inside the photodump.
Also, the key was there...
And this was written on the dashboard... (339 miles on the clock too)
Needless to say that the temptation was running high...
They also had the new limited edition Civic Type R (750 units only)
With stock Brembos... On a Civic. Impressive.
and this cool project car...
I took a little bit of time to sit down in the new Beat also, the S660, and I was quite suprised by the massive amount of legroom the car has. I'm 6'2 and usually don't fit that easily in sports-kei. Headroom was very limited for me though as my head was touching the roll bar, or whatever you call it.
And to finish, there was this branch of Nissan, that focuses on utility vehicles. I could show you my pictures like this one:
But that would not be nice to the 8 year old who learned to use photoshop and a camera, who spent A LOT of week ends to do the press kit... So to finish this article, here are a few pics taken from the press kit of the "Nissan Shatai" branch (Nissan Body).
So if you are a graphic designer, a photograph, an actor or a just someone who can use 3DSMax a little and want to work in Japan, you can send your resume to Nissan Shatai Co., Ltd - 10-1, Amanuma, Hiratsuka-shi, Kanagawa 254-8610, Japan. :)
Next stop for me will be the world of tuner cars with the 2016 Tokyo Auto Salon in January: