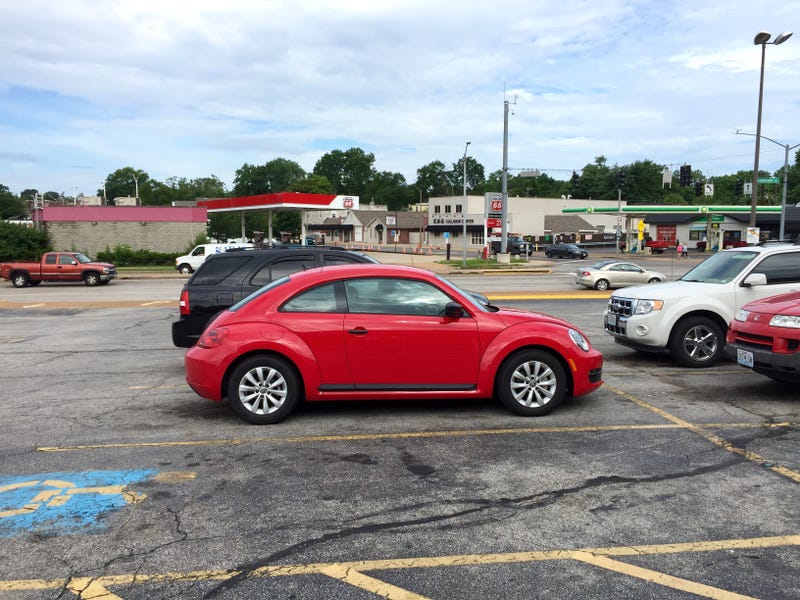 My wife and I just spent two days in St. Louis as a cheap anniversary trip. Last Tuesday marked three years of marriage for us. Anyway, my friend is a manager at Hertz and added us to his friends and family program and got me a compact car rental for $12.99 a day. I was expecting a Corolla, but I got a Beetle. Pleasant surprise, as we had a 2012 Beetle as our rental on our honeymoon in 2012 and we really liked it. Pictured below is that car in Destin, Florida:

Overall, I can say if a small car is wanted but you find most of them boring and you like Volkswagens (and you don't need four doors), the Beetle would be a good choice. Provided you're close to a VW dealer.
Ride/Handling (8/10): This thing is so smooth, quiet, and comfortable, it's crazy. It honestly rides and drives like a bigger car. My wife drove it once and immediately remarked about how easy it was to drive. Compared to my lowered and custom-exhaust fitted Mazda3, the Beetle was an isolation chamber.
Acceleration/Deceleration (7/10): Our 2012 rental Beetle had the 2.5 five-cylinder and this 2015 has the 1.8T four-cylinder as the 2.5 isn't offered anymore. It is more than peppy enough for interstate travel and pretty quick considering how heavy it feels. The brakes are super grabby (almost too much so) and stop decently quick.

Transmission (6/10): It does its job just fine. Very smooth shifts and a responsive enough manual mode.
Styling (7/10): I think VW did a good job updating the styling of the Beetle and making it more modern while also obviously referring back to the classic Beetle. It looks a little less like a toy-Barbie car now, too. I think the R-Line Beetles are pretty cool looking, myself.
The mandatory front plate in Missouri ruins the flow as it does for all cars, but oh well.
Interior (7/10): The seats were very comfortable (leatherette with heated option) and the driving position was easy to make suitable. The materials were hard plastic, but they felt durable. Nothing felt like it would easily fall apart or wear.

Toys (2/10): This car is a supreme base model, even lacking Bluetooth which is supposedly standard on 2015 Beetles. There are also no steering wheel audio controls (even my '08 Mazda3 has those). No USB port, either, as my wife and I discovered while both of our phones were on 1% battery. There are three 12V power outlets, though. And it has heated seats, which weren't used since it was 90 degrees in the city all weekend.
Conclusion (37/60): If you want a small, fuel efficient car (we averaged 32 MPG) with a bit of pep, style, and personality (and you have no rear seat room or four-door requirement), consider the Beetle. It is more expensive than other small cars, though. Considerably. But it is more fun, in my opinion. I enjoyed it the whole time we had it.