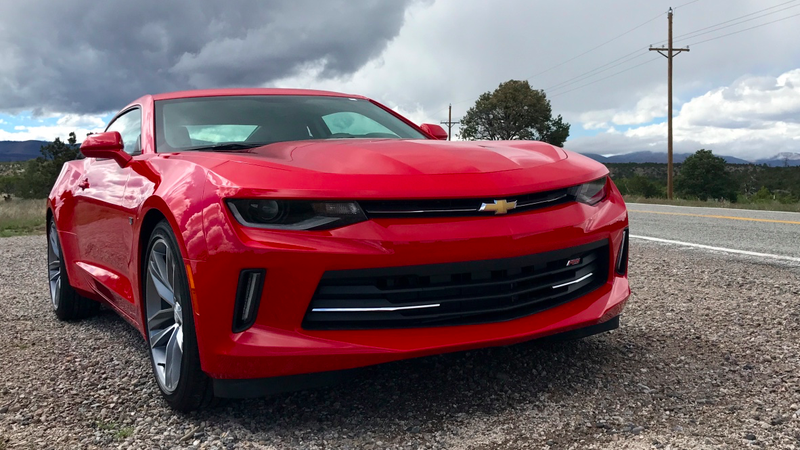 Let's get one thing out of the way right now: the (lack of) visibility is scary when you first get into the car, but you get used to it within a few miles. With the mirrors set properly, this car basically has no blind spots. For more on the driving experience or just to look at many more pictures, jump inside.
Full Disclosure: Chevrolet wanted me to test a sixth-generation Camaro so badly that they sold one to Avis who agreed to let me rent it for 5 days for $270. They gave it to me with a full tank of gas, but I to pay for my own to return it full. It had just 132 miles on it when I picked it up and I dropped it off with 420 for a total of 287. I would have like to have driven it more, but snow and a mountain biking accident that wrecked my face limited my time behind the wheel.
OK Oppo, you asked for a review, so here it is. This experience started when it came time to book a rental car for a 5-day vacation in and around Santa Fe, NM to visit some good friends from college. My wife and I decided that since we'd be without kids for a few days for once, we'd spend the extra $50-100 to upgrade our rental to something sportier than the typical Altima/Malibu. (Thanks, Grandma!) I booked and prepaid for a "Ford Mustang Coupe or Similar." Upon arrival at ABQ I was given the option of a silver Mustang Ecoboost or a "Red Hot" red Camaro with just 132 miles on the odometer. I obviously chose the latter.
This particular Camaro is a V6/8-speed automatic combination with the RS package. I believe it is a "1LT" trim with no options besides the RS added, making the MSRP right around $31k. For that you get a 325hp V6 (an upgrade over the base 275 hp 2.0T), power cloth seats and keyless entry/ignition. In my case, the V6 was probably closer in power to the 2.0T at the elevation I was at, but the V6 is what Avis had in their fleet.
The RS option is mainly an appearance package that adds 20 inch wheels and tires, a unique grille/spoiler, xenon headlamps and LED tail lamps. It's a $2k option that really helps reinforce the concept-car looks. Yes we all know that the "right" combination for this car is a V8/6-speed manual, but as far as rentals go this is a pretty exciting spec.
Plenty has been said about the exterior styling of this car. Mostly to the effect that it takes the styling of the 5th generation and pushes it to an almost cartoonish concept-car level. I agree. I also love it. Sure, there are hints of cheapness, but so much went right. The hood shut line. The proportions. The oversized fenders. Yes, even the tiny windows. But it works. This car has a ton of presence for a car that starts under $30k. I actually got quite a few looks and even one thumbs-up at a gas station. Yes, I was in the middle of nowhere in towns where new vehicles of any sort are rarely seen, but most people seem like the looks of this car. The RS package just helps further push it to the logical extreme with the big wheels and LED accents.
The Camaro is not a small car. I'm didn't look up measurements, but let's just say it is long and wide. And low. At one point I had it parked next to my friend's Ford Edge and it seemed to have about the same footprint, but with a roof that only came up to the bottom of the Ford's windows.
All of that exterior size does not translate to interior space. The trunk is one casualty. It isn't as big as might be expected, owing to wide rear tires and the 5-link independent suspension. In addition, the trunk opening is tiny, high, and awkward for getting anything in and out of. Fortunately, there is plenty of extra storage behind the front seats, because the rear seats are truly worthless as seats. You'd have to have the front seat set for someone 5'6" or less just make enough room for someone with legs to actually squeeze into the back. A Mustang rear seat is very tight. This is worse. I'm note sure you could even fit a child seat back there, which is something I have actually pulled off in an S197 Mustang.
But those front seats making the rears useless are good ones. Even fabric-clad in this lower trim, the shape and bolstering are good. Support is good too. I didn't put a ton of miles on this car during the rental period, but I was in it for over an hour on multiple occasions with no fatigue. Yes it feels a little like you're sitting in a bathtub at first, but I got used to it quickly and appreciated the position that held me in place well in the twists.
Storage in the interior is surprisingly lacking as well. The door cards have pockets so small I don't know why they bothered, despite the doors being huge. The center console bin can maybe hold a phone. At least it has two cupholders. The door pull is also tiny and hard to grab.
Interestingly, the interior has no noticeable Chevrolet bowties - just "CAMARO" logos, even embossed in the door sill kick plates. There is a strange mix or cheap and expensive materials. The door handles feel extremely cheap even though they might actually be metal while the gauge binnacle appears to be trimmed in genuine brushed stainless steel. Fortunately, the touch points are good - the hex stitching on the flat-bottom leather steering wheel is particularly nice. The no-bezel rear-view mirror is also a detail that I'd love to see in more vehicles. Auto up/down windows for both sides is another feature that is appreciated and not necessarily expected on a vehicle in this price range.
The bizarre-looking climate control system actually works really well once you get used to it. Temperature is adjusted by turning a ring around one of the center vents below the infotainment screen. I thought vents below the screen would be odd, but the position works well. Extra points are awarded for the HVAC system keeping a good breeze going even after temperature is reached. Too many systems stop air flow entirely when they reach the set temperature point (looking at you, Ford).
While the vents below the screen are nice, the screen itself is inscrutable. Somehow it manages to be pointed at the ground instead of at the driver yet still wash out from glare in the sun. The MyLink system is laughably basic in this car, but at least it responds to touches and button presses instantly. Higher trims get a system with a larger screen. Hopefully it also gets more functionality. If you're used to Ford's Sync, for instance, you'll be seriously let down. One thing that did work perfectly was navigation audio from an iPhone connected via USB with no music playing. In my Subaru, when the music is stopped it takes the system a second to wake up and you miss half of the navigation command. For an unbranded audio system, the sound was quite good. I suspect this is mostly a function of the small interior, but it was much better than base systems in sedans and crossovers in this price range that I've driven.
Let's talk visibility for a second. If you haven't driven a car with a high beltline and short windows (like I hadn't recently), it can be a bit intimidating at first. Parking is a pain and probably always will be, because once you start into a space you can't really see the lines anymore. The lack of glass does make the interior feel small - I would not buy one of these without a sunroof or with black seats. Once on the road, however, I got used to the sight lines within 50 miles or so and really liked the view out of the car. With the mirrors adjusted, there isn't much of a blind spot, because there really isn't much car behind the driver's head. If you glance to the left or right and don't see anything, there probably isn't anything there. Honestly, I was way more comfortable merging and changing lanes in this car than in a 2013 "swoopy era" Sonata that I had as a rental once and never really got used to the short windows in. If driving a Sonata doesn't bother you, then the visibility on the Camaro will be no issue.
But enough about styling, materials, and visibility, what is it like to drive the latest Camaro without checking the V8 box? Very, very good. From the moment you push the starter button, you know that GM hasn't reserved all of the fun for the SS, Z/28, ZL1, etc. The engine fires up with a subdued snarl from the back. It's a much more refined and sporty sound than you get from the V6 Mustang or Challenger. It is quiet at low revs, but builds drama all the way to the 7000 rpm redline without every getting too harsh. Chevy has clearly thought about exhaust tuning here. This 4th-generation high-feature "LGX" V6 debuted in 2015, and this is the first non-Cadillac application. And you can tell right away that this engine was developed first and foremost for Cadillac. It revs freely and smoothly in a way that puts the Pentastar 3.6 and Duratec 37 to shame. There is no lazy torque to be found here, though, which obviously will be a turnoff to some. You need to keep this motor high in the revs to really have fun, but it rewards by staying smooth and sounding great. For lack of a better way to put it, the engine feels much more European or Japanese in character than American.
Of course, having a great motor is only great if you have a good transmission hitched to it. The 8-speed automatic in the Camaro is a bit of a mixed bag. By default, it shifts somewhat lazily, though smoothly, and favors higher gears for fuel economy. The top gears are overdrives - in 8th it does something absurd like 1,500 rpm at 70 MPH. With a V8 this would probably be OK, but with the V6 it means lots of downshifts and a delay when you want to increase your speed. The tradeoff is that it gets good fuel economy - I averaged 24.8 MPG with a mix of highway cruising and more aggressive mountain driving. I'm guessing a lot of people could get close to 30 commuting in this car.
But select the "Sport" drive mode with the switch near the gear lever - available modes are Touring, Sport, and Snow/Ice - and floor the accelerator for more than a second and the car turns on "Sport Shift Mode" where the shift times are shortened and low gears are held for longer. (There may be a way to set this in a menu, but I didn't have the car long enough to find it.) In this mode, the delay in acceleration when you press the gas pedal is noticeably reduced and it is worth just leaving the car in D and letting it pick gears. The paddles work better than your average family sedan, but they don't feel quite instant. The car remembers what drive mode you are in when you turn it off, but it seems Sport Shift needs to be activated each time you want to use it. Personally, I would order this car with a 6-speed manual, but the auto isn't terrible - you can keep both hands on the wheel and just enjoy the drive.

And what a drive it is. We all know that this Camaro is built on the same GM Alpha platform as Cadillac's ATS and latest CTS that are constantly being raved about as the best handling vehicles in their classes, but it is easy to shrug it off as hyperbole. After taking this Camaro on a mix of interstate and back roads, however, all I can say is I'm a believer. Just leaving the ABQ parking lot at the airport, I could tell the steering was good, but when I got it out on NM-4 near White Rock, I could tell it was really good. There is absolutely no play anywhere in the steering. You point the car with the perfectly-sized flat-bottom where and it just goes, in an almost telepathic way. If you want more rotation, you use your right foot. Forget whatever stereotypes you have about muscle cars and pony cars: this is one of those cars where if it doesn't go where you want you blame yourself, not the car. Steering effort is moderate and linear. It doesn't feel over-boosted like so many cars these days, but it also never weights up to the point of being hard to get the exact steering angle you want.
Of course, that steering works so well because the chassis is just sublime. The ride and handling balance in this car reminds me of what German cars used to be. The ride is firm. Of course it is. But it is never harsh or uncomfortable. The car is low, but going over lips, speed bumps, and expansion joints doesn't unsettle it much. You brace, and the car does jolt at first, but the majority of the impact is absorbed before it is passed to the passengers. Even with those big sexy 20 inch RS wheels and tires. It's a truly remarkable balance given the price and power of the car. The closest thing I can think of that I've driven is the Mk7 GTI - a similarly priced car with much less power. For what it's worth, I couldn't tell any difference between the Touring and Sport modes, so if this has adaptive dampers, they aren't being used effectively in the driving modes.
The chassis provides an amazing amount of grip as well. The car just sticks and it is easy to oversteer without breaking the back end out. This is a rear wheel drive sports car as it is meant to be, and the car never lets you forget it. Yes, you can overpower the grip and slide like a hooligan, but that isn't really the point of this Camaro. Cornering is flat. Absurdly flat for something in this price range. The brakes, yes even these base model ones, are direct and free of slop. There is just enough squish to drive in traffic without upsetting a passenger and beyond that there is good, progressive bite. I'm sure you'd want to upgrade for a track day, but they do real-world driving as good as any.
On the last day of my trip, we headed from Santa Fe back towards Albuquerque on the Turquoise Trail (NM-14). After 45 minutes of scenic, sweeping driving we arrived in San Antonito and turned onto the Sandia Crest Byway. On this road, where the elevation rises nearly 4,000 ft. over 15 miles of switchbacks, I truly fell in love with this car. This is something I never expected from a rental. But around each corner, my confidence in the car grew more and more. The Camaro isn't lightweight, but it never feels heavy either. You can't toss it like a Miata, but it still just glides effortlessly into each turn. The V6 has enough power to just keep charging uphill and it also sounds great doing it. It is wide, but you can see the fenders and place place them with ease. This is a car that will have you hunting for apexes in even the most mundane corners. Yet it is refined enough to commute in and comfortable enough to take on highway cruises. Make no mistake about it, this is not a brutish muscle car, this is a true sports car. Take a drive in one and you'll no longer scratch your head when you see 6th-gen Camaro's putting up lap times that rival the best from Germany.
Unfortunately, just as I was really starting to know the Camaro, we came back down the mountain and headed to the airport to catch our flight. Sitting in the terminal I started to miss my rental car. I didn't expect to be saying this when I picked up the keys at the rental counter, but GM has done something truly remarkable here: they've created a world-class sports car at a remarkable price point. This Camaro is a phenomenal value. It won't work for most as a daily driver: it's too low and wide, it's hard to park, the doors are too big, it realistically seats only 2 and it has no storage space. But anyone with space for a dedicated toy would be foolish not to test a Camaro. I know I'll be looking at them again in a few years. Just make mine a manual.