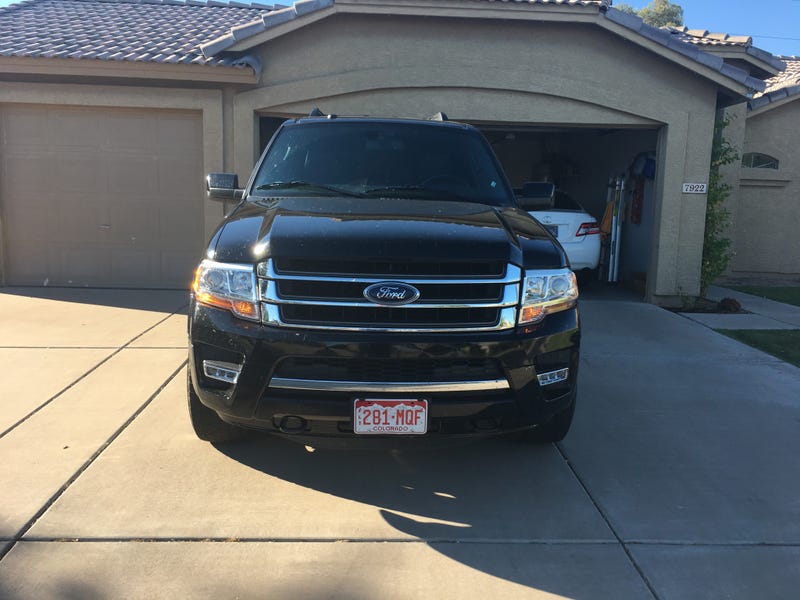 This last weekend some friends of ours and us rented a cabin up north (something pretty typical here in AZ once temps exceed 100). I had some free rental days from National that were going to expire so I decided to rent this instead of putting miles on my car.
Looks (2 Gold Stars)
What can I say? It looks similar to last years Expedition with a little refresh up front. I like it, but I also like this...
Power/Fuel Economy ( 3 Thumbs Up)

I will say, I am a big fan of the 3.5 EcoBoost. I love it in the F-150, the Explorer and the Expedition. It just moves. I had no problem passing people on the highway EVER. From Phoenix to Flagstaff we averaged 15.5MPG and coming back down we did 17.5. I think it cost me $60 to drive 500+ miles. Not bad.

Off-Road Ability (3/10)

I took ours on some mild trails and it did fine. Ground Clearance is not great (as expected). Ours had 4WD though I never had to use it. Basically, this is better than a Camry, but still not fantastic.
Storage/Tech ( 5 Gold Doubloons)

The Limited Expedition came with nice things like Leather, Heated front and Rear seats, Vented front Seats, Sat Radio, Power folding third row, Power lift gate, Sony sound system and some other stuff that I probably paid no mind to. It made all the time spent in the car very enjoyable.

The Storage was great and we had plenty of extra room as it was just a short weekend getaway.
In conclusion, if you have a ton of junk/people to take on a road trip, I would take another one of these in a second!