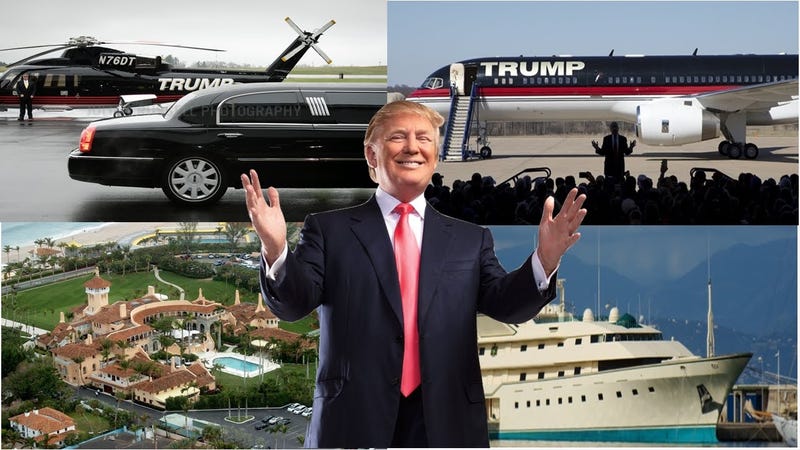 Roughly summarized from a speech during a random campaign trail stop, NYC billionaire playboy, obvious racist pussy grabber President Drumpf vaguely said something like, "you are all going to be so successful. You'll have so much success, you won't even know what to do with so much success" as the crowd made up mostly of people that resembled this old lady cheered on.
All righty then, 2017 here I come! Time to figure out what I am going to do with this pending success. The property I'm going to get will be somewhere between Houston and Dallas. 60 acres should be fine. Rolling green land off of I-45. Build a track on it duh. Last but the most important, build the best private automotive facility evaaa!
The main house will be just a rad little house, nothing super yuuuge. One room will be dedicated to all my LaLD storage and custom builds. Good sized parking lot near the main road for monthly cars and coffee events. The key feature of course will be the yuuuge steel building to house my 10 bay work shop (alignment machine, tire machine,road force balance machine, brake lathe, hydro press, parts bin/special tool room, etc.). Shop will only take up 20% of that mofo doe. Another 5% for the break room (restroom, fridge, couch, TV, old school arcades, and vending machines). Outside there will be a small building fully equipped for SVENDing cars all nice and shiny inside and out. Always fully stocked with all things needed (rags, waxes, polish, pressure washroom, etc.)
The rest of the brightly lit compound will be car storage (Seen below). All cars will be ran as often as possible on the track. Best part of the whole deal is that it will be open to the public (10am-5pm Mon-Fri).
The grand purpose of the facility is to be a rad place for young car enthusiasts to get their automotive fix. Sure, those asshole monkeys can bring their super expensive exotics to my monthly cars and coffee event. But, as far as access to the track or use of my shop, HELLS NO.
You want to know who is free to use the track and rad shop? The struggling young mechanic and general car person that doesn't have the means to do so in this expensive hobby. Bring me your jalopy and your will to hoooon. You want to use a lift and tools? Go ahead buddy. Want to run the track and make some adjustments? Go ahead rad dude/dudette. Want to help work on cars in my collection? Sure, here is the list of work that needs to be done. If you need help or have any questions, just ask :] Your car's alternator went out? If I don't have one on the shelf that'll fit, order one and put it on my account. You need 2 tires and battery? Grab them off the shelf if they fit. Honest car people> rich assholes! Oh shit yeah, the pizzas are here! Grab some plates dudes and dudettes.
Here is the ever updating list.
Daily Drivers (not kept in storage compound)
Car Collection :
All currently For Sale at the time I found them. Most under $100,000
(no links. Most on either eBay non street legal section or race-cars.com)
Tyrrell 022
Lola Champ Car XD 078

Ferrari 312PB
Mazda RX7
1969 Porsche 911 Race Car
Ferrari 430 Challenge
Lola Champ Car T9500
Nissan Pulsar
Chevron B-36
Brabham BT14
Matech Ford GT GT1
Nissan GTR Alpha 9
Raynard Champ Car
2008 Monte Carlo NASCAR Sprint Car (Waltkins Glen)
Lamborghini Huracan Super Tropheo
Radical SR3 RS
Audi A4 R13 DTM
2015 Porsche 911 GT3 Cup
Ferrari 360 Challenge N-GT
BMW 325 Ci (3 time SPEED World Challenge winner)
Renault Clio V6 Club Trophy
Hendrick Chevrolet NASCAR (Jeff Gordon 2001 Daytona 500)
Ferrari 360 Challenge
Corvette C5R (Pratt & Miller WC GT)
Dallara Renault F399 F3
Dallara INDYcar IRL02
Pensky Dodge Charger NASCAR

Lamborghini Gallardo GT3 FL2

2005 Rick Hendrick NASCAR
Aston Martin Daytona Prototype Riley Technologies
Volvo S60 V8 Supercar Challenge
Ferrari FXX (Will keep at Ferrari of Houston/Risi Competizione)