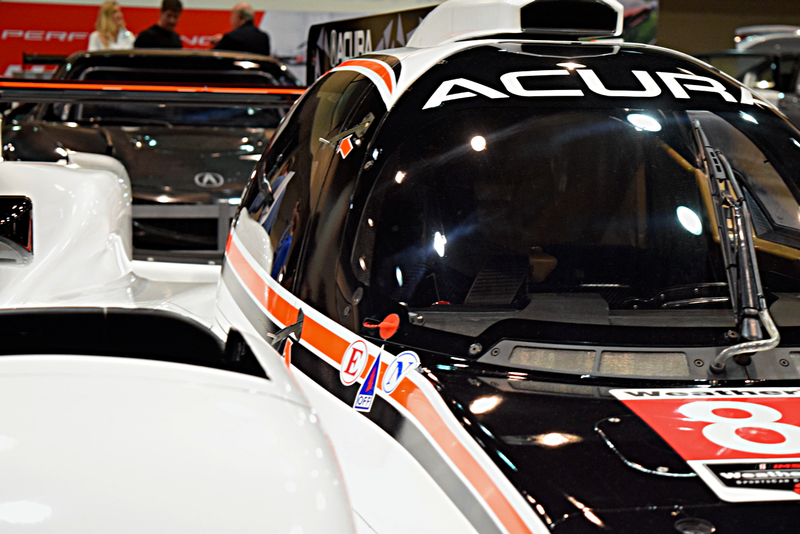 One thing that must be stated up front about the Alabama Auto Show, hosted in Birmingham at the Birmingham-Jefferson Civic Center, is that you're not going to be presented with the glamour and glitz you'd expect from larger shows. This is a small, regional show that's mostly put together by local dealerships to show off their latest and greatest, with some help from manufacturers to bring out interesting stuff like concepts and prototypes.
What does it matter, you ask? Well, it means that you really won't see much special stuff outside of the occasional prototype recently introduced at LA or NY. There's no selection of exotics. The last car we had debut here was a Suzuki concept about ten years ago. That should show you what we're dealing with here. Nevertheless, due to my location and lack of press prowess, this is really all I can deal with. So, here's a rundown of what I saw at the Alabama Auto Show this year.
When you enter the doors on the top floor, the first thing you're greeted with besides bright lights and a wash of sweaty rednecks and the occasional gearhead, is Chevrolet. This year, the main star of the Chevrolet stand was the all-new Traverse, however I really didn't care much for the Traverse. I think I may have looked at it once. Instead, I went to check out the Colorado ZR2, represented by this Duramax-equipped Midnight Edition.
A salesman came to chat with me, however he was largely more interested in my shoes than to sell me the truck. He did sign my mom up for the Chevrolet Truck Legends program due to her Colorado having over 200k on the odometer, so that was nice. The ZR2 was also nice, I really wouldn't mind having one.
Next to the ZR2 was a rather large Silverado 2500 HD. It was pretty nice as well, though I didn't really look too much into it.
The major show stealer at Chevrolet was arguably the Hot Wheels 50th edition Camaro, decked out in a bright orange with some interesting wheels. Luckily, there was no 2019 Camaro there to ruin our vision with, but sadly, this Camaro was an automatic SS convertible, not the manual V6 Coupe I'd actually prefer. Alas...
Also, there was a Bolt there...I like the Bolt.
To the right of Chevrolet's stand sat the FCA stand, which decided to compile ALL of FCA's brands into one selection, excluding Maserati. I of course directed myself to the Giulia. It's still a firm favorite, although they had the seats set too far forward to sit comfortably inside.
They also showcased a gorgeous Misano Blue Stelvio. The undisputed best Alfa Romeo color by far.
The Fiat selection wasn't really anything to write home about, there was a 124 Abarth, but I can't fit in those so I didn't really bother. My mom appreciated the light blue 500, as well as this white Chrysler 300S with a rather handsome white/black two-tone interior. I appreciate how much the 300 sticks to its old-fashioned values of comfort and presence, even if it's like 20 years behind its competitors
The Pacific hybrid was also on display, but I was far more interested in arguing with an attendee about why the Giulia is better than the Panamera.
Over at the Jeep stand next door, they were of course showcasing the new JL Wrangler. I have nothing major to write home about considering the new Wrangler. It's the same boxy, rough off-roader, one I actually quite like. Sadly, I'm too tall to comfortably sit in one, a problem also shared with fellow Kinja-er Daily Drive's a Dragon. I would enjoy owning this two-door Rubicon, however.
Behind Jeep was the Ram pavilion, who was showcasing the new Ram. There's nothing more I can say but that this is definitely a new Ram. I don't like the styling.
Dodge's pavilion was headed by this fleet-style lineup of their main machines, with the Charger and Challenger up in front. The Charger on display was a striking orange SRT Daytona, and the Challenger was a mighty pretty deep red Hellcat. My mom enjoyed the Challenger, and I found myself at home in the Charger.
I skipped past GMC and Volkswagen to find the Karma Revero surprisingly on display. I've seen a Fisker Karma before and it's as striking as ever, though the interior is very cramped and uncomfortable, and the build quality was not really up to par.
Located behind Karma was Cadillac, a brand who had skipped out the past couple of years of shows for unknown reasons. They brought out a CT6, XT5, and Escalade to show off. I was fascinated of course by the CT6, and the salesman at the booth was rather nice, offering me his business card and a test drive. I may take him up on it.
Nearby, Mercedes was set up with a whole slew of cars of different varieties, courtesy of their new Birmingham dealership which was bought and paid for by UA coach Nick Saban. They unfortunately had the AMG GT's blocked off.
I, however, found myself greatly enjoying the comfort of this S450.
The G63 had its seats pushed all the way to the steering wheel, so there was no way I could fit inside. Either way, it's really all hype. I did enjoy opening and closing the doors...that clunk is just so satisfying.
My mom and I spent a good amount of time in the GLE43, where we listened to some Pearl Jam at a very loud volume. Thankfully no one in the booth really cared...this is a detail you should remember for later. I got this picture of the kickplate.
I went downstairs and was attracted immediately to the collection from Alfa Romeo and Maserati of Birmingham, who brought out a Rosso Alfa Giulia Quadrifoglio. I was in love.
Good god I love this car, everything about it just leaks sex appeal and if I could fornicate with a car I would defi-uhhh, -AHEM-, anyway, the Maseratis were all locked, but I did enjoy this bright yellow Gran Turismo Super Trofeo.
Located directly behind the sexy Italians was Toyota. I decided to finally take a closer look at the new Camry, which I can safely say that I like, a lot. It's a definite step in the right direction for this bold sedan. I would like to drive one sometime.
After spending some time in the new Land Cruiser, I walked across the way to Buick's stand, and took some time to check out the new Regal TourX. I'd been investigating this car a lot in the time leading up to this show, and I've got to say, I was thoroughly impressed. It's not nearly as off-road ready as my Outback, but it's definitely nicer inside and outside, it's better-built as well. If I were to trade the Outback in for something new, it'd be on my list.
I didn't really pay much attention to the Acura stand, outside of the NSX race car they had on display. One of the MDXs they had there had a flat tire, by the way.
Next up was the Volvo stand, where I found a problem. I hear all the time that Volvos have the nicest seats in the business, and I was kind of let down. But, I will pin this on the fact that they had all the seats pushed against the steering wheel, and I couldn't comfortably fit inside. They sure were pretty though.
I spent a good amount of time in the Civic Type-R, where I found it probably has the most comfortable Recaro buckets on the market. They didn't exactly squeeze my ass like most do. I played with the gear shifter for a bit.
Next door was a brand I really had been looking forward to checking out all show long, Lincoln. Safe to say I had a very bad experience at Lincoln's stand. While I was checking out the Navigator, I decided to change the station on the radio while investigating the infotainment system. Well, the salesman wasn't having it, because he shot me a very nasty look afterwards and changed it back right after I got out. Then, when I tried to take a picture of the Navigator, he kept standing in my way, almost deliberately. After that, I decided to sit in the Continental, which had a broken interior door handle, trapping me inside. Suffice to say, I don't think I'll be buying a Lincoln anytime soon based on that experience.
Next door at Ford, they were showing off a couple of brand new prototypes, including the Bullitt Mustang, which was absolutely gorgeous, and some BlueMazda2 bait.
And, that concludes my stories from the Auto Show. I didn't get to check out everything I really wanted to due to time and some rushing friends, but otherwise, I had a blast (besides the Lincoln thing), and I'd say this is one of the better Auto Shows in the past couple of years. Maybe next year I'll get to go to Atlanta's show as well, who knows.