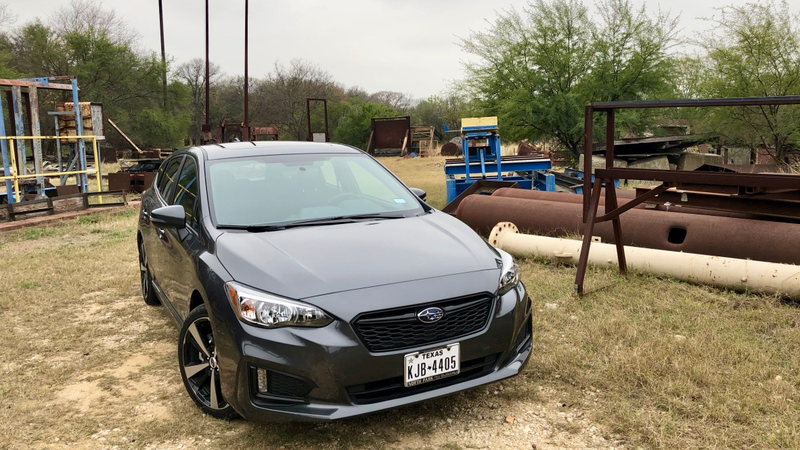 Unexpectedly, I ended up with a nearly-new loaner Impreza for a few hours today while my Forester was in the shop for repairs related to my own idiocy (more on that tomorrow). Even more unexpectedly, I actually had some time to drive it and take a bunch of photos, so I figure I owe y'all a mini-review and photo dump.
(Full Disclosure: The great folks at North Park Subaru Dominion in San Antonio, TX tossed me the key to this Impreza with just over 3,000 miles on the odometer at lunch today when I dropped of my Forester and made no other requests other than that I bring it back by when they closed with at least half a tank of gas.)
What Is It?
The 5th-generation GK/GT Impreza debuted in 2016 as a 2017 model. It is based on the Subaru Global Platform that should eventually underpin the next WRX and Forester. US-market models are built in Indiana alongside the Outback for the first time. The Impreza is available here in 4-door (GK) and 5-door (GT) body-styles exclusively with the 152 hp FB20 engine mated to all-wheel drive. In the previous generation, "Sport" was applied to all 5-doors. Now it is a trim level alongside base, Premium and Limited. The Sport's primary differentiators are 18" wheels, active torque vectoring, and some interior bits. The Impreza 5-door starts at $18,995 and the Sport at $22,595 with Subaru's old clunky 5-speed manual (the Crosstrek now gets the 6-speed - hopefully the Impreza does soon). My loaner had the optional CVT, moonroof/premium audio package, and EyeSight active safety bringing the total to $27,200 - the same as a base WRX.
Exterior
Overall, I think this car is handsome, though pretty boring. In a way it reminds me of the first generation Impreza - a car that was also pretty anonymous outside of the WRX and RS versions that had vents and wings all over. Personally, I think that is a good thing - sure it isn't beautiful but Imprezas have been ugly for a while now. This latest one finally breaks that. The proportions are good with reasonable overhangs both front and rear and there isn't much in the way of forced styling besides maybe the curved line in the rear doors. I'm glad to see a window behind the rear seats, even if it is small, and that Subaru still hasn't given up on door-mounted wing-mirrors.
The Sport also gets rid of some of the dumb chrome accents that other trims have. I'm a big fan of the 18" wheel design, but I know some of y'all can't stand the mix of polished aluminum and black paint. Overall it's something I wouldn't mind seeing in my driveway - just in a better color than this dark gray. I can't say that about my '13 Outback. Which is why I hide it in my garage.
Interior
The interior of this car is where the biggest strides have been made. I'm seriously impressed with this thing for the price. Yes, some of y'all will cringe at the fake carbon fiber. Whatever, I'll take it over the weird fake brushed aluminum in my Forester and most of the other odd printed/textured plastic panels that carmakers are using these days in places where there used to be (usually fake) wood. Overall, it will be instantly familiar to anyone who has driven a Subaru in the past 10 years, just better. The shifter surround is pretty darn ugly, though.
The Sport also gets red stitching reminiscent of the WRX. It works. I like it, especially on the parking brake lever that has fortunately been spared turning electronic like many other recent Subarus. The steering wheel is fantastic - it looks good, the buttons are easy to get to and it has a nice size and feel to it. The interior is now dominated by three LCD screens - one between the gauges, a big touchscreen one in the console, and one atop that dash that can be reconfigured from the steering wheel. Yes, Subaru has had these for a while, as has everyone else, but the brightness and resolution is a huge step up from the previous Impreza.
Materials are basically typical Subaru but taken to the next level. It's kind of hard to describe but think durable without being as fisher-price as previous Subarus have been. One of the big love/hate things about Subaru for many people is that the interiors contain quite a bit of hard plastic. Owners like me love them because they tend to be durable and take lots of abuse well, but others prefer softer touch points, more style, and tighter panel gaps. There is still a lot of hard plastic here, but it has less shine to it and fits together better. Let me put it this way - if you've driven the current Corolla, the faux seam on the dash with stitching will look instantly familiar in photos, but in reality the Impreza stitching does a decent approximation of a stitched seam while the Corolla clearly has a design injection molded into the plastic panel. Switches and buttons don't wiggle and wobble like they do in my Forester. The turn signal stalk now does a three blinks with a half push and feels solid. The paddle "shifters" are damped instead of having a cheesy click like they do in my Outback. It's all a similar layout, design, and shape - but it comes together much better.
The seats - at least in this Sport trim model - are fantastic. They look great and the fabric is done to perfection: smooth on the bolsters with grippy stuff in the middle. This is basically the fabric version of smooth leather bolsters with alcantara in the middle. It works because it is easy to slide into the seat but the material in the middle helps hold you in place. I had plenty of room both in the seats and in the front of the car. I'm 6'2"-150 lb. and there was plenty of space. I even raised the seat up from the lowest setting. I'd prefer tighter bolsters, but I'm narrower than most. I did two half hour trips and one shorter jaunt in this loaner and comfort was good. I'd expect them to be fine for long cruises. Adjustments are all manual, which is a bit disappointing on a compact with a $27k sticker. The seats are heated. I didn't try them out because it was in the 50's this afternoon. Ergonomics were excellent.
The back seat is a surprisingly decent place to be. With the seat set for me, I had plenty of room for another me behind me. The cushion is pretty comfy too. Oddly, there is no center armrest. This is a shame, because, being an AWD car, there is a driveshaft tunnel that makes the center spot essentially useless for fitting a 5th human.
The rear seats fold flat easily. Subaru is still using the same pull-button mechanism that they have been in the Impreza/Crosstrek/Forester for a while now. I know from experience that it works well and it continues to here. One drawback is that the headrests will hit the front seats if they are too far back. With the driver seat set for me and the passenger matching, they just cleared. The headrests do remove if this is a problem. Cargo area seems very good for this class. I'm glad Subaru resisted going with a highly-sloped hatch like the Mazda3, Cruze, and previous Impreza to make the cargo area more useful. Unfortunately, they've stuck with the idiotic little switched light by the left wheel well as the only illumination back there.
Toys
This Impreza was equipped with the EyeSight package. It doesn't do anything new or unique, but it is a staggering amount of kit for the price (a $2,945 option that also includes the $2,150 moonroof/Harmon Kardon audio system package): blind spot and cross-traffic detection, lane departure detection and lane keeping assistance (seriously feeling the steering wheel move to put you back in your lane in an Impreza of all things feels like the future... I also prefer to keep my own lane thank you very much), adaptive cruise control and forward-collision warning/prevention.
The binnacle atop the dash has 7 different options that you flip through with buttons on the steering wheel. I found the extra gauges to be the most useful. Much of this info can also be shown in the screen between the gauges. None of this is new - basically it is a copy of what Nissan has been doing for years and Subaru has had on the Outback for a while, but it is still nice to get into the compact hatch level of the market. I do like that the little cartoon of the car's brake lights light up whenever you hit the brakes.
The infotainment system is kind of meh. It is well organized, but there is a bit of lag when you touch things. (Physical dials and steering wheel buttons seem to respond instantly.) It didn't have navigation. It does apparently do CarPlay and Android Auto. Neither or which I bothered to try out. The screen is big and bright so hopefully they work well - but if there is still lag to touches it could be annoying.
Auto up/down for both front windows is nice and something I'd love to have on my Forester. It works from the passenger seat as well. It has auto headlights. Again, nothing here is groundbreaking, but it feels like a huge improvement over the previous Impreza and includes some things that not every car in the class has. Basically, short of a heads-up display, every one of the latest gadgets is accounted for here.
Engine and Transmission
If you're still here, you've probably noticed that I've been saying a lot of positive things about this car. I can stop now. I really don't have anything positive to say about this powertrain. The Impreza weighs around 3,100 lbs. with the CVT and 152 hp is not a lot of power for that weight.
0-60 happens eventually. Passing happens eventually. The car does seem happy to hold 80 MPH on the Interstate if once you get there, but you'll need to plan to overtake. The CVT is bad. It doesn't seem to have quite the ratio spread you'd expect and it seems to respond more slowly to requests for power than the CVT in my Outback. The 5-speed manual would help here somewhat just because it weighs less, but that shifter is no joy to use in my experience with older models. Subaru needs to get on getting the 6-speed into these ASAP. Oddly, they do offer it in the Crosstrek which is basically just an Impreza 5-door with larger wheels.
The little boxer makes a lot of noise, but it doesn't turn it into speed. Even mashing the gas from a stop doesn't bring the revs to the redline for several seconds. Every time I accelerated from a stop, I would get a sensation from all of the noise and time passing that I must be at highway speeds, only to look down and see that I was going 40.
Look, I realize we are spoiled rotten with power these days. 150 hp in a compact shoud be perfectly adequate. This car will do highway speeds all day and return 30+ MPG and the security of AWD. For most people it is probably fine. But it just feels so slow. I've driven a lot of compacts in the past few years with base engines - the Elantra, Cruze, Sentra, Jetta, Corolla, Mazda3, and Focus - and they all were slow, but none of them felt this slow. The power-to-weight ratio here is similar to others in the class, but the engine response and transmission just feel dead.
Ride and Handling
On a more positive note - one that bodes very well for future models on this platform that may have more power - this thing lives up to the Sport in its name. I got out of work a little early, so I took a detour down my favorite back road behind the dealer. Yes, this Impreza can dance.
Steering is delightfully heavy for the class, but not so much that it doesn't respond to changes in the road surface. Cornering is shockingly flat for something in this class - I kept leaning when I expected body roll and found there was none. The front goes exactly where you point it.
There is power to be had if you put the CVT into "M" mode where it approximates six gears and keep the revs in the 4,000 to 6,000 RPM range. Changes with the paddles are slow, but you can time them OK for stringing together corners. This is very much a fun in maintaining momentum kind of car. I wasn't about to test the limits, and I fully expect understeer, but unlike the competitive set of FWD compacts, you can correct this thing with your right foot. The chassis feels solid, alive, and responsive. Handling may not be best in class, but it is up there. It certainly feels premium and a class above when compared to floaty things like the Sentra and Elantra. I can't wait to drive the next WRX based on this when it comes out.
Ride quality is good, but not world-beating. It is better than I was expecting with the low-profile tires. There are no adaptive suspension settings or sport modes, which is fine with me. Subaru just took the time to get the basic setup as balanced as possible. On the road, it is reasonably comfortable, but bigger bumps are a bit jarring. It did feel harsh over expansion joints. It is a fair tradeoff for the handling, but it is no GTI that manages to somehow be both supple while cruising and a monster in corners riding on tires that appear to have even less sidewall than these. Then again, the GTI costs more and doesn't have AWD.
More Photos
Some of these may be double-posted from above, sorry. Everything was just shot with my iPhone and is unedited except for auto-levels when the original didn't have great contrast. The overcast sky and dead grass don't make the best backdrop or lighting, but I think they actually work well with a dark gray hatchback.
Conclusion
The 2018 Impreza is a good car in search of a good powertrain to make it a great car. It has finally caught up to the class in terms of toys and gadgets, and it passes most of them in the handling department. But it sure is slow. If you can live with that, it is a nicely packaged, well-built hatch with the added benefits of AWD at a decent price. I can't help but notice the base WRX sitting over there for the same price, though. There is plenty of room between the 152 hp here and the 268 hp of the WRX for another model with something like 175-200 hp and a 6-speed manual and a base price before all the EyeSight stuff of around $25k. Subaru has motor options in the FB25 from the Outback/Forester and FA20 in the BRZ. Until then I'd pass on this. And here's hoping when they make a WRX out of this that they bring back the hatch, because this is a nice little package!