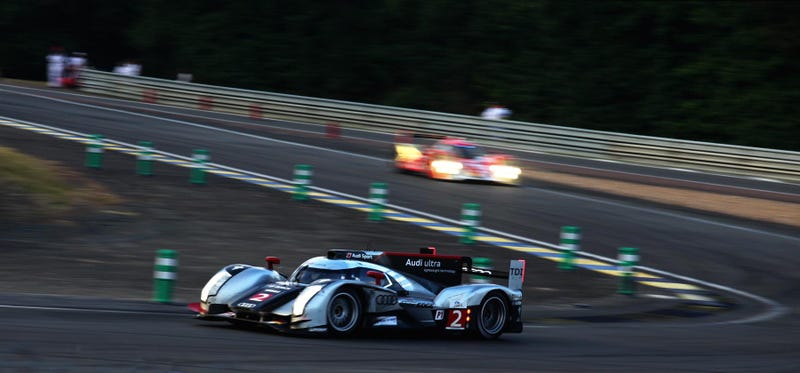 In talking to my coworkers about the recent Montreal Grand Prix I mentioned I was actually more excited about the 24 hours of Le Mans coming the weekend after.
I then had to explain what/where it is, who's running and why they should care.
So here are my 24 random reasons to watch Le-Mans this year for the uninitiated:

It's going to be a fight: Audi's TDI race cars have dominated Le Mans of late taking 13 wins in 16 years but the Porsches have more raw speed and are going all out for the win. Toyota are slower but took the overall championship last season so don't count them out of the mix.
It's the only race that matters: sure there's the WEC championship attached but Le-mans is the big one, the cup final, superbowl and world series rolled into one... Teams run extra cars and build their programs to peak for this race.
It's surprisingly close: even after 24 hours of racing the lead cars are often only separated by a few minutes, one slip up and you might be done.
Shit happens: breakdowns, crashes, weather and night all contribute to a war of attrition on the track, LeMans is brutal on both man and machine.
It's four races in one: the LMP1 prototypes are the fastest cars going for the overall win but there are also LMP2/3 prototypes, then the GT classes below which are recognizable as street cars GTE-Pro is for fully professional racing teams while GTE-Am requires some team members to be "amateurs".
The technology is diverse and awesome: Audi has a turbo V6 diesel with flywheel energy recovery, Porsche has a 4cyl gas turbo hybrid with Lithium Ion batteries, Toyota has a normally aspirated gas V8 with super capacitors and Nissan has a gas turbo V6 with a flywheel.
Nissan's car is insane: most prototype class racers are mid engine, rear wheel drive but in the name of aerodynamic advantage mad genius/race car designer Ben Bowlby (of deltawing fame) has designed a front engine, front wheel drive GTR batmobile for Nissan which will make its race debut at Le Mans. It's unlikely to be competitive first time out so just getting to the finish will be a win for them; but with exhausts that spit fire straight up through the hood and a "Godzilla" button I sure as hell want to see it run.
Flat out speed: the winning car last year average 242km/hr speed over 24 hours in all kinds of conditions. Endurance racing has effectively become a sprint for 24 hours now and no one is holding back.
Aston Martins: want to see an Aston driven in anger outside of a Bond film? Course you do.
Corvettes: flying the flag for the USA with bright yellow paint and a V8 that sounds like god's sledgehammer.
Ferrari crashes: if you like seeing wrecked exotics the gentleman racers in Ferraris have a reputation to uphold.
Ginetta cars: small Yorkshire based race/kit car builder have acquired the rights to a LMP3 design and will be running 2 of them. Edit: bummer, they were only there for free practice, looks like no LMP3s can run at Le Mans.
Ford: Bill Ford is scheduled to start the race so everyone is expecting them to unveil Ford's new GT race car for next year's Le-Mans.
Mark Webber: the likeable Aussie quit F1 to join Porsche's Le Mans team and this is the year he might win something, or come second to a German, again.
Patrick Dempsey: whether you're a McDreamy fan or not he has proved to be a solid competitor in GTE-AM and is looking for better luck this year. Plus he adds some Hollywood glamour to the proceedings; I wonder if people complained about the press following Paul Newman back in the day.
Max Chilton: the former Marrussia driver might have been dead last for much of his F1 career but he was good at looking after tires and bringing a dog of a car home - big positives in an endurance driver. Let's see what he can do in a factory Nissan LMP1.
Chris Hoy: the British Olympic cyclist will be driving one of the Ginettas, I'm sure there's a story behind that.
Leena Gade: race engineer for Audi's #07 car, her crew has won Le-Mans 3 times now. There are nowhere near enough women in the STEM fields never mind motor racing so seeing Leena kick ass at the highest level is hugely positive for encouraging more girls to consider engineering. Also she's Alumni from my old dept at Manchester so even if Audi win again I won't be mad. This is also because...
Everyone's so damn likable: maybe it's the teamwork required or because the races are as much against the conditions as the competition but endurance drivers just seem to be less douchey than the show ponies in F1.
There's no bullshit rules: no push to pass/DRS zones, no toilet paper tires and you save fuel because more stops will cost you the race not because of an arbitrary flow requirement.
You can watch it anywhere for cheap: the whole thing is streamed live on the official website and less than $15 buys the whole race on the app; which allows for multiple devices and a bunch of different camera options. Considering that millions of people paid $100 for a few hours of boxing recently this is a bargain. Lots of teams run their own in car streams too.
Radio Le-Mans: great knowledgeable commentary is vital to enjoying any race and especially one this long. Radio Le-Mans has this in spades and entertaining accents to boot.
Truth in 24: you can watch this Audi documentary and it's sequel for free on YouTube now. Its an excellent primer for the race and you get Jason Statham dramatically intoning "it always rains at Le-Mans".
It's a giant racing camping festival and party: Le-Mans attracts hundreds of thousands of people from all over Europe who camp in the French countryside dress-up in crazy themes and drink heavily.
These are just the first 24 I dashed off the top of my head - feel free to tell me some of the stories I missed or just why I'm flat out wrong in the comments.