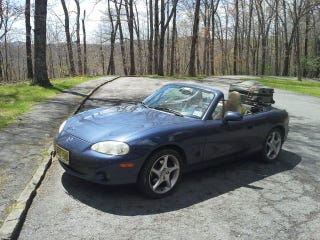 Skyline drive, Charlotte, Charleston, Orlando, Asheville, Blue Ridge Parkway, Roanoke, natural bridge, home. That was the order of my road trip leaving at 230am on Thursday and returning 6pm on Tuesday. It was certainly amazing to just cruise the whole way with the top down and enjoy every moment of it. Blue Ridge Parkway was spectacular and I can't wait to go back. Anyways, I took some pictures so I'll let that tell a story with some details.
Start of the journey at 132283 miles.
Skyline drive was almost like an amusement ride. It was right around 45 and windy at the start so the top was up but it was still such a great ride and many photo opportunities. I have a bunch from overlooks but this was one of my favorites.
Things warmed up enough around 11am which was like 3 hours into the drive along skyline drive. So I was able to convince my girlfriend to put the top down if she could have my sleeping bag, winter hat, and the heat on. It was perfect and made the remainder of the road even better!
We finished skyline around 12 and continued on the BRP to Roanoke. That was an amazing little drive and gave me a taste for what I would get later in the trip. That night we made it to Charlotte, NC where we had dinner and stayed at an airbnb. In the morning we took a quick trip to Charleston, SC and our final destination of Orlando, FL. Visited family Friday night, Disney world all day Saturday, and half day Sunday. After much rain and ridiculous Florida turnpike toll booths, I made it up to Asheville, NC for the night. I stayed in another really nice airbnb (girlfriend flew out of Orlando to go to work) and I hope to go back there for sure! Anyways, following morning on Monday begins my Blue Ridge Parkway adventure!
What a foggy morning! Just after leaving Asheville I came across fog so thick I was going about 15mph and just hoping nothing was in front of me.
Drove up to mount Mitchell and damn was it cold up there! 6684 feet up will definitely do that. There was frost on the trees but it was totally worth the detour for those views. Top stayed down but heat definitely went on. Engine temp went all the way to C on the way down the hill I guess since it was such a steep decline and the cold breeze really cooled it down.
Holy hell did my car get dirty! The windshield was even worse haha.
Took a nice shot of the miata!
Blue Ridge Parkway just led to some amazing views. I wish I could have stopped more and taken it in longer but I had places to get to. I'll Definitely go back and really take time to soak it in. Overall a great drive and I recommend it to anyone that enjoys a scenic route without traffic. I barely saw any other cars midday during the week in April.
My lodging for the night! Cave Mountain Lake Campground in Natural Bridge, VA is great.
Got my log cabin setup with some wood fuel and drier lint in the middle. Was able to get er started with just two matches and some more drier lint.
Fire supplies stocked and ready for business!
We have ignition! I only used it to make some pancakes since I didn't bring much food to cook, but I had fun anyways.
Short hike in the morning up Wildcat mountain
Pretty stream crossings the whole way up and down.
Nice summit about 2 miles up but pretty hard to see through the trees. Still worth the hike but I definitely hoped for a clear view. Either way, a great way to take a break from driving!
Made it home just in time for my grad class and took a quick picture of the odometer to record my ending mileage of 135,143. That's over 2800 miles in 6 days and what an experience that was! I averaged about 32mpg throughout the trip and even had some wild numbers of 35+ while doing skyline drive (all at 40mph or less with few stops). Only mechanical casualty was my radiator but that will be replaced this week. It started leaking like the second day and I just kept topping it up at every other fuel stop (dropped about half the overflow tank during 500 miles or so). Camping was great and I look forward to going back to BRP for sure in the summer for more of it and of course more driving.