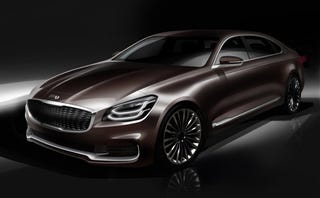 We will see the 2019 RJ next month and it's looking great already! HMG is definitely bringing the Bentley feel downmarket while retaining the simplicity and ease of operation that is becoming a Korean car trademark.
The biggest changes will be available AWD, the Lambda 3.3t V6, and possibly the new 10-speed auto which is guaranteed to be smoother than Erykah Badu on a Tuesday afternoon, kin. The Tau V8 should make a final return before being defenestrated by the next generation of big boy Korean car powertrains.
There's likely a bunch of tech stuff that makes the car a Level 42 White Mage in autonomous driving and blah blah blah. As long as active and passive systems are not jumbled up I'm happy.
The RJ will continue to be extremely comfort focused. There should be more poise to the body control and the meticulous build and ride quality that defines comfort-centric luxury which is seeming to be a dying art right now.
Teaser Video:

I think the teased images go silhouette, speaker, door pocket, and the back of the front seat. Light design will definitely have some great marketing fluff to it.
As a composer, the sound design on this teaser is great!