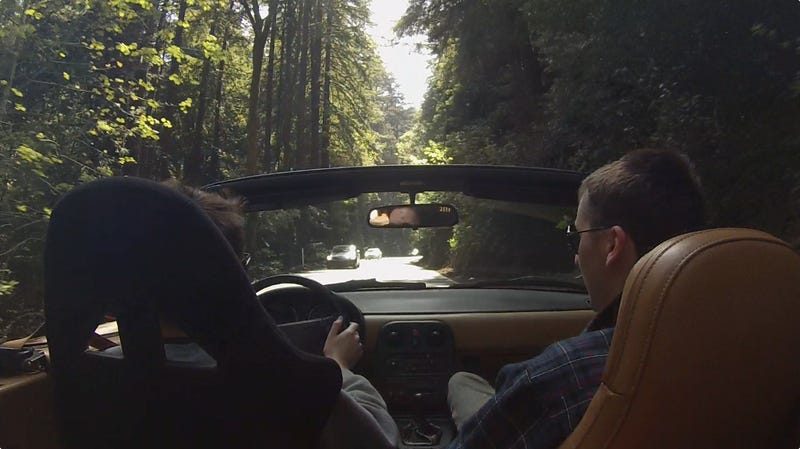 On Sunday, I celebrated the beginning of my spring break with a massive drive. I clocked in at ~170 miles of destination-free wandering through the Santa Cruz Mountains.
Stills from GoPro are by me and photography is by my friend riding shotgun.
At the junction of 35 of 84 lies Alice's Restaurant, which might be the biggest clusterfuck of gearheads in the Bay Area. This C7 rolled up and parked next to me:
He arrived with a C6 ZR1 buddy, which is parked right behind the 5er.
Mad hairpin on Alpine Road:
Picturesque Californian redwood forests blanket the lower section of Alpine:
Alpine joins with 84. This Pacific slope of 84 really opens up with big skies and fast curves rolling through the coastal hills.
Turned off onto Stage Road. It begins with a eucalyptus corridor and evolves into a gorgeous twisty road working its way through ranches and open land.
This photo was taken at the point where we turned around on Stage Road. The Pacific Ocean was no more than a half mile away as the crow flies, and could be seen through that gap in hills:
Backtracking on Alpine now, let the wingman drive a little. This is maybe his fourth of fifth time driving a manual.
Descend Page Mill Road all the way—from its twisty beginnings to it tech company business parks end—into Palo Alto for lunch:
Retraced steps back home after that.
I outlined in red the general region we covered in those five hours and 170 miles:
This area is car-spotting heaven! In addition to the C7 and ZR1, I saw an R35 GT-R, two Evo X's (one with Japanese plates), a very modified FD RX-7, two McLaren MP4-12C's, a Ferrari Testarosa, an electric motorcycle, Porsches from every decade from the 50's until present, Tesla Model S's out the ass, a few Toyobarus, a few Miata brethren (surprisingly few), some WRX/STi's, hundreds of motorcycles of all breeds... the list goes on