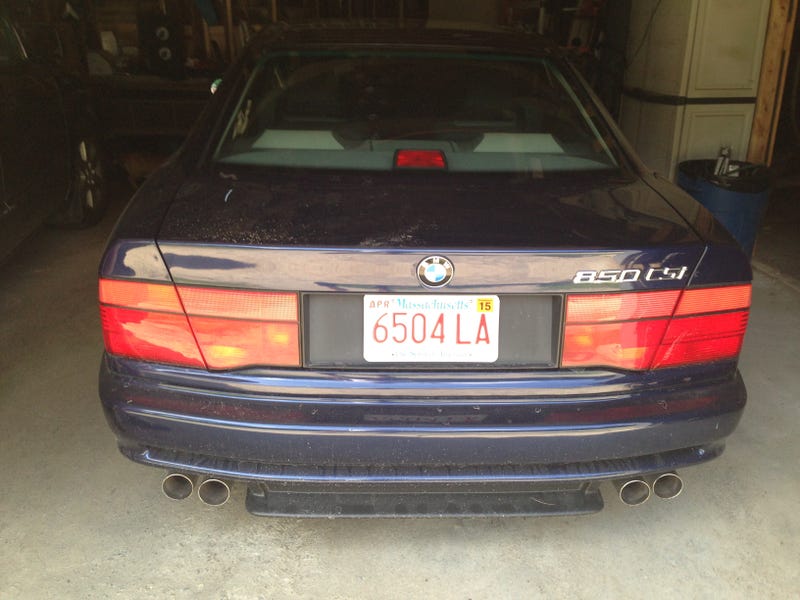 Story time: This 850csi lives in a Garage in central Mass. The elderly owner lives thousands of miles away, in Italy. He raced Porsches when he was younger, and has so many cars that he had to ship this beauty to the US for storage. His adult grandchildren, who own the garage in question, are not car people. They view driving it every so often as a chore!
One of their daughters loves the car, and they've promised it to her as her first ride. I sincerely hope that does not come to fruition. I love the idea of a young car gal being introduced to the cult via one of the best automobiles BMW ever made. That said, we all know what happens to many teenagers' first cars.
Before you ask - yes, it is a 6 speed. The interior is dove grey and it has 20,xxx miles on it. The worst part? I passed up an opportunity to drive it. I really am an idiot sometimes.
I was "dating" the niece of the folks who own the garage a few summers ago. We used to house sit for them when they went on vacation, which was awesome because their house was gorgeous, and they didn't pay us - instead, we were allowed to drink as much of their alcohol as we could. That was a truly wild summer.
The girl I was spending time with actually suggested taking the car for a joyride, which I categorically refused to do. I would never forgive myself if something happened. However, the owners weren't opposed to me taking the old beast out for some exercise when they were around. Which never happened. After writing this, I am seriously considering hitting up that girl, who now lives in Chicago, to see if I can finally get my hands around that steering wheel.