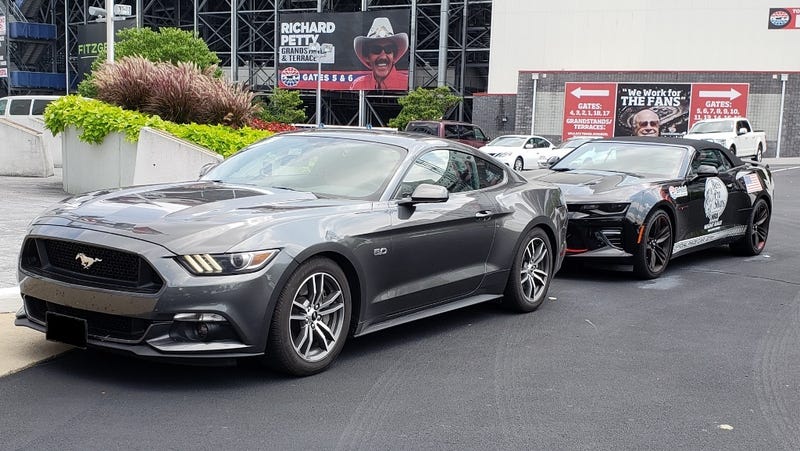 As seen at Bristol Motor Speedway: The Bristol Motor Speedway/Bass Pro Shops-NRA Night Race Official Camaro Pace Car provided by Chevrolet and your Local Chevy Dealers parked behind the Stephenson Valve Gear Mustang.
In our continuing quest to visit all of the 48 Continental United States this year, Misses Valve Gear and myself made a quick tour around the southeastern US this week, adding another 11 states to our total. We left out Wednesday morning and got back in the wee hours of Saturday morning. Time was a little tight on this trip - as it seems to be on all of our trips - but at Misses Valve Gear's request, we made a slight detour to see Bristol Motor Speedway. We couldn't resist getting a photo of the Mustang next to the Pace Car, as well as one of the Mustang facing the sign out front:
No other notable car pics from the trip, but we did have a close encounter with an Aston Martin DB9 - we were in a string of cars merging onto a highway, and the DB9 came flying up on the right, wedging into the space between my front bumper and the car in front of us. It was an aggressive move on his part; too close for comfort on my part. I braked as hard as I dared since I thought he was going to clip us as he forced his way in. No contact though, so I suppose no harm, no foul.
Anyway, back to the tour: Trip Odometer #2 tells the story - 2340.6 Miles, 36 hours and 12 minutes of drive time, 24.4 MPG (which is incorrect, the actual mileage is usually 1/2 - 1-1/2 MPG lower) and the Mustang now has a bit over 30k miles on it after only a year and 3 months of ownership. That's OK though; we bought it with the intention of doing a lot of road trips.
18 states to go - will we make it before the end of the year? Stay tuned to find out...