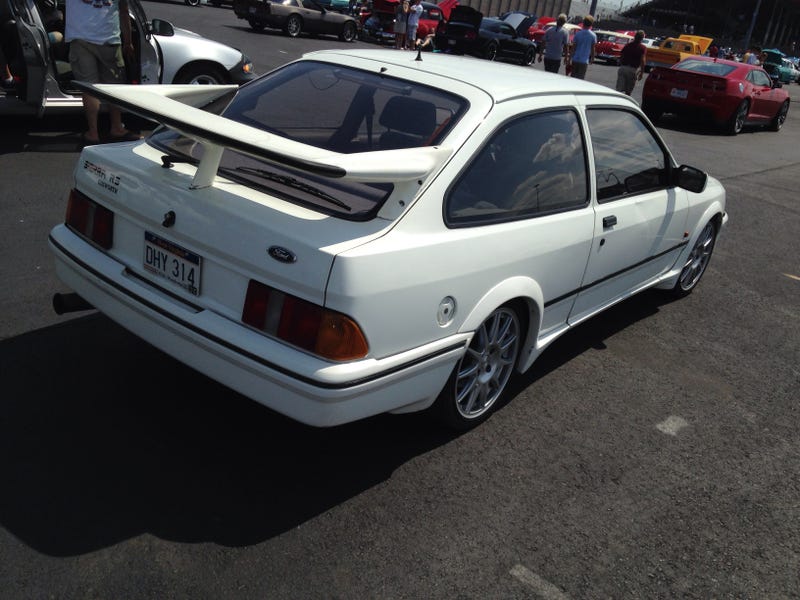 Several months ago I got this burr up my butt do the Hot Rod Power Tour with my son and dad in his 1964 Mercury Comet Cyclone. I figured it would be some good guy time. Men doing men things. Looking at cars, eating bar-b-que and sleeping in crap hotels all the while pounding around the countryside is a classic, and notoriously unreliable hot rod from my youth. Seems perfectly reasonable, right? As restorations tend to do, my dad's ran long and the Comet isn't ready. His work schedule also changed and it was looking like it was going be just my boy and I. When it got to that point I talked with my wife and we decided to turn this into a family driving vacation. We polished up my 2003 Evo, got the rear wing refinished and slapped on a new set of rubber due to a nail we found in the sidewall yesterday. Thanks savings, it was good to know you. Regardless, we strapped in the car seats, filled the cooler with juice boxes and gummies and hit the open road.
The three and a half hour journey to Charlotte from Atlanta was as smooth as can be. The kids played roadside bingo and did Mad Libs, "No, fart is not an adjective!", while I drove. Easy breezy. I got to spend some time with the Evo, my wife has been using it as the family hauler and is the coolest soccer mom in northeast Atlanta, and it was great to get reacquainted with the car. Great power and precision, while maintaining enough practicality to allow a 4 year old to enjoy the ride with enough of a DMZ between her and big brother. I love that car.
The parking lot at registrations put most mid sized town car shows to shame. A Plymouth Superbird was parked next to a rat rod, there were three beautiful '57 Chevy's, we were parked next to a early '60s Vette. It was pretty damn incredible. I had to explain to the munchkins that this wasn't the show. We still had to get into the show!
Once we got in and parked I noticed two things. First, the lot was full of an amazing mix of cars. Second, it was damn hot. Roasting. We made a quick run through to see the cars parked near us as the siren song of drag racing was in the air. It was open to anyone and the mix of cars on track was amazing and entertaining. Everything from slicked and caged monsters to grudge matches between classic wagons. Two guys even had a showdown on mobility scooters. It was good fun watching the drags with my boy and picking our favorites as they came up to the line. He tended to go with the flashy paint jobs. He wasn't wrong too often. One thing I learned from watching the races is that Dodge Challengers are not fast cars. Or they don't look fast. The web says 0-60 in 4.4 sec for the R/T, but I don't think the cars I saw were doing that.
While sitting in the stands I noticed there were some cars parked on the other side of the track behind the opposite side grandstands. I figured we would check those out. That is when I realized WE were parked on the back side of the track. Vendors, food and shade were all over there. We made an obligatory run through vendor row and hit the big parking lot. That is where most of these pics came from. I was pleased to see we weren't the only people to bring non 'Merican cars. There were VWs, a couple of Minis, old and new, two STis, a lovely old 240Z and a bunch of others cars that made me feel better about rolling in with an Evo.
As tends to happen when you attend things like these with your kids they end up leading the way. My 4 year old daughter was attracted to this rat rod Bug as it was her size. I though it was pretty cool as well!
This classic Challenger was just missing a Hello Kitty sticker to be the perfect ride.
I will try to post some pics from Sunday as we make our way from Charlotte to Knoxville via some back roads. It should be fun. I've already heard the show and shine guys are nervous that there may be rain! What shall we do?