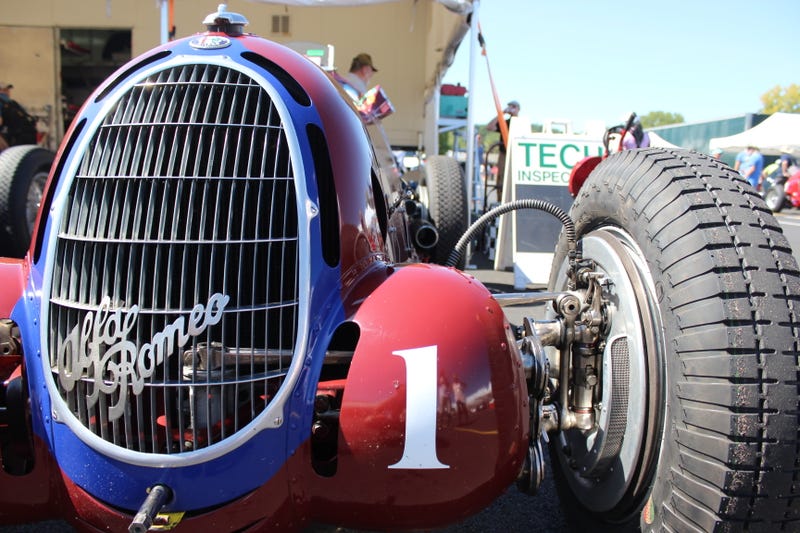 This past Saturday I got the chance to spend some time at Lime Rock Park and catch the annual historic races. I was only able to spend a day up there, so I missed the parade through town on Thursday, practice on Friday, and the concourse on Sunday. Most of the photos are from the races. Enjoy! (All photos are my own)
What better way to start than with an Alfa driven by Enzo Ferrari himself! These things (there were two of them) were incredibly loud!

Another highlight of the day was Gilles Villeneuve's Formula Atlantic car. These first few photos are from the paddock, which remained open throughout the day, so there was some serious metal on display.
Like this gorgeous 250 GTO
Or this Jaguar E-Type.
The racing was great to watch as well. There was good on track action, especially considering the value of these cars. Below are some shots from Group 6, which was a mixed group of mostly mid-century sports racers.
#1 - 1963 Sabel Porsche chasing down the #328 - 1957 Alfa Romeo SVZ
#18 - 1963 Volvo 122 Amazon
#65 - 1961 Lotus 7 chasing down the Amazon from earlier
#750 - Gorgeous 1965 Abarth 1000GT
The next set is from Group 7, which were big-bore production sports & GT cars. This was the loudest group on track that day.
#76 - 1976 Porsche 911 lining up #63 - 1965 Jaguar E-Type
The 911 from above making another move, this time on #34 - 1966 Chevrolet Corvette
And this time passing a 1964 Corvette.
1965 Ford Mustang
Group 8 was a mixed group of mostly '60s sports cars. Basically, this was the 911 group, with a few Alfas and 914s thrown in for good measure.
1972 Alfa Romeo GTV
#88 - 1972 Porsche 914/6 right on the tail of #390 - 1969 Porsche 911
Can't beat the sound of a 1973 Alfa Romeo GTV following a 911
Group 9 was up last, and this was my favorite group to watch. This group was made up of various post-1970 formula cars.
Love the livery on this 1971 Chevron B19.
These two were battling the whole session. #272 - 1973 Osella Abarth and #17 - 1967 Matich SR3.
1979 March 79B
Gilles Villeneuve's 1975 March 75B Formula Atlantic car.
Thanks for taking a look!