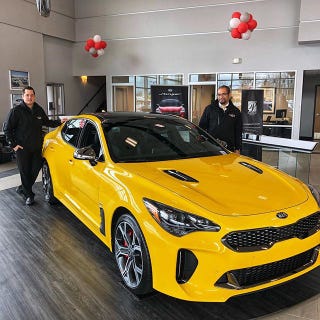 Only odd thing I'm seeing is that while there are base GTs with the M-LSD for $41,450, there are also a few GT2s out there priced at $52,300. One of those Yellow GT2s is here in Albuquerque apparently. The base Sunset Yellows are the best value across the entire Stinger lineup and are likely to be the variant with the smallest depreciation drop.
Youre still going to lose at least $10,000 in 30 months but it's better than the possible $20,000 hit the GT2s will likely suffer.
"Expect the Super Bowl to kickoff nationwide Stinger availability as well as launch these enthusiast special yellow Stinger GTs with the mechanical limited-slip differential."

#CalledIt
Stinger sold 1,021 cars in January. For reference:
Cadillac ATS - 1,155
Genesis G80 - 1,243
Kia Rio - 1,339
Mazda 6 - 1,552
I still say that it needs to average 2,000 monthly sales. We'll see how it goes.
By the way, there are no high performance V6 or V8s coming this decade. However, I'm seeing a lot of hints that the US will get the 2.2 diesel in the Stinger, G70, and G80 plus a bunch of utilites that were already announced like the Sorento and a couple of Hyundai utilities.