Things you didn't know about the 505:
Most of the world got the exhaust on the right.
But not the Americans (I think it followed from having to move the fuel tank which resulted in the filler cap moving from left to right and I'm guessing that the Americans may have issues with filler and exhaust on the same side). They also got slightly smaller reversing lights.
They also got (of course!) non-cute sealed beams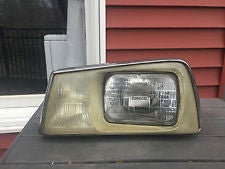 The 505 was assembled in Australia (because protectionism at the time) by rivals Renault from 1980 to 1981 and by Leyland Australia from 1981 to 1983.
The interior was by Paul Bracq, also known for the Pagoda Merc SL.
Turbo models used a version of the Chrysler 180's engine because the block was stronger than that of the Peugeot equivalent.
A coupé and cabrio were designed for the American market by Cars and Concepts, an American company who did convertibles for Chrysler and Ford, but not proceeded with. The two concepts were abandoned at the port of New York before being rescued by PSA and preserved in their museum. The coupé was built using the longer wheelbase (by 30 cm) of the estate for the sake of adding a touch of elegance.

The 505 was PSA's last rwd car.