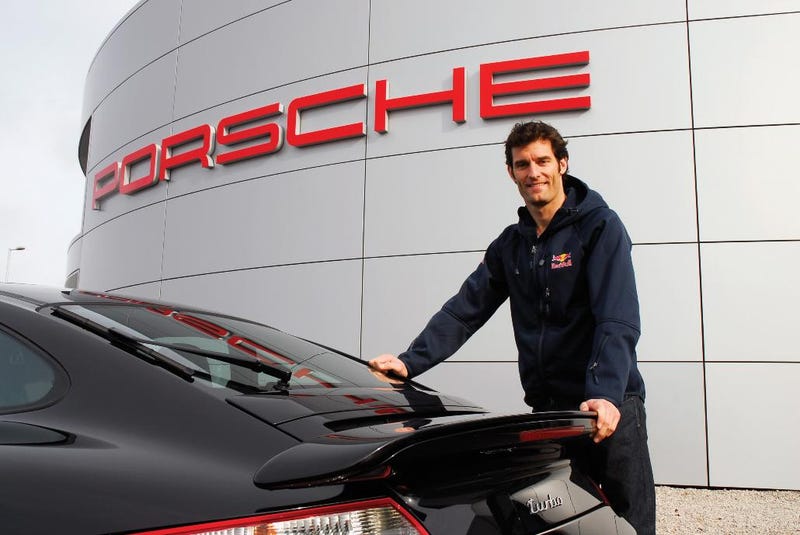 How driving at Le Mans will make everyone happier.
It's no secret that at this point, Mark is just done with Red Bull Racing. After the Multi 21 fiasco during the Malaysian Grand Prix and now the fuel miscalculation that's cost him any shot at a podium this weekend, Webber's F1 career just keeps going downhill, and if his recent interviews are any indication, he just doesn't seem to care anymore.
Luckily, when one door shuts, another opens. Webber's contract with Red Bull expires at the end of this year, and Porsche, in their 2014 LMp1 bid, is out to hire drivers for next year's FIA World Endurance Championship season. Rumors have been circulating that Mark Webber is on Porsche's list of drivers to consider, and Porsche isn't denying them. Mark has recently said rather ominously that his F1 career will end with Red Bull, so the chances of this are pretty good. Let's count down 5 reasons why this would be awesome.
5: He's Done it Before
In 1999 Mark Webber raced for Mercedes in their Le Mans effort. His performance was good, but Mercedes forgot their car was basically a wing on wheels and both Webber and teammate Peter Dumbreck flipped the cars in spectacular fashion. This means he's already got some valuable experience both on and off the track at Le Mans.
4: The WEC is a Step Up, not Down
I'll admit, this point is up to debate, but let's look at another FIA WEC driver as an example. Before his contract with Audi, Allan McNish was a mid-pack driver for the mid-pack Toyota F1 effort. Nobody really cared about him until he jumped into sports cars and began racing for Audi. Now, Allan is famous for getting the Audi team to where it is today, he's got two 24 Hours of Le Mans trophy, and he's in two movies (Truth in 24 I and II). There's no reason why Mark couldn't enjoy the same fame and success if he helped build the Porsche team in their triumphant return. Especially since Porsche is a much bigger name than Red Bull in motorsports.
3: Mark Webber Fans will Love it
To his fans, Mark Webber races for an ungrateful team who ignores his hard work and favors some German wonder boy that came late to the party. If he raced for Porsche, he'd likely be more appreciated and less of a "number two driver."
2: Mark Webber Haters will Love it
To the haters, Mark is a slow, whinny number two who doesn't deserve to be at Red Bull and is too willing to listen to the team. If he left, he'd free up space for Kimmi who is rumored to join Red Bull in 2014.
1: Porsche has Cooler Jackets
Did you ever notice that every driver who races for Red Bull must sell their soul (and wardrobe) to be a walking billboard for the company? If Mark joined Porsche, there's no telling whether this would change, but at least he'd have cooler jackets.