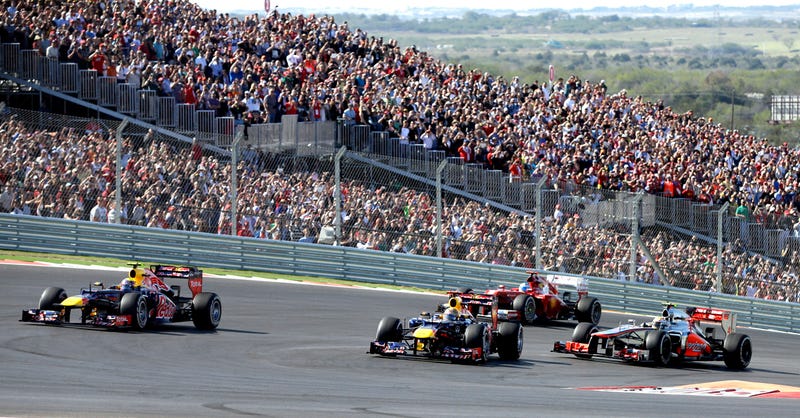 How racing's polar opposites should complete each other.
Ah the age old rivalry. Formula One: the world's racing series; the multi-billion dollar self proclaimed pinnacle of motorsports, innovation, and driver skill. Nascar: the humble American icon; jam-packed full of action, emotion, and 4-wide, nose-to-tail, pack racing. It would seem that there couldn't be two series that were more dissimilar, and that neither series' hardcore fans couldn't feasibly enjoy sitting through what the other has to offer. Luckily, the these fallacies couldn't be further from the truth. Deep down, we're all race fans, and each series fills a racing void left by the other. In the first of this two-part 5 Reasons Why series, let's count down 5 reasons why Nascar fans should watch F1.
5: Personalities
It's easy, coming from the ruff-n-tumble "boys have at it" world of Nascar, to look down F1 drivers as pretentious, PR-groomed, wusses. After all, when was the last brawl between drivers? 1982? In reality the variety of personalities in F1 is nearly as broad as Nascar's offerings. You want someone like Smoke who has a cool nickname and messes with the press? Root for Kimi "The Iceman" Raikkonen. You want a calm and experienced elder statesman like Jeff Gordon? Jenson Button is your man. If you're a fan of the talented and outspoken Kyle Busch or Brad Keselowski, Lewis Hamilton will certainly fill the position. Maybe you just want some jerk like Kurt Busch or Clint Bower (Yes, I'm a Gordon fan) to hate. Look no further than Romain Grosjean and Pastor Maldonado. Rest assured, you're bound to find someone you like if you watch F1.
4: Locations
F1 is a global sport that spans five continents and 18 countries. Nascar is certainly no stranger to unique and historic circuits, but the variety of locals that Formula One travels to is simply astounding. In one season, F1 drivers will race through an Australian park, a middle-eastern desert, a former British airport, the city streets of Monaco and Singapore, a Canadian island, and much more. Needless to say, the tracks have individual layouts and unique architecture that really bring the circuits into their own. Admittedly, many of the Tilke designed circuits are the equivalent of Nascar's "cookie-cutter" tracks, but the action from places like Circuit Gilles-Villeneuve, Spa Francorchamp, and the streets of Monaco surely makes up for it.
3: Qualifying
Qualifying has its place in Nascar, but it's not worth sitting through the telecast. In F1 however, the starting grid is integral to the racing action and is indicative of how each car and team is progressing through the season. In this way, qualifying is like Act I of the grand prix, and knowing how much a second in qualifying can affect the race makes it much more entertaining. This means twice as much racing action to enjoy.
2: Innovation
Boy, look at all of those fiddly bits! All the illustrations are courtesy of the F1 website, and these are just some of the improvements made to a few of the cars thus far in season. While in Nascar the emphasis is man vs. machine, in F1 the goal is to push man and machine. Because the teams build their own cars, the competition between the thousands of engineers at the shops is just as intense as the racing between the drivers on the track. Though many of the technical developments are shrouded in secrecy, each race yields new information on how the teams are improving their cars, and it's another thing race fans get to follow if they watch F1.
1: Action
Alright, so the big crashes happen less often in F1 than the video would lead you to believe but beyond that, it does an excellent job at conveying what makes F1 races so awesome. First, it's the speed. Coming from 200 mph. ovals, road courses may seem pretty slow to the average Nascar fan, but watching F1 gives exactly the opposite impression. It's amazing to know that F1 cars are going to be the fastest machines to travel around whatever circuit they are at, and watching the leading cars stream up Eau Rouge or through Becketts at Silverstone makes them seem like they are driving faster than physically possible. Second, the starts in F1 races are complete and utter chaos. If you want to watch the most action-packed 60 seconds in sports, watch an F1 start. It is where many drivers may win or lose everything. Additionally, though passes are certainly less frequent in F1, battles for position are often longer and more dramatic, and watching two, three, or four cars battle through straights, chicanes, and esses for laps on end is a race fan's dream.
[video credit: GtalVStudio]