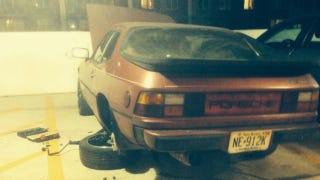 I have been looking for a project car for a while now. My budget was pretty strictly 500 dollars to limit myself to the down and dirty stuff. Some of you may recall a while back I asked about one or two different cars all of which I eventually decided against. However, this little Porsche 924 fit the bill in almost all categories.
-RWD
-Manuél
-German
-Coupé
-Cool factor is pretty high up there
-And it "runs"
Some of you may also recall that my good friend Aaron Brown recently bought a Porsche 944, about a week before I bought my car. Part of the fun of buying this 924 was that I didn't tell Aaron I had bought it for about a week, although he definitely suspected it. I had some of my friends play along and confuse him. The major slip-up in this keep it secret plan was that my dad had uploaded a picture of the disgustingly grimy 924 on the AAA tow truck who towed it into the parking complex where it now lives temporarily. Aaron finally confirmed his suspicions when I set my keys down on a desk (with 924 keys in place), and he grabbed them and stole them to confirm that they were similar to his 944's. As you can probably tell, he didn't want me to buy this car...
Oops.
Let's talk about this car's specifics. It is a 1982 ('81 manf date.) Porsche 924, with a 2.0 Liter 4 cylinder (yes the wimpy audi/VW sourced 4 cylinder.), 5 speed manual, and is maroon-ish red. I paid all of 500 dollars for the car (including a title, who woulda thunk it.) and 75 bucks for a set of original Porsche wheels with nearly new rubber on them. The only MAJOR problem with this car, is the brakes don't work, and the problem has been narrowed down to a rusted out brake line. As you can imagine it hasn't been driven since I got it and put it in the spot (very, very cautiously) by slamming the E-brake to make it stop. The interior is pretty trashed apart from some possibly Ferarri sourced seats (I'm not 100% sure, the PO said they were out of a 512TR and I really, really doubted that, but upon further inspection I found a Ferarri logo on the seat belt release button clip thingy, and the seat belt is Klippan labeled. All I know is they definitely AREN'T Porsche). The exterior is rough, the rear end is OK, the paint is dull but I think it can shine if I give it a good wax. The front is a little worse, Both fenders have seen body work and repaint (perfect candidate for 944 front fenders eventually) in a similar color. The hood and header panel are rock chipped and peeling. The PO had put a ridiculous hood scoop on it and I had to remove that.
The car is FULL of rice-y mods. Such as;
-"Fire Breather exhaust" (There is literally a spark plug that ignites the exhaust gases. Disabled that first thing)
-Really crappy wheels with nice falken rubber. Some spacers too. Gonna sell them once I get them off for money towards the car.
-Blue LED illumination in the car
-A RIDICULOUS obnoxious tachometer (I have literally never seen one this big) that didn't even work.
-Pedals that lit up red and had fake metal flames on them
-Red shift knob and leather surround
-Stickers for some "racing" thing all over.
-And best of all, leaky pretty much straight pipe exhaust which is obnoxiously loud.
Otherwise, the car is pretty solid, just incredibly dirty. Clutch feels good, shifts into gear are crisp (stationary, obviously) and there isn't too much play in the shifter. Starts right up after replacing DME relay. Unfortunately the battery isn't out of this car and the hood won't shut with it so I'll have to replace that eventually. I plan on bringing it back to it's glory (on a limited budget however). You can follow my progress over at 924Board where I have a build thread going. PO claims it was a Cali car, it has somewhere between 103k and 143k miles (title and odometer say different things and PO tells me it has more than what the title says but who cares anyways). That's pretty much it, I'm sure I will be writing a part 2 to the 500 Dollar special 924 saga, but that is yet to come. In the meantime here are some more pics.
Not related, but the guy who towed the car to my parking garage said that he was the inspiration for the song Money for Nothing by Dire Straits. At first he said that he worked doing custom kitchens (deliverayayayay) and then he casually asked me if I had heard that song. He also told me about how he used to race VW bugs. He didn't realize my 924 was front engined and kept looking in the back of it to see what kind of engine it had...
TL;DR: For 500 dollars you can buy a Porsche 924 with a blown brake line and ricer mods.
When I got the car/craigslist pic:
Engine bay before I bought it:
Comparison of the aftermarket wheels and stock ( I think the stocks look immensely better and whoever disagrees is wrong):