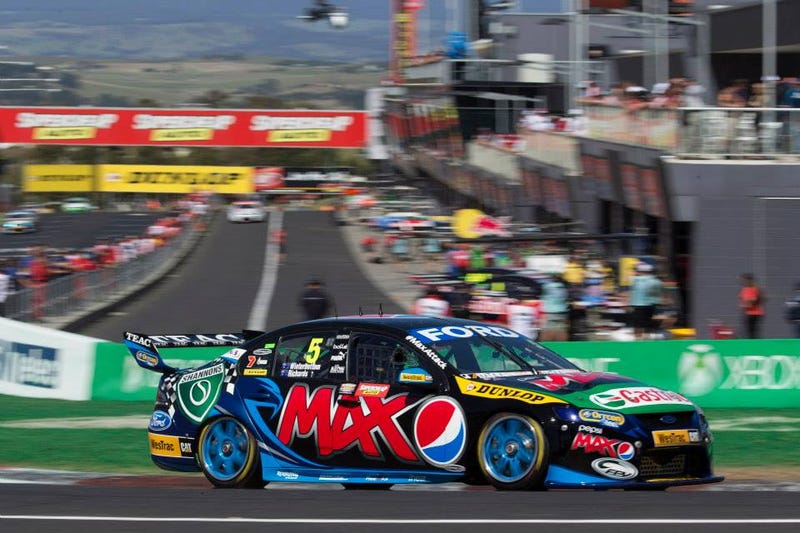 1000 kilometers, 56 drivers, 29 cars, 1 mountain. Who will win it all? Follow "The Great Race" on our live blog below.
(Your three authors today are DannyCatSteve, Nobody and yours truly, Porsche9146. All times are in PDT, Daylight Saving's Time adjusted Pacific Standard Time. Posts by me will be marked with the letter "P", while posts by DannyCatSteve will be marked with "D" and posts by Nobody will be marked with "N". Be sure to click those Gyazo links, those are direct links to animated gifs too large to post directly to Kinja! Title picture via Ford Performance Racing)
23:07, D: Ladies and Gentlemen, I hope you enjoyed that as much I did. That's why it's called "The Great Race."
23:05, N: And now, the champaaaaaaaaaagne (gif)!
10:56, P: There is, of course, a V8 Supercar championship on the line, and Mark Winterbottom's win should bring him even closer to second place finisher and championship leader Jamie Whincup in that fight. We'll have an update on those standings when they are available.
10:51, P: The fans chant "Froooooosty" as Mark Winterbottom and Steve Richards climb atop their victorious FG Falcon. Your champions: [gif1] [gif2]
10:50, D: BEST. RACE. I. HAVE. EVVVVVVVVVVERRRRR. SEEN.
10:45, P: WHINCUP DIVES INTO THE CUTTING! HE DOESN'T HAVE THE GRIP! HE SLIDES OUT! [gif] WINTERBOTTOM KEEPS THE LEAD! WINTERBOTTOM WINS THE BATHURST 1000! [gif]
10:44, P: One to go and the gap is barely two tenths!
10:43, P: Whincup has a look into the final corner with two to go! Winterbottom keeps the lead!
10:40, P: Bright loses fifth to Reynolds. Winterbottom leads Whincup by just half a second.
10:38, P: Garth Tander finally makes a move in the Chase for P3, and Craig Lowndes, out of nowhere, passes both he and Bright! CRAIG LOWNDES IS IN P3! Three to go. [gif]
10:34, P: Did you forget about Jamie Whincup? I don't imagine you did, but he's directly behind Mark Winterbottom for the lead nonetheless. Directly behind. Five to go.
10:32, P: Suddenly, David Reynolds. He's now at the tail of the fight for third, and the fastest of the four in it.
10:28, P: Tander passes Lowndes again, and he's right back on the bumper of Jason Bright!
10:27, P: Tander gets alongside Bright for three full corners, but Bright gets back past and Lowndes passes Tander! [gif]
10:24, P: TANDER TAPS LOWNDES AND PASSES HIM FOR FOURTH! [gif]
10:23, P: 11 laps to go, and the gap for the lead is 3/10ths of a second.
10:21, P: Garth Tander tries to pass Lowndes in Skyline, then tries to pass him in the Cutting a lap later! Meanwhile, Brighty is clearly holding up GT and Lowndes, allowing Winterbottom and Whincup to pull away slightly. [gif]
10:15, P: Craig Lowndes is about to pass Jason Bright... There are five cars in this camera shot, and each and every one of them is in this to win it. Meanwhile, Tander throws down a 2:10.5, the fastest lap of the race!
10:13, P: Craig Lowndes made a second up on the leaders that lap, and James Courtney is STILL on his bumper...
10:11, P: Whincup locks up into Skyline and nearly loses it! Craig Lowndes has unbelievable pace, putting down fast lap of the race! [gif]
10:09, P: Craig Lowndes is closing fast, and Garth Tander is right behind him. A three way war is about to become a five way war. Four Holdens, one Ford, but it's the blue car up front as they run.
10:08, P: Teams are preparing their wet tires... The rain is on the way, but is it coming fast enough?
10:03, P: Whincup looks to make a move on Winterbottom in the Chase for the lead, but thinks better of it. Meanwhile, Craig Lowndes is the fastest car on track in fourth, and just five seconds back of the lead pack, is quickly catching Jason Bright.
10:03, D: HOLD ONTO YOUR SEATS.
10:00, P: Winterbottom and Whincup's last duel for a win, in Pukekohe earlier this year, ended with Winterbottom spinning and Whincup straightlining the final chicane to win. Now, they're in a direct duel for the biggest race in Australia, and Jason Bright's a part of it too...
9:59, N: Radar gif: These echoes near Bathurst don't look very threatening, but the radar site is 200km away, so these are cloud tops. Things could get interesting. [gif]
9:58, P: Winterbottom pits, then rejoins immediately in front of Whincup and, shockingly, Jason Bright. But, where's Priaulx!?
9:56, P: Whincup in for his final stop. It's long, but just as long as it should be. He returns to the track for his final stint, plus some fuel, four tires and a small adjustment. He comes out directly behind the #10, who is still the net leader if Priaulx can save enough fuel.
9:55, N: Another weather update: According to Larko, the temperature just plummeted, which means that the cold front and its rain are rapidly approaching.
9:52, P: Some fantastic strategy has put Scott Pye up to third, terrible co-driver and terrible rookie season to date be damned!
9:47, P: Ekstrom exits the 10 and Andy Priaulx has been put in the #10 to the end. This is what the experts call "a mistake". Meanwhile, new leader Winterbottom has a lock up at Skyline and goes straight across, but retains the lead.
9:46, P: Again, Mark Larkham I am not! Mattias Ekstrom pits on lap 134, and from here he'll need to stretch fuel in an insane manner to make it to the end on fuel.
9:43, P: It's definitely looking like Mattias Ekstrom can make it to the end on just one more stop... If he's fulfilled the mandatory number of stops, he will be in the fight for the win on debut!
9:40, P: David Wall's dropping oil all over the racing line. Appears the #21 Wilson Security Racing Holden may be losing an engine. [gif]
9:39, P: The last two years have gone down to an unbelievable dogfight in the final stint. Looks like we're about to go three-for-three...
9:37, N: Lowndes almost lost it trying to get past Jason Bright. [gif]
9:34, P: Craig Lowndes has had a heart rate monitor in his car all race. For the majority of the event, his BPM has been 130. As we're on the verge of the final stint, it's risen to 154...
9:30, P: Lee Holdsworth runs 13th, highest of the Mercs, while James Moffat is running 17th, higest of the Nissans.
9:27, P: Ekstrom is currently as fast as Winterbottom and faster than Whincup... What a debut for the Swede.
9:24, D: Mark Winterbottom is getting a better exit from Forrest's Elbow every lap, something that allowed Whincup to take last year's duel over David Reynolds.
9:21, P: I am no Mark Larkham, and by extent I missed the fact that Mattias Ekstrom isn't 10 seconds behind the effective leaders, but instead 10 seconds behind Tander, the current, off-strategy race leader! Could he steal the win on strategy?
9:20, P: You're watching the Ole Miss/Texas A&M game, aren't you? Don't lie to me, I can tell. Good college football is good, but good V8 Supercar racing is better, so GET BACK TO WATCHING BATHURST.
9:17, P: Just 3/10ths between the leaders up front, and suddenly sneaky Mattias Ekstrom is just 10 seconds back of their fight in fourth, on strategy! Could the Bathurst rookie steal this in the wild card entry!?
9:14, P: Michael Caruso's #300 Nissan blows an engine at the top of the mountain and drops oil everywhere! [gif]
9:12, P: Bright, McLaughlin and Canto (in the Reynolds car) pit, and Tander now leads. Bright rejoins 8 seconds Whincup, 9 behind Winterbottom.
9:11, D: Mark Winterbottom has finished fourth here twice. He's caught fire, launched through the chase and much more. He is now battling his arch rival for the biggest race in Australia.
9:10, P: Winterbottom still leads Whincup after their stops.
9:08, P: Whincup and Owen pit. Bright will take the lead, while Owen will hand the 6 over to Davison for the final stint.

9:06, P: Frosty pits from the lead and takes Lowndes with him, moving Whincup into the lead. In theory at least, this is Winterbottom's second to last stop.
9:04, P: Alex Premat is given a mechanical black flag for leaking fuel. The drive of Premat's young V8 Supercar career to date will be slowed heavily by these repairs.
9:03, P: Unbelievable save by Jamie Whincup, who almost throws the #1 into the wall in the final corner, but catches himself! He's still directly behind Winterbottom with 45 laps to go. [gif]
9:00, P: Now that everyone's pitted and almost all the finishing drivers are in their crs, Winterbottom leads Whincup, Bright, McLaughlin and Lowndes. All 2013 race winners. Steve Owen climbs back to sixth to be the highest running of the remaining co-drivers in the car he shares with Will Davison.
8:57, P: If V8 Supercar co-drivers were baseball parks, Paul Morris would be Tropicana Field. That didn't stop him from leading a lap during that cycle of stops. Meanwhile, Mattias Ekstrom is undoubtedly the Wrigley Field of V8 Supercar co-drivers, and it looks like he might close out the race in the #10 Holden. Over the course of the weekend, he's essentially proven himself as the #1 driver in that wild card entry, no matter what that entry list says.
8:55, P: The Channel 7 fan vote, almost always a blowout, is almost perfectly split down the middle. No matter who you ask, Whincup and Winterbottom are locked into quite the battle...
8:47, D: God bless the whiteboard. Frosty vs. Whincup. FPR vs. Triple Eight. Oh, hell yes.
8:46, P: Ekstrom and Lowndes both pass the 6, as Steve Owen continues to fall down the order.
8:44, P: Mark Larkham, still the ultimate pit reporter, tells us that lap 137 is the earliest a leader could stop and make it home on fuel. [gif]
8:41, P: Jason Bright passes Steve Owen, putting him a net third. Owen is clearly struggling against the full time drivers.
8:38, D: Enter the annual bad FPR strategy.
8:34, P: Steve Owen, in the 6 Ford, has been passed by Jamie Whincup, in the 1 Holden. He now sits a net second behind Mark Winterbottom, despite the two big offs by co-driver Paul Dumbrell.
8:31, P: Jones pits from the lead, handing the #8 car to Jason Bright. He rejoins behind the two FPR cars, but in front of the Triple Eight entries. Scott McLaughlin is immediately behind him.
8:29, P: With all the FPR and Triple Eight entries pitting, Andrew Jones now leads.
8:27, P: Richards pits from the lead and hands the #5 Ford back to Mark Winterbottom.
8:23, P: Dumbrell pits and hands the car back over to Whincup, who should be in it to the end.
8:22, P: Another off at the Chase for Paul Dumbrell! The car still looks healthy, but you can't cheat damage that long...
8:20, P: Will Davison pits from P2 and hands the #6 over to Steve Owen. Luff comes in from third, and hands the car over as well. Craig Lowndes is now back behind the wheel of Holden #888.
8:17, P: FPR's leading cars are the only two cars in the 2:11s right now, and they hold about a 3 second lead on Warren Luff in third.
8:14, N: Paul, the track goes left. [gif]
8:12, P: Paul Dumbrell has a small off at the Chase in the race dominating #1 car, and it falls from fourth to fifth! Suddenly, there's only one Triple Eight car directly behind the FPR 1-2!
8:08, P: Brad Jones Racing's 14 (Coulthard) and 8 (Jones) are running in fifth and sixth, so it's pairs of team mates taking up the entirety of the top six positions!
8:07, N: One last gif of the Murphy wreck, this time it's his impact with the wall. [gif]
8:05, P: Will Davison puts an aggressive move on Warren Luff on the restart and now Steve Owen and Will Davison are holding a Ford Performance Racing 1-2! Meanwhile, Triple Eight holds the third and fourth positions.
8:03, N: 2 gifs: The first is the Kangaroo from earlier (not getting hit, jumping safely up a cliff) [gif]. And here is Murphy just after he hit the wall. [gif]
8:02, P: Reynolds only falls to 15th after that issue, significantly less painful for the #55 Ford than it could've been.
7:58, P: Looks like David Reynolds was caught out behind the safety car... Should cost him around 20 positions.
7:55, N: Here's a gif of Murphy about to slide into the wall. [gif]
7:52, P: GREG MURPHY IS IN THE WALL FROM THE TOP 10! HRT's main hope, on an incredible run, is stopped at the top of the mountain! The safety car is out...
7:48, P: Quite the fight for 6th between Will Davison and Greg Murphy! [gif1] [gif2]
7:41, P: V8 Supercross!?
7:37, P: Alex Davison has an off at the Chase as we hit the halfway mark. About 500 KMs down, about 500 KMs to go.
7:35, D: Several pieces of debris on track. Umbrellas and hats getting away from fans and onto the racing surface.
7:29, D: Dumbrell is in for his stop. Fuel and tyres, no driver change. Greg Murphy is in as well.
7:26, N: Yes that is a hat. [image]
7:21, D: Car 17 has a new starter motor and is back out on track, but is now multiple laps down after fighting back from the early race drive through penalty.
7:15, D: The Greens' Tuf Wilson Security Falcon is up and being worked on in the pits. Seems to be a starter motor. Hard luck for DJR.
7:11, D: Channel 7 is showing us a bird flying for a few seconds.
7:07, D: Canto comes in for The Bottle-O entry's third stop. Reynolds steps in and the team makes a rear ride height adjustment. Paul Dumbrell retakes the lead for Red Bull Racing Australia.
7:04, D: A costly stop for Shane Van Gisbergen has put his car a lap down.
7:03, D: The practice crash really has set back the #47 Erebus car of Tim Slade and Andrew Thompson. They are running a lap down in 26th.
7:00, D: Car #5 is in for a driver change on lap 64. Frosty gets back behind the wheel and cycles Dean Canto in #55 to the lead, but they have yet to make their third stop.
6:57, D: For the first time today, someone other than Whincup/Dumbrell is leading. It's the #5 Pepsi Max Crew FPR Falcon with Steven Richards behind the wheel!
6:55, N: Suspension cams are the best. [gif]
6:52, N: What's it like to change brakes and tires on V8 Supercar? [gif]
6:51, D: At this stage last year, 26 of 28 cars were still running. Right now 28/29 are turning laps.
6:43, P: Lowndes again leaped the #6 Ford on that set of stops as Davison got in that car. Both are clearly looking to be on the wrong end of the pit cycle.
6:41, P: Craig Lowndes takes his brake pad change on this stop. Neil Crompton is still sitting far too close to the track.
6:35, D: Another great segment from Neil Crompton and Channel 7 on Mountain straight. Is there a better commentary team in motorsports? Stop laughing, Skaify.
6:34, P: Is this really a good idea, Mr. Crompton?
6:26, P: Whincup's lead on Richards is just 4 seconds, nothing compared to the 13 seconds his co-driver put on the field earlier in the race! FPR's two Steves have certainly impressed so far, both running ahead of the legendary Craig Lowndes, while Dean Canto makes it three Ford co-drivers in the top 5 in 3rd.
6:25, N: Whincup closing on Steve Owen going through the Esses. [gif]
6:20, P: Whincup pits from the lead, and Ryan Briscoe (on a strategy play, mind you) follows just one lap later.
6:19, D: When the original Greens' Tuf was rebuilt in 1983, it only made it 61 laps before retiring. Let's hope The Chaz and Dale Wood last longer.
6:15, P: The #55 Ford pits for normal service and a surprisingly early brake pad change [gif]. Dean Canto entered third, should exit just ahead of Owen and Lowndes, who are now pursued by Alex Premat.
6:12, N: Holy crap Skyline is frightening. [gif]
6:09, D: The #17 Wilson Security Falcon is running behind the #21 Wilson Security Commodore.
6:07, N: Here's a .gif of Ekstrom chasing down the BOC Commodore and an Erebus Merc.
6:06, P: Craig Baird sits in fifth in the #4 Erebus Merc, by far the best of the "new" marque cars (Nissans and Mercedes) in the race so far. Mattias Ekstrom, meanwhile, is doing his best "I'm Carlos Munoz and I'm not afraid of this unbelievably terrifying track because I don't know any better" impression in sixth.
6:05, P: Hood up on the #14 BJR entry of Fabian Coulthard. They're repairing a power steering issue.
6:01, P: Steve Owen and Craig Lowndes are having quite a battle after Owen leapfrogged Lowndes in the pits. The Ford driver is holding the Triple Eight legend back despite the fact that he's a co-driver and Lowndes is the winningest driver on the grid!
5:55, P: Warren Luff (888) and Steve Owen (6) in for stops, the first pair in the top 5 to do so. Lowndes will take over Holden number 888, while Owen will remain in the 6.
5:50, D: With the possibility of Paul Dumbrell retiring after this year, could we see Ekstrom teaming with Whincup next year?
5:42, P: Two green silhouette racers modeled after Holden Commondores wearing the number ten are racing right now. One is struggling in a NASCAR Sprint Cup race with Danica Patrick behind the wheel, while the other, that of Mattias Ekstrom and Andy Priaulx, is making moves left and right. Ekstrom is fighting Jeroen Bleekemolen, driving along side Shane Van Gisbergen, for 11th.
5:39, D: Nissan - first in 1992, last in their return in 2013 (They did score a second in the 2.0L race in 1998).
5:37, P: Car #7, the Kelly Racing Nissan of Todd Kelly and David Russell, has been retired. It will not continue to compete in the 2013 great race.
5:36, P: "Various cars" are under investigation for weaving heavily before the restart, apparently. The third placed Bottle-O Ford of David Reynolds may be one of them.
5:32 N: The megawall is one of the best things about V8s coverage.
5:31, P: Back to green. Triple Eight and Ford Performance Racing, the only two teams to win races in 2012, now running 1-2-3-4-5, with the #1 Holden leading the #5 Ford.
5:27, N: Here's the result of Roo v Altima. No video of the actual collision yet.
5:24, P: The #7 pulls into the garage as Kelly Racing attempts to "un-roo" their Altima.
5:24, D: Jim Richards hit a kangaroo in the closing stages of the 2004 race. Never fun to see.
5:22, P: Those yet to pit are pouring into the pit lane now, lead by Dumbrell in the 1. Most appear to be doing driver changes, meaning Jamie Whincup will be aboard the #1 as we come back to green.
5:20, P: David Russell has hit a kangaroo on track in the #7 Nissan! This'll bring a safety car and a couple dozen terrible jokes.
5:19, D: The last time someone pitted around lap 14 and won the race was 1998 when Jason Bright and Steven Richards did it for the Stone Brothers.
5:10, P: A few more teams are doing some early driver changes now. Meanwhile, Mark Winterbottom is pushing hard to pass the 33 of Scott McLaughlin for P4.
5:06, P: Will Davison's 6 car is the first of the lead group to pit and, seemingly, the first to do a driver change. Steve Owen enters that car with the same goal as everyone else: Chase down Dumbrell.
5:03, D: Mark "Skaife" Winterbottom. The joke is that Skaife bogged down on the start about four times at Bathurst.
5:02, P: Dumbrell's lead is up to seven seconds. That's the secondary driver of that car and he's pulling a significant amount on Van Gisbergen already!
5:00, P: Shane Van Gisbergen passes Jason Bright for P2, while Scott McLaughlin, Will Davison and Mark Winterbottom all roll by Greg Murphy behind. Meanwhile, a few cars further back in the pack are pitting already and gambling on an alternate strategy.
4:58, N: Weather update: Westerly winds this early in the race mean that the front is advancing faster than I thought it would. If it passes before the end of the race, we could see some rain.
4:55, P: The two lead Fords are charging now, joining Scott McLaughlin in a bit of a train behind fourth place Greg Murphy.
4:51, P: FPR team mates Davison and Winterbottom pass Warren Luff in the #888 Holden. Luff gives a bit of a tap to Winterbottom as he passes, but Frosty takes P5 nonetheless.
4:49, N: Here's a .gif of the side camera view going over Skyline and into the Esses.
4:48, D: Well, FPR is usually good at starting and terrible at finishing, so maybe things will reverse themselves this year?
4:44, P: Yep, that's a drive through penalty for the #17! Chaz Mostert is not pleased...
4:42, P: A penalty already!? The #17 of Dick Johnson Racing is under investigation for pitting without using a jack. Meanwhile, the 5, the 6 and the 888 are in quite the dogfight for positions just inside the top 10.
4:38, P: Dumbrell leads lap 1 over Bright and Shane Van Gisbergen. There's a decent mix of primary drivers and co-drivers alike in the cars at the start, with the leader surprisingly being a co-driver.
4:35, P: Winterbottom has a terrible start, falling from second to about eighth! Paul Dumbrell, driving the Triple Eight Racing #1, leads Jason Bright.
4:34, P: The grid is re-formed. Cars 17 and 47 starting from the pits. Lights on.... Lights out! The 51st Bathurst 1000 is green!
4:30, P: We're rolling on the warm-up lap... Grid re-forming.
4:28, P: The grid is clearing. Two minute warning.
4:24, P: The grid is formed and V8 SuperView, at V8Supercars.com.au, is now live with today's race broadcast. The Australian national anthem (Which, apparently, isn't just someone yelling "Aussie Aussie Aussie Oy Oy Oy!", but instead an actual song) is being sung as we speak. The start of the great race is just minutes away...