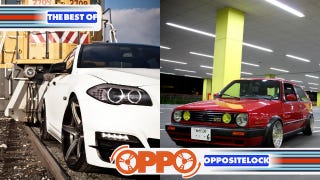 Assembled here are the best Oppositelock posts from Wednesday and Thursday. Today we've got a review of the F10 535i, crappy attitudes in car culture, off-roading a Mazda3 and more.
I recently had a chance to drive around in a 2011 BMW 535 and being a BMW fan and owner wanted to do a short review. This is the newest BMW I've driven so if they've returned to their roots in the 3 years since I apologize.


The Volkswagen scene confuses me. On one end, you have a great deal of camaraderie. Have a blown tire at 1AM? Hit up your local Volkswagen club and you'll likely get a half dozen folks reply offering you some form of assistance. I like that. Not only is it very convenient, but it does foster a welcoming and close group of enthusiasts willing to help. The other? An air of elitism, self importance, and plainly bad mojo. Let me explain myself.
These were the words uttered by me in between laughter, and so started our long night of turmoil. The fun was worth all the hassle we went through but lets back up… On Thursday my friend and I took his mazda 3 to drop off a Christmas tree at a compost at a farm he volunteers at. We strapped the tree to the top of the car and made the nerve racking trek 2 miles down the road to drop it off.
With Bernie aiming to get canned by CVC Capital Partners to due his recent bout with court (soon to re-flair), or die due to his recent account of age (83), rumors of replacement are in the air. Christian Horner is the man tipped for the job, but he has said before than he could not, and does not want to dance in Bernie's shoes.
Long gone are the days when you could pickup a cheap ex-racer because nobody wanted a car that had been ridden hard and put away wet. Today, the vintage racer market is carefully curated by scores of nostalgia seeking baby boomers with liquid pensions and finding a cheap car with a proven pedigree is extremely rare.
Today we are travelling to the Ghanaian town of Keta. Keta was originally colonized by the Germans before the end of ww1, when the Germans were kicked out of Africa. Getting to Keta was yet another African road adventure. (I'm not sure if I've ever had a road trip here without some form of excitement). Out near Tema, a tro tro coming the other way blew its tire. Little did I know flat tires were to be the theme for the day.
YAY TDi! TDi, what does that stand for?! Turbo Diesel! Ok so it doesn't stand for Turbo Diesel, but rather Turbo Direct injection, but its still a TURBO DIESEL! Diesel is finally making headway in "Murica! And it isn't in a Bro truck? What kind of land do we live in anymore?!?. Every self-respecting God fearing American knows that diesel is only for trucks and the Goddamn Surrender Monkey Frenchies! Right everyone?!
Some breaking news out of the world of Sports Car racing. Level 5 Motorsports, the two Ferrari 458 Italia's, that won the season/series opener of the newly created Tudor United SportsCar Championship have pulled out of the entire series. The team headed by David Stone made the decision to leave the series this Monday according to FoxSports.
Tomorrow starts the final session of Formula 1 testing before the first race in Australia for the 2014 season. The last two sessions have been dominated by one story and really one story alone, the continued failures of the Renault powered cars. With this, the current reigning World Champion's Infiniti RedBull, seem to be up a creek without a paddle. They haven't completed nearly enough laps during the last two sessions with both of their drivers combined to make any real headway with the new RB10.
When will Volvo give us a chance to breathe? After making us swoon with the stunning Concept Coupe and Concept XC Coupe released just months ago, our fair-skinned friends from the great Scandinavian phallus drop this bombshell on us.
Technical innovation is what makes Formula 1 so different from any other form of racing. The on track action is as much played out by the engineers and aerodynamicists as it is the drivers. We are here to admire, study, and discuss this beauty that exists on the ragged edge of what we think is possible, or at least what we thought was possible.
No, it's not an Evo X. No, insurance companies don't care about that. Oh the Mitsubishi Lancer, a family car that costs more to insure than a Galant. The 2008 model was a big improvement in the looks department than some of the previous generations of Lancer though.
I drive a Land Cruiser, and you've heard this all before but I told someone I would write a review for it and I'm not one to back down from the sort of challenge from someone on the internet who's name I don't know or handle I can't recall. So here we go… To set the scene, remember that the mid 90's was the golden age for large SUV's, the average price (inflation adjusted) for gas was $2.00 and the average Large SUV mileage was around 14 city and 17 highway. Different times indeed.
What is it? 2014 Toyota Sequoia SR5 4WD. The only option it has is the Premium Package, which has heated power leather seats, navigation. It's a large body-on-frame SUV with seating for 8 (SR5 and Limited models; Platinum has 7 cause it has a center-console in the 2nd row).
1933 was a down year in the USA. The country was still in the midst of the Great Depression. The Dust Bowl was causing havoc in the mid-western states and people were just down on their luck, There were however a few bright spots. 1933 saw the repeal of the 18th amendment, ending prohibition and giving the country back its much missed alcohol (although it never really left), Ford had just the previous year released the soon to be iconic 32 Fords with the revolutionary flathead V8. 1933 saw a new refined car with the V8 with all new styling that was very different than the previous year. This pickup was also produced and would eventually land into the hands of my grandfather.
The Best of the Rest
Joemcm took a trip to Spain and ran into the Monte Carlo Historic Rally. Gamecat235 spotted a fax machine in a parking lot. GarageDispatches spotted an Aston Martin DB6 and Bentley S2 Saloon street parked in Paris. MR2_FTW messed with the electricals of and lowered his Cressida wagon and built a autocross tire trailer. BiTurbo228 welded on new suspension brackets and got the engine internals balanced for his Spitfire then did some work on his Alfa. Hooker bought a thing. PilotMan had to replace both his vehicles. Roflcopter pulled the engine harness out of his Lolvo. Decay added some stiffness to his FR-S. Nibby visited CCC Manhattan. Radial4.0 got up close and personal with the RB6. BlythBros. installed new valve springs in the head for his Alfa. Mr_benjamin_rolland shared the story of his Taurus' demise. Bandit had a fun time changing his truck's tire.
As always, If I've missed something and you would like me to include it, let me know.
Fun Discussions
There were several posts that asked questions and sparked some good discussion on Wednesday and Thursday. Take a peek and chime in on some of those listed below:
Just the #tips
Honorable Mentions
These posts have already been shared with Jalopnik directly but deserve to be mentioned again because they were first posted on Oppositelock:
Want to participate on Oppositelock? Check out the general handbook for posting on OppositeLock as well the Oppo tools to help you get started.