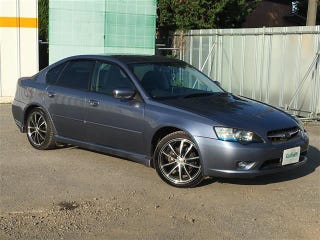 or this:
The difference between the two is 3 years, 80,000 kilometers, some aero kit, and quite a lot of horsepower. Oh, and location; The 2003 black Legacy 2.0GT is just down the road while the 2.0i is up in Tokyo.
Unfortunately, I need to be a responsible adult, and I'm buying the 2006 2.0i Legacy with 42,000 kilometers. My head knows that I don't need the turbo at all since the speed limit only gets up to 80kph, and the 2.0i will still drive through the corners quite nicely. I really do like the way that hood scoop looks though.
The 2006 has one bad point on the body here:
Otherwise the body and interior are in great condition compared to most of the cars I looked at that were in the same price range.
I'm trading a small ding for 40,000km off the odometer and a nice interior.
The worst part is that it will take it until the end of April/beginning of May to get here.