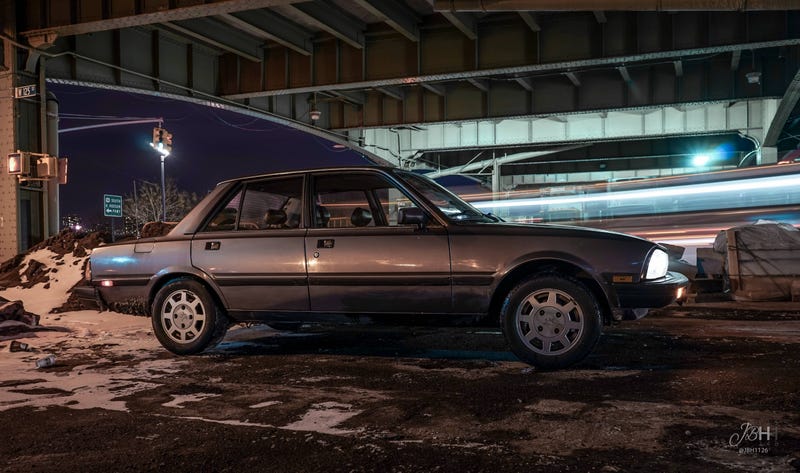 Or, how I traveled 6 states and almost 400 miles to drive an unseen, untested 31 year old French car home for sub $1000 money all in. And made it...
Ok so let's start at the beginning. Noone has ever said to me I make the most rational decisions. I am always roughly 8 seconds away from pulling the trigger on something with wheels on it that will eventually either break my heart or cause people to shake their head out of misunderstanding. I buy cheap weird cars, and almost never lose money, even if I have to bring it over from somewhere. So anyways, last weekend there came to light that there was a collector of Peugeot 505's in New Jersey that was dropping 6 of them on the market for anywhere from ?? for the one parts rig, to $600 for 3 of them, up to $3500 for an '82 TD in fantastic condition. What piqued my interest was an '84 505 STI that looked cared for, rust free and I was told it runs and drives, and would make it back to Maine. I had just sold my 504 and 505 wagons recently, so I had the itch. The other 2 at that price were both 4 speed automatics which I have had nothing but issues with, this one being the pushrod 2.0 4 cylinder and the 3HP22 ZF, which is a fantastic but high strung setup. I mull over it for a bit while grocery shopping, my brain was saying ~you just cleaned out your collection, do you want to go back~. Duh, anyone with the same problem as I would do the same thing. $600 isn't even close to my keep under the mattress money. I contact the seller. And so it begins...
I had only seen one side picture, and one from the back (above), but judging by those, I was in love already. Paint looked shiny, I knew right off it had 15" wheels instead of TRX that were common on the STI. Everything looked to be there. Seller reports the interior to be in good shape, the only thing he did say is there is a bad ignition switch - slow when activating the starter motor, but there is a backup pushbutton feed to the starter. Fine, whatever, noone said French electronics had a lifespan of 31 years ever, ever. Anything else? Not that he can recall. I seal the deal, he says just give him cash when I get down. Made me nervous as he had an STX he was looking for $1000 for that hit ebay and went for more. I didn't want to have any price reconsiderations so I offered 3 times to send him a deposit. He wouldn't take it. Ok, risk #1. Get another picture, note it has Euro headlamps on it. Now I am in love.
So I go back and forth, ask some pointed questions so I feel good about it, but I knew it was going to be worth it. I start planning some travels because that is out of my range of where I can get someone to drive me down and follow me back. I will just be on my own, and also on my own if I break down. Figure on a day, finish planning a route, pack a tool roll and some NOS belts, hoses, relays and tuneup parts. Here we go!
Ok, the day is finally here. Woke up at 2:30am to catch a 3:15 bus to Boston. My lovely girlfriend packs me a chicken cordon bleu sandwich and cookies (you are the best girl), and drives me to the bus station. Due to the snow, there is a line out the door to get on the bus. Oh damn! Go to the ticket desk, get the second to the last ticket available. Phew. Tried to sleep on the bus, some guy was snoring his face off next to me. Tempted to hold his nostrils closed, but he was about twice my size (in girth at least). Ah well, smooth trip. Arrive Boston at 5:05am. Because of course I did.
I was going to take the Megabus from Boston, to NYC. That was packed too so I decided on taking the Acela. Since business class is all that is left, I say screw it and take that. May at least be comfortable in my travels. Take a table, grab a coffee and throw some whiskey in it to celebrate. Smooth trip, though we did stop randomly in the middle of a marsh in CT and I thought my plans were going to fall through somehow.
In NYC! Getting so close I can almost smell old French exhaust. I have a couple of hours to burn so I go hunt up an Irish bar outside Penn station for some lunch. See a special for fried pork chops, mashed, and soup for $6. Fantastic, my kind of place. Go back and catch the train out to northwestern NJ on the final leg. All goes without issue. Seller picks me up at the train station as planned.
And I am there, looking at my new car in the metal. Pleasantly surprised to see it was exactly as advertised. Starts up nice and smooth. I let it run and heat up to be sure a radiator hose isn't on its final leg. In the mean time I go around this gentleman's compound to see what else he was into, and see the other Pugs for sale. And I see this $600 87 GLS
the $1000 STX V6
the GORGEOUS 82 diesel. Stunning
a Hesketh V1000! Holy crap!!!
His hot air balloon transport vehicle, bought new. Mercedes 309D
old 'burban
This might have been the most impressive thing, he has TWO original White Yellowstone tour buses.
a goddamn Munch Mammoth 1200 motorcycle. I couldn't stop looking at all his stuff. I stopped taking pics eventually.
Ok enough Jalop porn, on to the trip. Car is running at the perfect temp by this time. Fill her up with super, get on the road.
Take it easy getting to my target, which is NYC for a planned photoshoot with JBH and an Oppo meetup, and staying with a great friend in Brooklyn. Just in case something cropped up, I wanted to have full daylight to suss it out. Note, the tach runs about 500 RPM too high. Mileage is lower as well, has to have been replaced at some point. These were a weak point on the early 505 so I am not surprised. Hey it all works!
Stop and give the old girl a wash, New Jersey hand wash style and get the windows and carpets cleaned. Didn't matter, it was salty again by the time I hit the city. Looked good for a second at least.
Running on 3 Red Bulls and frustrated from traffic and paying $14 tolls for roads that will eat your car - literally, I meet up with JBH in Manhattan for a photoshoot we had planned a few days before. While on the subject the cover photo and all the good pictures on here are his. My brain was so done with being awake (this was 6:30pm mind you, still no sleep since 2:30am) so I was so tempted to push on to CT and stay at my folks house 2 hours down the road. Meh, I'll stay, I need beer by this point to counteract the Red Bulls and my nerves. Jbh had a short review on it as well
Photoshoot done, my friend from Brooklyn makes it out to meet us for dinner, which was fantastic. My friends father (RIP) was a Peugeot mechanic, and he brought me something very special from his collection of his dad's stuff. A uniform patch from the time he worked there. JBH hits the road and we head downtown for an Oppo meetup with TheBloody, Kyle Cheromcha, and RicoRich and my friend I was staying with. We went to the Library on 2nd and A in Manhattan, and pretty much I knew I was taking a subway, so I got good and drunk. We started waving the rally flag my friend also brought from his dad. That looks like this
Made it back to his place. Decided to make it a full 24 hours awake, actually 25. I was rocking out on some Eagle Rare and Pitfall on Atari. Fuck it, vacation style.
Wake up some time around 9:30am. Breakfast of English muffins, eggs, and wild boar sausage like a boss. Thanks man!
Now this is the time where I really stop taking pics and get down to the business of getting this beast home. So I will include a few of Jbh's in here for filler. I take the subway and hour back uptown, get in, fire it off and leave. Pretty spectacular riding car on the open road. It does in fact have OE Peugeot shocks on it, which is the only way to be. I know alot of modern cars that could take a lesson from this thing. Still, sweaty palms happened in CT when I hit hell traffic twice. Would like to give a shout out to the lovely young lady in the S4 avant on the Merritt who blew me a kiss.
Now I wish I could tell you I had a lick of drama to make this more interesting, but there wasn't any of it. I made it back 40 hours after I left. The old girl ran smooth, quiet as it could be pushing 4K RPMs at 75 mph. Heated seats worked, windows worked, power door locks still worked. Beyond an issue with the heater temp control valve sticking on cold (I fixed yesterday, and it was warm out this weekend) it is just like an old Volvo. Not fast, but solid. I now trust this car implicitly.
So here I am, alot of love on the highway and alot of people taking pictures of me driving it. Not sure if any are in the Jaloppoverse, but feel free to post some if you have a shot of an old Pug headed North this weekend. I took the risk, I beat my body up to make it happen, and it paid off. I would do it again in a second. Super special thanks to those that came out to support me on my trip. Now the adventure of tearing some stuff down to revitalize it is here. Just to be sure I could jump in it tomorrow and drive it to California if I wanted to. Oh yeah, and I was pleased to find this in the warranty book yesterday when I was detailing out the interior. Thanks for reading.