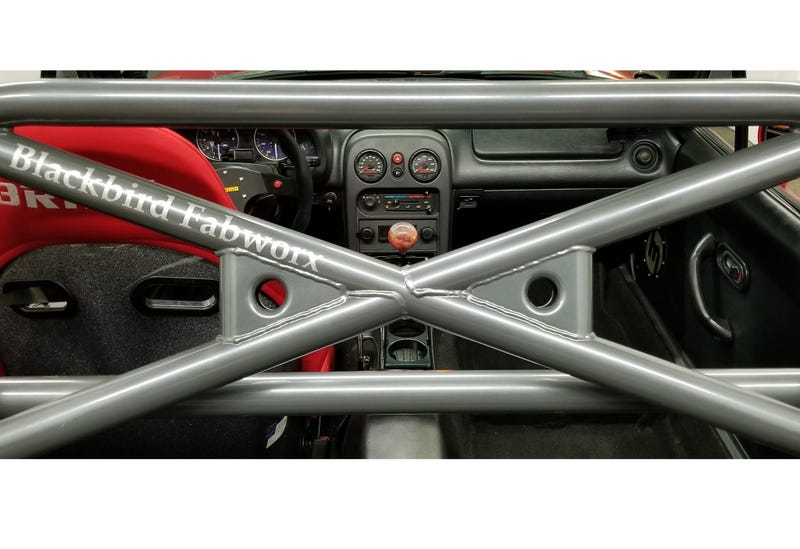 Miata trip review
We'll keep it short and sweet (which is what I always think to myself before rambling on for paragraph after paragraph, but uh. This time, for sure!)
Earplugs SIGNIFICANTLY reduced overall driving fatigue. Unsure as to why I didn't use them sooner.
I removed my front lip spoiler that kept rubbing on the beefy winter tires, allowing me to soften up the compression and go from rock-hard glass track setting to more of an old school Buick floaty ride. That was also huge. It's been a long time since I've driven the Miata with a mellow ride.
Engine did fine on I5, seemed happy to stay above 80 with the rest of traffic, with occasional higher speeds on empty stretches. Once the PNW Oppo group made it to the actual cruise route things were a bit more challenging. Uphill, super high-speed sweepers meant I was downshifting often and trying to stay at the absolute top of the powerband. Basically stayed at 6000+ rpm for the entire cruise to (somewhat) keep up with the ST twins and.... Well. No, I'm not even going to try saying I kept up with the liter bikes.
No overheating though! Alternator belt loosened quite a bit over the course of the weekend, and I'm unsure if that's because of hard driving or something else. When I checked it there was a good 1.5 inches of belt deflection! I ended up spending about three minutes every startup waiting for voltage to climb, but it did eventually get to safe levels so I just put that in the "fix it when you get home" list.
Oh and I was still running general arctic altimax winter tires (or whatever they're called). Pushed them fairly hard, with quite a bit of tail shimmying under heavy braking. I also realized that with these tires and high temps, I can do burnouts on dry ground! Woo-hoo!
All in all the car handled the long drive much better than expected. Tightened the alternator belt when I got home (I know I know, I'll replace it soon I promise) and boom. Good as new.
Except now I need a bike in my life. AMGtech's Monster and Decay's Street Triple (right?) really solidified the desire for some two wheeled fun. Motorcycle endorsement class is already in the works, and I've started ordering riding gear. Once the job thing is all worked out I'll start looking for a bike.
Oh and my alternator is missing a bolt, which probably contributed to the whole loosening thing. Rats.