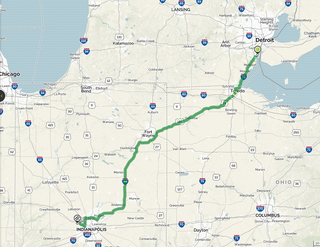 This weekend I'm attending my cousins wedding in Indiana, I live in Michigan so this turned into a little bit of a road trip.
I took my 2005 Corolla LE on the trip and did a little over 300 miles on the way down. First I had work in the morning so I woke up at 6 and got ready for work then I drove there and worked for 4.5 hours before driving home. This was about 40 miles roundtrip.
On the way home I grabbed lunch and when I got home I finished packing and preparing for the trip.
As this was the farthest I've ever taken my car and it would be alone I made some extra preparations
I brought one of my winter wheels since then I would have a full size spare and I also brought my socket set and some other tools incase I needed to repair anything. I also brought a cooler with drinks in it and my clothes and gear for the wedding.
I ended up leaving a little after 3PM for the 4.5 hour drive to Indianapolis. 212 miles later I made my first stop at a rest stop near Muncie, Indiana.
I was driving alone and found this to be really nice. Normally on a road trip I'm with other people which can be a source of stress. Peoples varying music tastes, needs to stop, and constant conversation can be exhausting, especially because I am an introvert.
But when you're driving solo you don't really experience any of this. You only stop if you want to, you listen to what you want to, you can sit in silence if you want, if you make a mistake like I did by taking an exit you weren't supposed to it's no big deal because the only person to judge you is yourself and I know how to handle it. Instead of someone being in my face about why I did that and didn't I know that it was the wrong exit, I calmly acknowledged my mistake and backtracked the couple of miles to correct it.
It's not all positive though, sometimes it's nice to share these moments instead of just being alone but for me it was a great way to start a very busy weekend because it allowed me to conserve energy and just enjoy the drive down.
On the way to fix the mixed exit my car got swarmed by bees which was a little nerve racking, it was at an intersection and they were swarming a few cars by some construction so I think a nest must have been disturbed. Thankfully none of them got in and it didn't turn out to be a problem.
I arrived at the hotel with about 330 miles for the day. As I was pulling into town I realized I had forgotten to bring my dress belt and made plans the next morning to get one. I dropped my bag off and ordered a pizza and took my car to go get it.
I then parked for the night. Overall, at this point in the trip I'm really glad I took my own car, I was worried about it affecting my back but me and it did really well. I was comfortable and the car was rock solid on the way down. It is really good on the freeway especially for a small car. It was a little loud but I got used to it pretty quickly and it felt good to take my own car and have it do so well.
Thanks for reading!, you can find this post and others like it at MomentumKR.blogspot.com.